The newest, and yet the oldest, digital currency has risen to take some 25% of Bitcoin Core's value on on its first day, reaching a high of $474 with a market cap above $8 billion.
Its trading volumes appear considerable at $142 million with some exchanges, such as South Korea's Bithumb, not yet listed for the less than 24 hours old digital currency.

Initial trading was very volatile, opening at $600,000, before falling to a low of $130 on Kraken. It then briefly rose to around $250, but another selling round ensured, sending it to a low of $130 again.
Then matters seemingly calmed as the first block was generated by ViaBTC at 19:13 London time on August 1st. Then a second block quickly followed just minutes after. Then a third, fourth and so on.
Price started moving upwards at that point, disappointing many who thought they might get a bitcoin for $25. It rose above $200, then $300, then $400, now potentially to breach $500.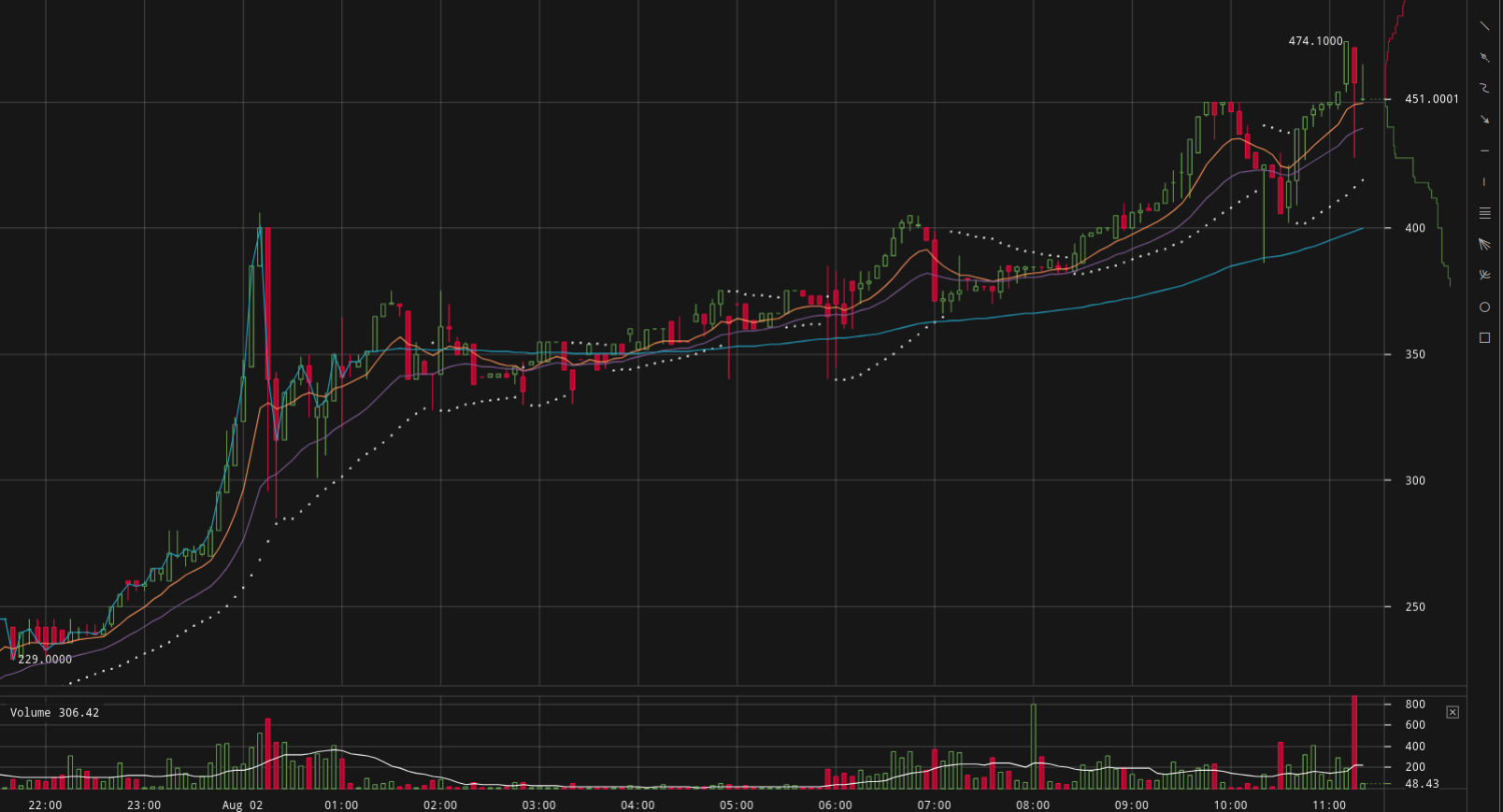 There appears to be considerable demand for Bitcoin Cash with Quinn-Watson, a venture partner for a bitcoin exchange operator based in Australia, telling Business Insider:
"We literally just re-opened the bitcoin exchange and are confirming the BCC trades over the course of the day. We are receiving a lot of off market orders for bitcoin cash – they're exploding!"
Bitcoin Cash is the first chain-split coin of the bitcoin currency, created by a grassroots movement that aims to keep bitcoin as a peer-to-peer digital cash, just as stated in the whitepaper.
They revolted against a closed door meeting which decided to implement Blockstream's segwit supported by Bitcoin Core which aims to turn the currency into a settlement system used through intermediary bitbanks known as Lightning Network hubs.
It is the culmination of a years long debate on whether Nakamoto's bitcoin layout works. Some Bitcoin Core developers strongly believe it doesn't and needs to be changed, segregating the payment system from the asset/currency.
While many others think Nakamoto's roadmap has worked and does work. They are therefore rejecting segregated witnesses (segwit) and have increased capacity in the same way bitcoin always has, by just slightly lifting soft or hard limits in line with demand and technological capabilities.
In the process, they have given the market a real choice, while proving that bitcoin's decentralized nature is an inherent quality, rather than a point of debate.