Illegal practices, like wash trading and spoofing, are allegedly being used on Bitfinex according to a lengthy post detailing alleged manipulation of bitcoin's price.
An entity or group has "between $20 million and $60 million USD on Bitfinex," according to a pseudonymous person that calls himself Bitcrypto'ed.
That allows them to place alleged fake bid (buy) orders and ask (sell) orders with no intention of actually buying or selling, but with the aim of sending false signals to traders or bots that the market is bullish or bearish.
To profit, the manipulator places real orders that are mirror opposite of his fake orders, allowing him to buy very cheap or sell at a very high price.
That practice is called spoofing, which is illegal in the United States and much of the world. In giving an example, Wikipedia says:
"Coscia placed spoofed orders through CME Group Inc. and European futures markets with profits of almost $1.6 million. Coscia was charged with six counts of spoofing with each count carrying a maximum sentence of ten years in prison and a maximum fine of one million dollars."
Bitcrypto'ed shows as evidence a number of screenshots where the alleged spoofing has happened with bid orders of nearly 5,000 btc, currently worth some $15 million.
The best way of combating spoofing is to sell into his fake order faster than he can pull it off, but Bitfinex has been cut-off from the banking system so few traders may be able to do so.
In the above case, he allowed the order to stand longer than usual, according to Bitcrypto'ed, so a trader seemingly managed to sell 1,000 bitcoins into his bid.
But what if the sell order was by the spoofer himself? That's called wash trading, an illegal practice whereby you buy or sell with a different account your own order to send false signals to the market. In the above case, it triggered a crash.
Bitfinex has admitted wash trading occurs on their exchange in relation to the Bitcoin Cash distribution. They followed an unusual practice that allowed short traders to receive extra BCH. The exchange stated:
"After the methodology announcement on July 27th, several accounts began large-scale manipulation tactics in an attempt to obtain BCH tokens at the expense of exchange longs and lenders on the platform, causing the distribution coefficient to artificially plummet.
We have determined that this kind of manipulation — including wash trading and self-funding shorts — is in violation of Bitfinex's terms of service. Those who intended to take unfair advantage of the circumstances surrounding the BCH distribution at the expense of other users have been sanctioned accordingly."
It's not clear what sanctions were applied, nor is it difficult to combat spoofing by simply placing a restriction on how quickly one can cancel an order after it is made, according to Bitcrypto'ed.
But the alleged spoofing practice has been observed in other exchanges too, although at a smaller scale, including Gdax, Bitcrypto'ed says.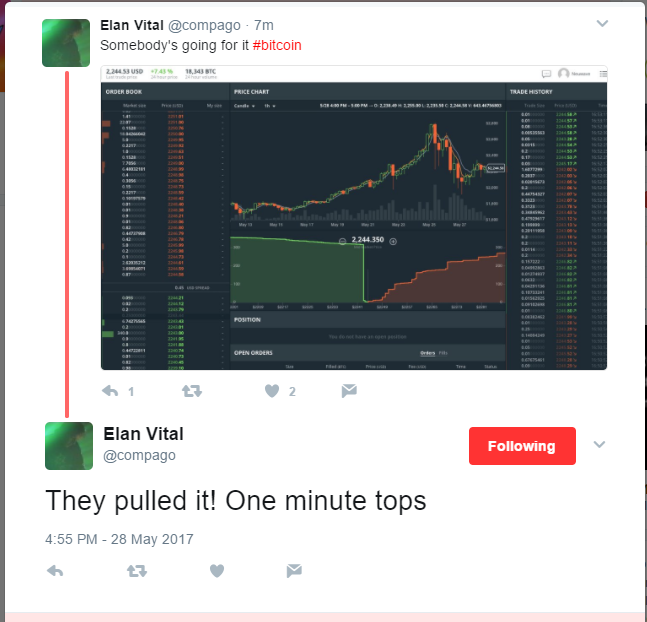 He details further allegations regarding Tether – a centrally issued token that is meant to be backed by dollars – which he alleges are managed by Bitfinex as shown by his shareholding chart below: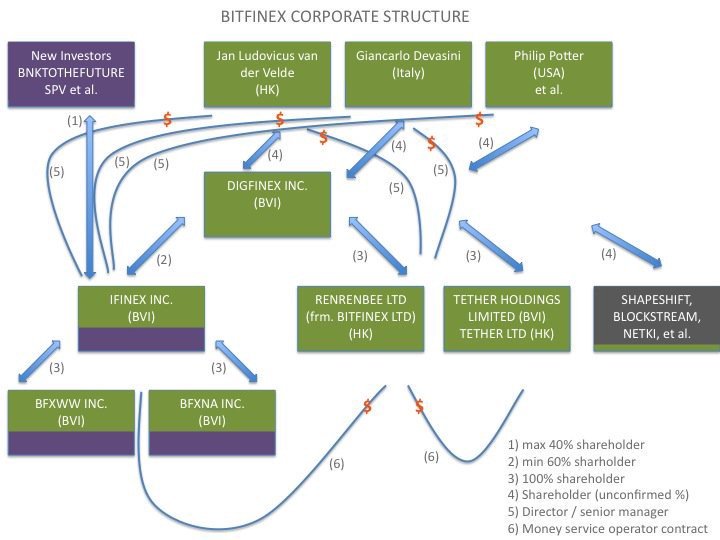 "At the start of the year, the amount of Tethers in circulation was a mere $6M," Bitcrypto'ed says, now they are over $310 million, an incredible increase in a very short time.
Whether much of it is backed by dollars or not is unclear, but the evidence presented seems to suggest considerable price manipulation at Bitfinex in particular, but also other exchanges.