Victor Santos and Sara Choi left Google in 2016 to launch AirFox with the aim of bringing internet accessibility to the developing world while also using a very 21st century method of credit scoring.
Instead of relying on banks and their databases, they rely on such signals as how many calls you received, how much you pay for your phone usage and maybe even who your social contacts are.
It may be a glimpse of the future, especially for nations that hardly have any banking infrastructure as we know it in the west.
"I was born in Brazil, a country with one of the highest telecommunications rates and where over 40 percent of the population is unbanked. With no mobile internet and no line of credit, billions around the world are unable to receive loans, create new businesses or rise into the middle class.
With the AirToken and our mobile apps, we will bring mobile internet and microloans to lower income, data-starved and often unbanked mobile subscribers in emerging markets," Victor Santos, AirFox's CEO and co-founder, says in a press release.
Having raised $1.1M of venture funds from TechStars, Project 11, LaunchCapital, NXTVentures and others, they now want to raise $15 million, with a maximum cap of $21 million, in an ethereum based ICO that opens on August 29th.
The funds will be used to "buy data in bulk, develop the micro loans program,
and expand its consumer-facing business worldwide," they say in a fairly thorough investors prospectus.
There are three main aspects. Firstly, a business to business service whereby they buy data in bulk, then sell it to prepaid wireless subscribers through integration "with over 500 wireless carriers for Airtime transfers," they say.
The second aspect is what can be called tokenized advertising whereby they reward users with Airtokens for viewing ads or for undertaking an action, such as downloading an app.
The tokens can then be used for mobile data or to send mobile data to others on top of the usual simple transfer of value that can apply to any token.
This second aspect applies to both their mobile app and AirFox Browser, a fork of the Brave Browser. Using the same underlying concept, it blocks outside advertising and trackers while allowing users to opt-in to non-incentivized ads in return for tokens.
The third aspect, which might perhaps be the most interesting, is their credit scoring for micro-lending based on numerous factors mostly derived from the mobile use and the sum of token collateral.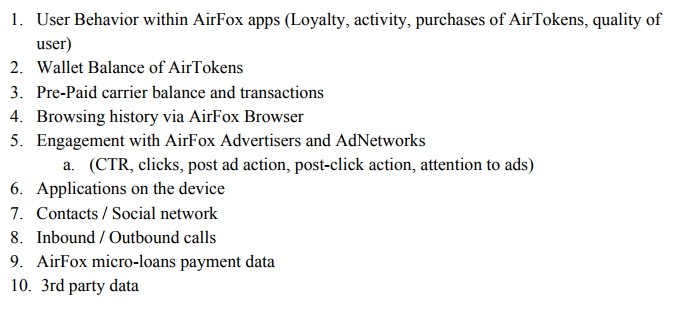 To minimize losses, their business plan details a number of complex calculations to manage risk of delinquency on loans. An aspect which, if they manage to execute well, might provide quite a profitable business line.
They have already been operating since 2016 and publicly reveal $600,000 was generated in revenue during the first ten months. They do not state how much of that is profits, but they are the first ICO we've seen to publicly provide revenue data.
They further say AirFox has some 2 million users, which generate an activity of 150 million unique events a day, with more than 1 billion advertising impressions served.
While also having one pending patent filed on its core technology and two production level applications in the Google Play Store that lets users earn pre-allocated AirTokens redeemable into mobile recharges via 500 global carriers, reaching 5B pre-paid SIM cards, according to their investors prospectus.
We couldn't quite figure out in our brief analysis what ICO investors receive in return, although it may well be stated somewhere. But except for the profits number, which should really be publicly stated everywhere (hence we intentionally didn't ask), we don't really have much criticism.
The project looks interesting. The business is already established. Their plans are even exciting in many ways. And it all seems thought out as well as professional.