With the market cap of digital currencies soaring to $120 billion, it can no longer be ignored, says Goldman Sachs. "Real dollars are at work here," they told their clients.
A market cap above $1 billion used to be extremely rare for a digital currency just six months ago, but even an Ethereum fork is now worth $1.5 billion.
While Bitcoin Cash, a bitcoin fork, was instantly born with a nearly $5 billion market cap after chain-splitting on August 1st due to disagreements over scalability.
There are now 9 currencies in total with a higher market cap than $9 billion and almost 20 that are worth more than ethereum was at some point last year. That currently includes tokens built on top of eth, such as OmiseGo.
"Whether or not you believe in the merit of investing in cryptocurrencies (you know who you are), real dollars are at work here and warrant watching," Goldman Sachs said according to Bloomberg.
This space is now affecting traditional companies, like AMD, with ethereum sending their GPUs out of stock, while increasing AMD's stock trading volatility to a level some called madness, sending some institutional investors down under.
Meanwhile, with some ICOs raising hundreds of millions, neither VCs nor banks can ignore the phenomena any longer. But institutional investors, so far, have stayed out, mainly because the market was small and the infrastructure was lacking.
That's beginning to change. The Chicago Board Options Exchange (CBOE), US's biggest options exchange, is to soon offer bitcoin options and futures trading following an agreement with Gemini Trust after CFTC approved Ledger X for clearing derivatives on July 24th.
That allows institutional investors to place huge orders without significant slippage, which currently isn't much of an option except for Off-The-Counter (OTC).
In further recent developments, Fidelity now allows their investors to view cryptocurrency balances held on Coinbase, further legitimizing this space.
A space which may have passed the tipping point, with bitcoin probably a household brand in America, while the blockchain technology and to some extent ethereum have gone mainstream as far as global companies and directors are concerned.
The adoption cycle, therefore, may be moving from the early enthusiasts to the institutional investors stage as shown in the graph below: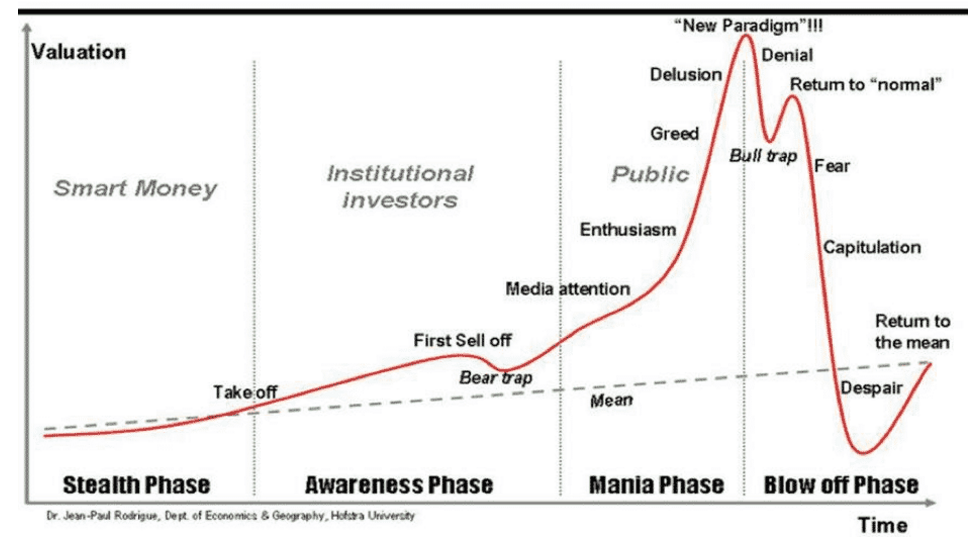 There is a 10% tipping point with the adoption of any new technology, which cryptocurrencies may have passed this year, but it's usually not clear until much after the event.
However, we can safely say the early days of a fringe thing are probably now gone, with this space attracting considerable attention following what seems to be a recognition in most levels that there is something happening here.