Ethereum has taken a break for the day, perhaps preparing for the weekend, with the currency hanging around $300 and not really moving much.
The culprit might be spartan memes. There's isn't any this time! We joke. The currency appears to be going through some consolidation, with its volumes considerably falling today to less than a billion, down from $2.5 billion just yesterday and the day before.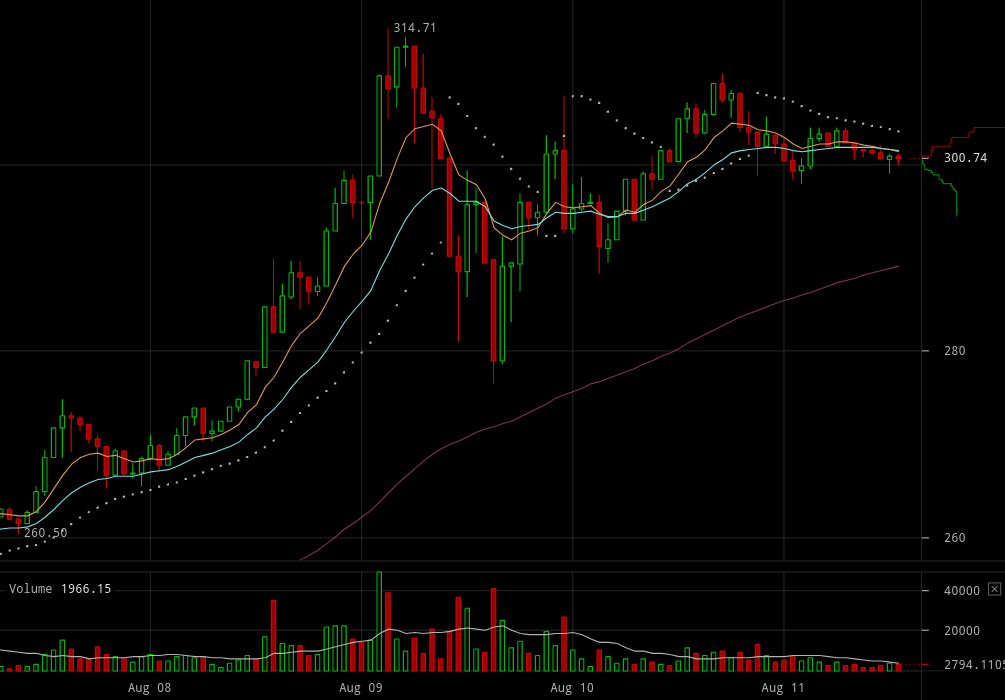 After its more than doubling of price from a recent bottom of $130 to a high of $314, some relaxed straight line movements might be even a good thing, but the real reason why it's taking a break is probably because ethereum traders are cheating on eth with some cool new kids called OmiseGo and NEO.
The latter has been on an incredible bull-run recently, up 3x in just days. Why – as far as fundamentals are concerned – is not clear. We'll wait to see how it develops before deciding whether it deserves an in-depth look.
As far as surface matters, they've re-branded from Antshares to a much cooler name of NEO (the guy from the matrix, right.) They've complimented that with a new website which, as you might expect, sort of implies a matrix of sorts in their kind of hypnotic and fairly annoying movable animations.
So, they probably have a new marketing team and they're also upgrading from limited smart contracts functionalities to full functionalities, although we can't verify the extent of that claim.
The market, however, is buying whatever they're selling and by the market we mean China, which is handling most of the NEO fiat trading volumes in the past 24 hours.
That's where the NEO project is based and its bull traders like to dub it as China's eth, but we don't see any starving Buterin that speaks at 3,000 miles per hour while playing with grass in their team pictures.
Nor do we know whether China's matrix name-dropping, site hypnotizing, eth pretending, project, has Plasma, but OmiseGo, which aims to create an ethereum public blockchain based decentralized exchange, definitely will as we reported yesterday.
That news has sent the price of OmiseGo (OMG) spiking, doubling since yesterday, with the token rising to the top currencies.
How high that will go, or perhaps how low, we don't know. But we haven't yet seen an ethereum based token with a $1 billion market cap, unless our memory mistakes us. So maybe we will soon.
Not least because the combined market cap of all digital currencies has once more risen to a new all-time high of nearly $127 billion.
Institutional investors say they can't ignore this space anymore as some digital currencies, like eth, start affecting traditional stock prices, like AMD's.
So perhaps the summer craze continues until someone bothers to meme that cliche of sorts – too late to explore the earth – too early to conquer mars – but just in time to play the cryptomarket.
Yes, it's rubbish. We're rubbish at it. That's why we just copy other's memes, so keep them coming. Or you'll have to hear our tortured ones.