Bitcoin's price has soared today, rising to an all-time high of $4,200 with the currency in an apparent year long bull market that has given it a market cap of nearly $70 billion.
The currency has increased many folds in 12 months, from a brief low of around $160 last year to now a high of thousands for just one bitcoin, but what is driving its rise?
The initial fuel was considerable monetary mismanagement last year in China, India, Venezuela and many other countries, but particularly in China.
The authorities there engaged in what appeared to be intentional devaluation of the Yuan, creating a flight to safety with many Chinese investors sending their money off-shore.
However, the authorities placed capital controls, leaving bitcoin one of the few ways to get money out, leading to a considerable price appreciation, rising to a high of $1,000.
In conjunction, India decided to ban some high value notes, leading to chaos in the country. While falling oil prices led to inflationary spikes in Venezuela, Nigeria, Russia and many other nations.
All this fueled demand for bitcoin, with the currency rising to a new all-time high at the beginning of the year and for the first time reaching gold parity.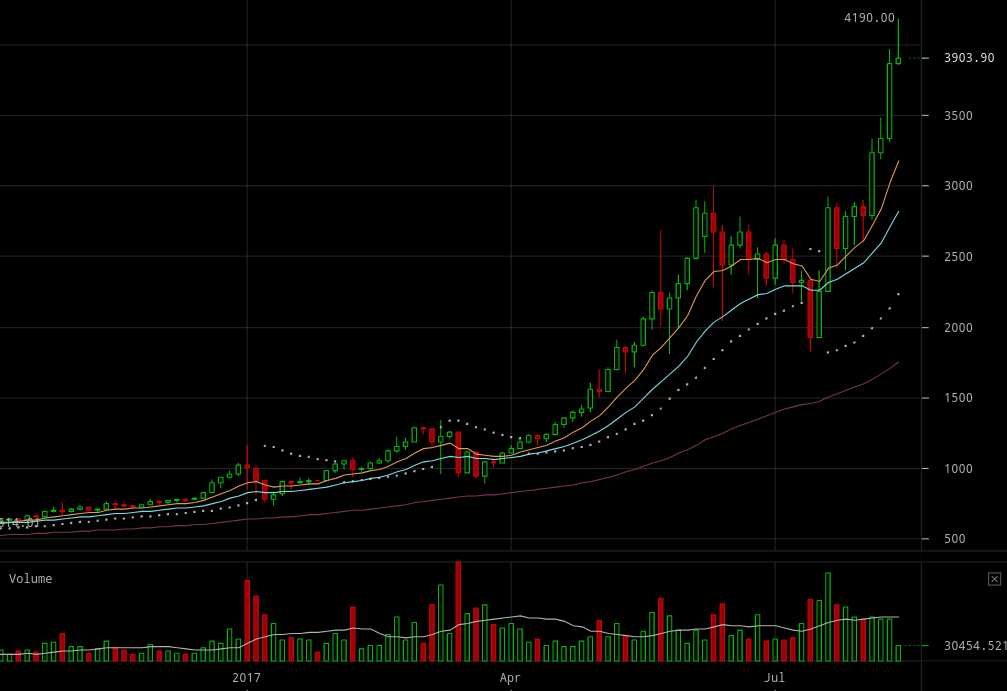 That now looks like a blip in the chart showing just above 2017, but at the time it looked like a skyrocketing price rise, with the Chinese authorities intervening in January by temporarily halting bitcoin withdrawals in Chinese exchanges.
That led to a fall, but speculation about the Bitcoin ETF returned bullish sentiment with considerable hype at the time regarding whether it would be accepted or otherwise.
As it happened, the SEC rejected it at the very last minute, causing another price crash of sorts during the second wave as can be seen in the chart above.
Then, the Ethereum spring took off with that currency rising from $5 to a high of $420. A spring which greatly benefited bitcoin because it would always be mentioned when explaining ethereum.
In the process, and in combination with the rise of blockchain's popularity, bitcoin became a household brand in USA, name dropped in connection with some politicians, like Macron.
For the first time, a bitcoin related event – Consensus 2017 – trended on Twitter for the United States, while also becoming one of the top searched google words, indicating interest in the currency had now reached mainstream levels.
It therefore started to rise, reaching a brief high of $3,000, but then concerns over a chain-split hardfork sent it down crashing to $1,800.
However, the hardfork turned out to be a very beneficial event because after the chain-split on August 1st bitcoin spiked to a new all-time high today of $4,200 as the currency became just that more interesting.
Its rise has now slightly paused with the currency falling to $3,900 at the time of writing, but whether that's just a blip correction or a downturn remains to be seen as the free market money continues to make new waves.