Bitcoin's market cap has doubled in the past two weeks, rising from a low of around $32 billion on the 14th July to now just under $70 billion, not far off from PayPal's market cap of $70.7 billion.
The currency has been on a bull run for much of this month following the August first chain-split hardfork that created Bitcoin Cash, fueling bitcoin's rise.

The currency has reached a new all-time high today of $4,234, just slightly higher of $4,200 reached yesterday. But while that was followed by a retrace, bitcoin is currently hanging around a price of $4,200.
Trading volumes have also considerably increased to above $3 billion, but have slightly fallen today to around $2.6 billion at the time of writing.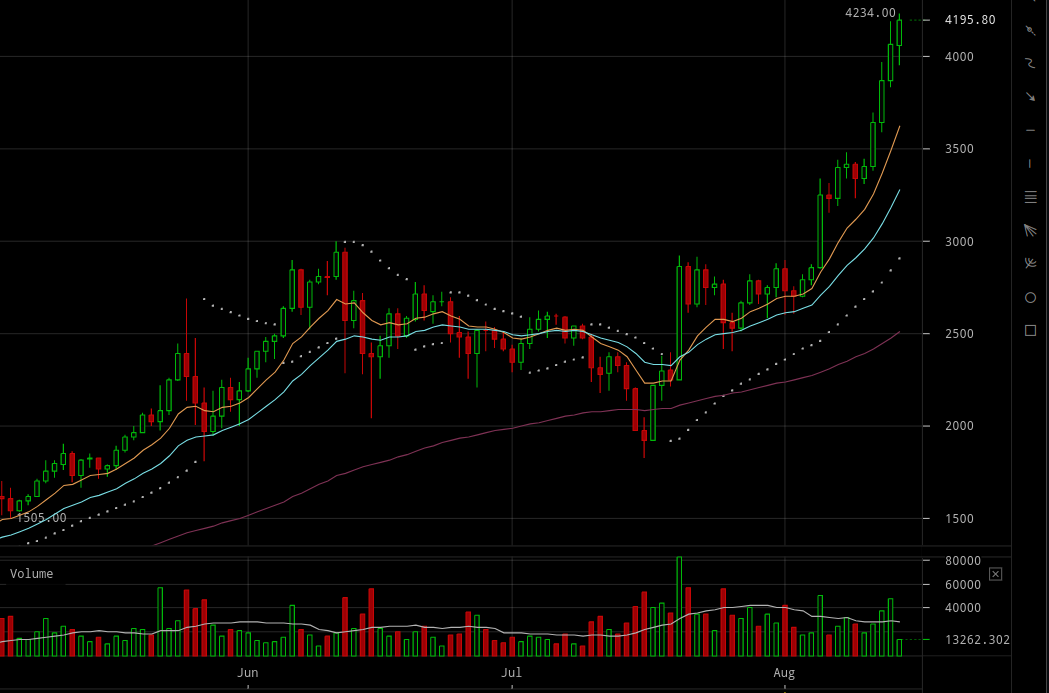 Much of that volume comes from South Korea with Bithumb alone handling some $260 million in trading volumes during the past 24 hours.
However, the NEO/BTC pair has retaken top position, handling $264 million in trading volumes as the NEO currency keeps reaching new highs of its own, potentially pushing bitcoin up too.
It's not very clear why bitcoin is so quickly rising. One theory is that the chain-split hardfork to Bitcoin Cash made it just that more interesting as you can't do a like thing with fiat.
Another theory may be that institutional investors are now moving-in following the considerable rise in its market cap, thus adding liquidity sufficient for large scale trading.
There are also allegations of price manipulation at Bitfinex, an exchange that has been cut-off from the banking system so you cant even deposit and withdraw fiat.
How they continue operating, therefore, remains a mystery of sorts, but with trading volumes of billions, it seems unlikely any manipulation plays a major role.
As such, the real reason is probably a combination of factors, including the rise of other digital currencies, such as ethereum, which are usually described in the context of bitcoin, so benefiting the oldest decentralized digital currency.