Bitcoin fell some $400 this Tuesday, down from its new all-time high of $4,430 reached around midnight GMT before the currency took a downwards turn.
Its trading volumes have increased slightly, nearing $3 billion for a second time after somewhat falling yesterday to around $2.5 billion.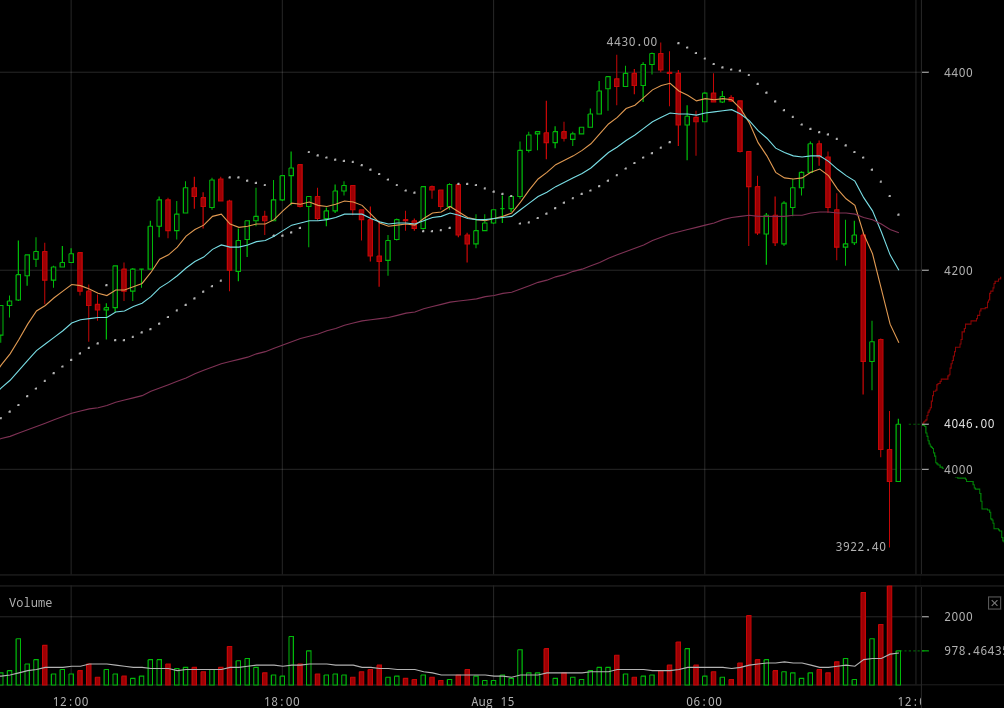 It's not clear why the currency fell, but price seemed edgy at $4,400 with considerable differences between exchanges and between futures and spot prices.
Liquidity also appeared slim at some exchanges, with less than a bitcoin in bids (buys) and asks (sells) at price levels near the market price, introducing considerable volatility and fast price movements.
It fell, for example, by $100 just before midnight in seconds. To then increase some $200 to the new all-time high, again in seconds. With just small market buys or sells sufficient to move the market.
It appears the currency has dragged others down with it. Ethereum fell by around 5%, down from $300 to a low of $283 before slightly recovering upwards.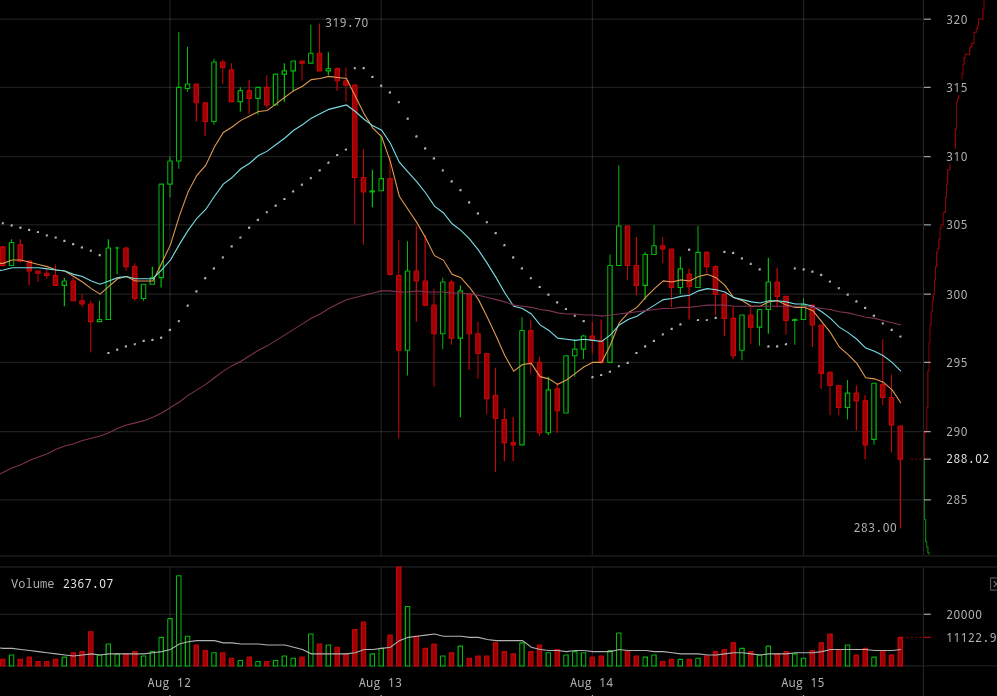 Ethereum traders joke they have decoupled from bitcoin when BTC's price goes up, but move down with bitcoin when its price goes down.
There may be some truth to it in very short time-frames. In slightly longer periods, ethereum has risen to more than double from a recent bottom of $130 to a recent high of $330.
It's not too far off from its all time high of $420, but its volumes have fallen below $1 billion and it does seem currently that for now it is bitcoin's show.
That hasn't been good news for Bitcoin Cash. The currency has fallen by around $100 during the same time bitcoin has skyrocketed, but it appears now it is moving in a sideways direction.
Bitcoin Cash seems to have some considerable support at around $300 with the currency hanging there recently. Its trading volumes have also remained at around $140 million, but it's not clear whether it has any correlation with bitcoin and, more precisely, whether it has any inverse correlation.
It does somewhat appear to do so, but its price movements seem to also be independent, with the currency having its own significant base and supporters.
Where to from here we will see soon, but bitcoin usually keeps the show running for only a brief time, compared to some other currencies, so it might give way to the podium.
But, as with any future prediction, we have no clue and the currency might keep mouths falling to the ground by racing towards $5,000, although that does seem unlikely for today.