For the first time ever, ethereum has processed more than 400,000 transactions. A level higher than any likewise digital currency and some 40,000 more than bitcoin ever reached.
The ethereum network handled the new high with no known problems. Fees remain unchanged at around a median cost of 12 cents with a "safe" low fee of 2 cents, according to data from the GasStation.

Hudson Jameson, an ethereum developer, speculates the increase was caused by "Leeroy and Bittrex launching a bunch of account creation contracts."
Leeroy is a new ethereum based twitter clone of sorts that adds monetary aspects to tweets while Bittrex has risen in popularity recently for crypto-to-crypto trading.
Data from the GasStation, however, shows activity was mixed as estimated by gas usage with no smart contract standing out as having the lion share.
The estimate seems to cover the relevant time period, based on the past 5,000 blocks, which translates to around 27 hours or thereabouts.
So there may be a mixture of reasons, but ethereum is now not very far off from reaching its maximum capacity or around 1-2 million, which at this growth rate may occur as soon as next year.
Bitcoin already has, with the network unable to process more transactions than its all-time high of 369,098 reached on the 14th of May 2017.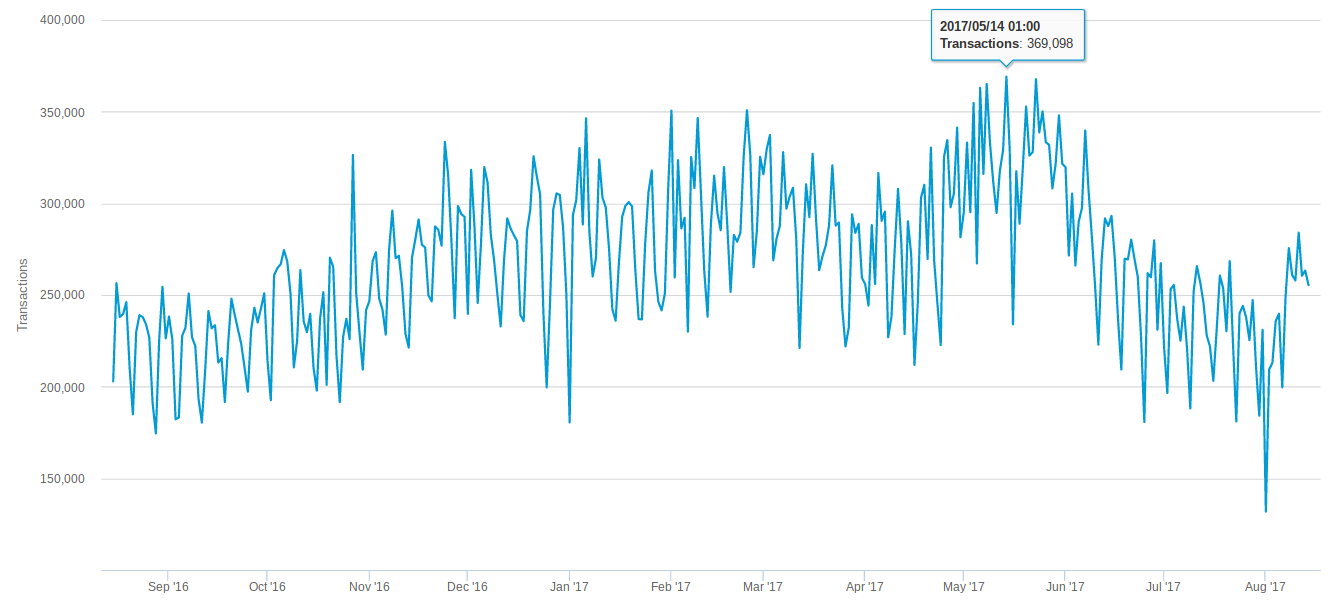 Demand for bitcoin transactions was much higher at the time as fees increased to $7, but due to a protocol limit, the network could not process any more.
That limit will slightly increase from 1MB to 1.7MB starting in around two weeks dependent on the level of adoption by the ecosystem of a new upgrade called segregated witnesses (segwit).
Thereafter, the roadmap for on-chain bitcoin scalability isn't very clear. There are some planned optimizations, but the gains are likely to be very small with Bitcoin Core developers focused more on incentivizing the network to use second layers, like the Lightning Network, with on-chain capacity intentionally limited.
Ethereum developers are also working on second layers, including the newly announced Plasma and a Lightning like protocol called Raiden, but they also aim to significantly increase on-chain capacity in conjunction.
That's to start with the Proof of Stake upgrade, which might be ready by sometime next year or in 2019, to then be followed by sharding, which may increase transaction levels to tens of thousands per second.
However, both upgrades are complex and conceptually difficult. The estimates of actual capacity may also vary dependent on implementation and execution. Moreover, the ethereum network has to go through two Metropolis upgrades first, with no good time estimates currently available.
So scalability may continue to be a challenge, especially as the popularity of digital currencies exploded this year with demand for ethereum transactions considerably increasing.