Bitcoin Cash's price nearly doubled yesterday in a matter of few hours as the digital currency came to life, spiking to a recent high of $560 after some period of consolidation at around $300.
It is the first time it has risen so quickly and so high since shortly after its inception, with the currency defying critics to proceed and take the spotlight, for now.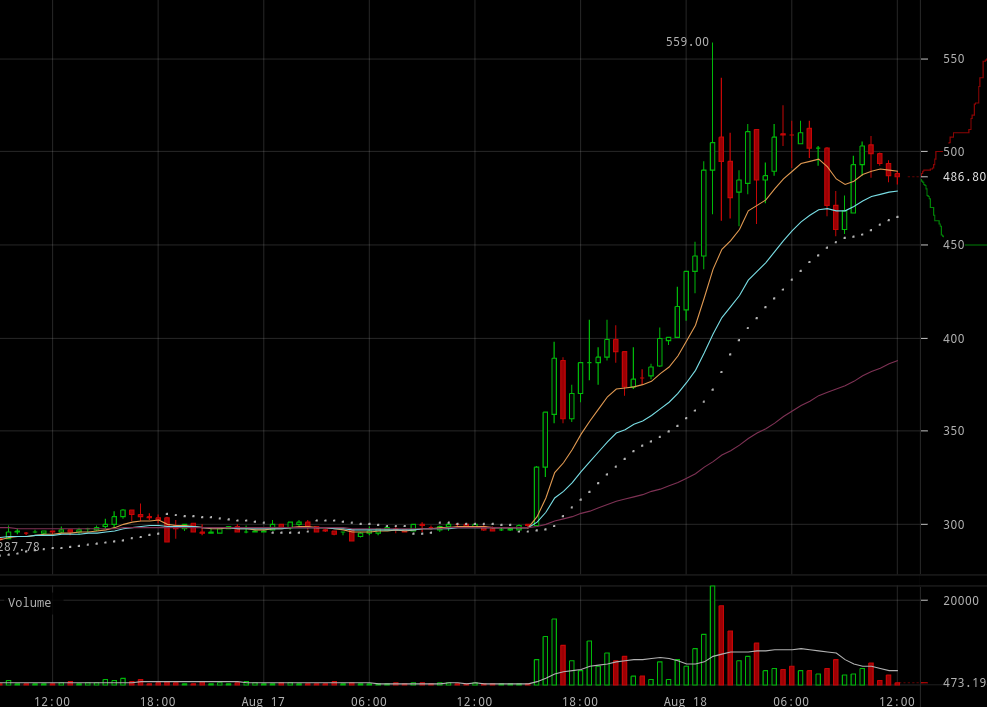 Its trading volumes have gone parabolic. Up from around $100 million to above $1.6 billion, the highest level it has ever achieved and higher than eth's current trading volumes.
More than half a billion of it comes from South Korea alone and Bithumb specifically which has suddenly made a spectacular entrance.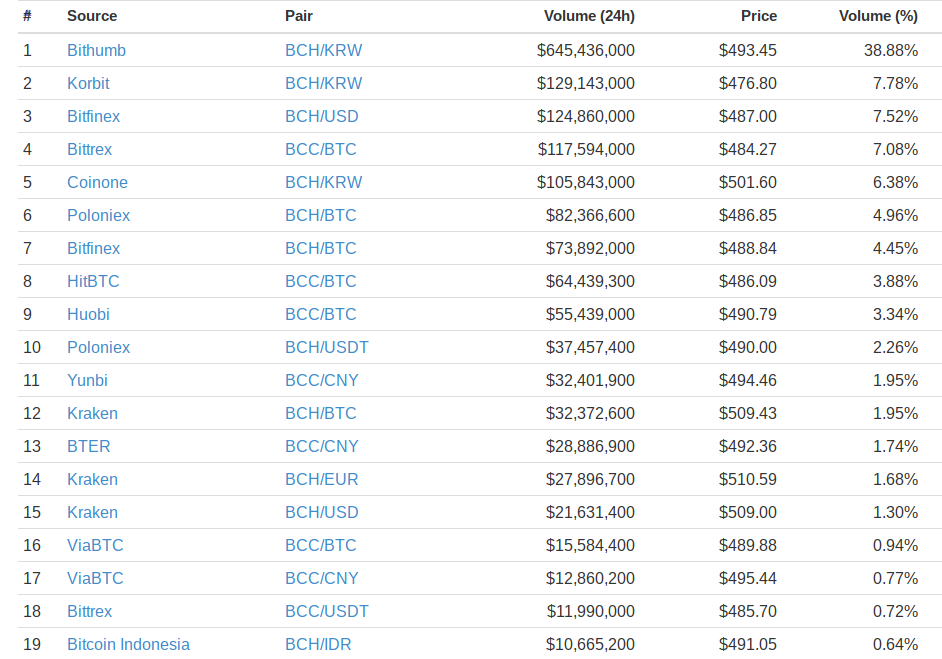 All this has propelled the currency to top three. Overtaking ripple, rising to around 30% of ethereum's market cap, and just above 10% of btc's market cap.
The reasons for its rise are numerous. The first 8MB block has been mined for the first time ever by any digital currency. It processed some 40,000 transactions without any network problem whatever.
That seemingly galvanized big block supporters as it finally showed just increasing the base size works and solves the problem in about one week.
Then, BitPay directed their merchants to download the segwit2x btc1 client, suggesting the Bitcoin Core chain may continue being divided, while Bitcoin Cash has a clear united vision and roadmap.
The price rise by itself turned sentiment, with big blockers cheering and bringing out their memes, sending mining profitability to almost the same level as that of Bitcoin Core.
The Bitcoin Cash chain is soon to have its first protocol level difficulty adjustment after going through the two weeks period. That may make it more profitable than Bitcoin Core. So Jihan Wu, co-founder of Antpool/Bitmain, stated:
"Antpool will start to provide BCC mining option after at least one of SegWit supporters/fan pools start to mining BCC."
BitClub is known to be a strong small block and segwit supporter. They have been mining Bitcoin Cash (BCC/BCH) for quite some time now. So Antpool's criteria may be met.
What happens next remains to be seen. There could be trouble for the Bitcoin Core chain if their miners move to BTH because then it would be more difficult to find blocks.
That would not be a significant problem if they had capacity, but their tiny 1MB blocks are already causing considerable network congestion with fees rising to $3 per transaction.
With slower blocks, delays of days might return, which may create a negative feedback loop, but we have to be clear the above is speculation.
However, what is becoming somewhat more obvious is that there is now a three ways race developing between Bitcoin Core, Ethereum and Bitcoin Cash.
The latter two are aligned in their scalability vision, but have their own differences. In the bigger picture, all three are aligned, but Bitcoin Core has chosen confrontational competition rather than co-operative competition.
So we'll see how the free market moves in judgment as the very best of years, 2017, continues.