Bitcoin Cash has seen its price rise from $300 to $972 in an incredible bull run that begun yesterday and seemingly continues for today.
Its trading volumes have also increased to the highest level reached by any digital currency at some $4.2 billion at the time of writing with much of it coming from South Korea and fiat trading pairs.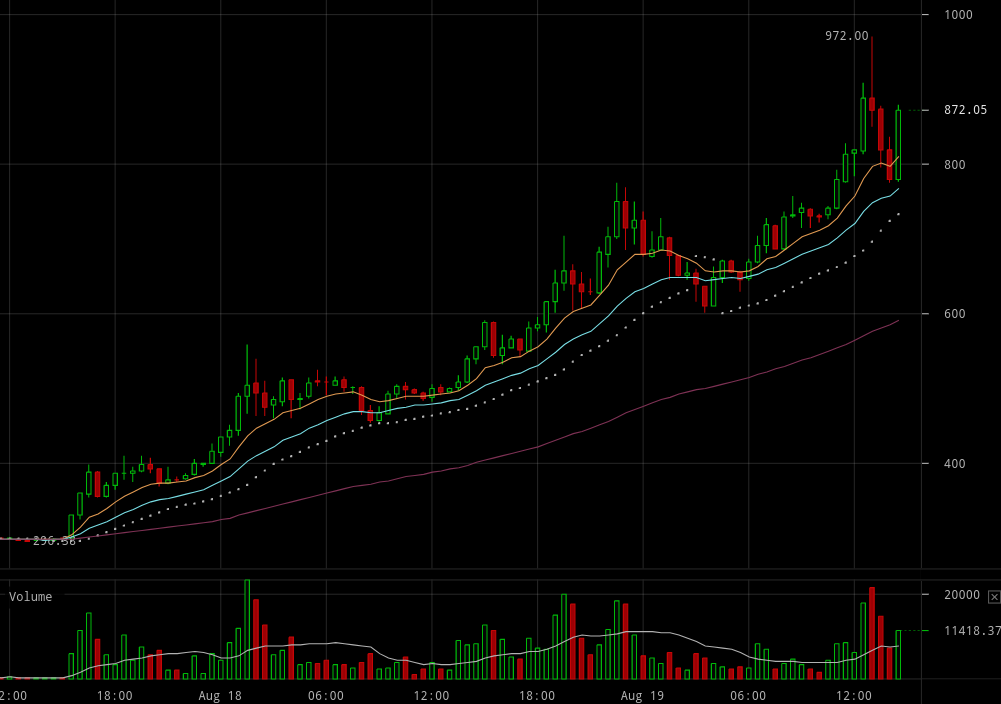 At the same time, bitcoin has seen its price fall from an all-time high of $4,500 to a recent low of $3,900 before somewhat recovering to $4,050 at the time of writing.
Its trading volumes have also increased to its own all-time high of $3.3 billion with the BTC/BCC or BCH pair accounting for much of it.

The inverse price movements began yesterday after Bitcoin Cash mined an 8MB block processing some 40,000 transactions, the biggest block mined by any digital currency ever.
That was combined with a return of in-fighting in Bitcoin Core after BitPay made it somewhat clear they were going ahead with segwit2x, leading to their removal from bitcoin.org and the removal of Jeff Garzik from the Bitcoin repository.
Which seemingly turned sentiment, with the market valuing Bitcoin Cash higher while decreasing Bitcoin Core's price, sending the mining profitability for Bitcoin Cash at 119% higher than for Bitcoin Core.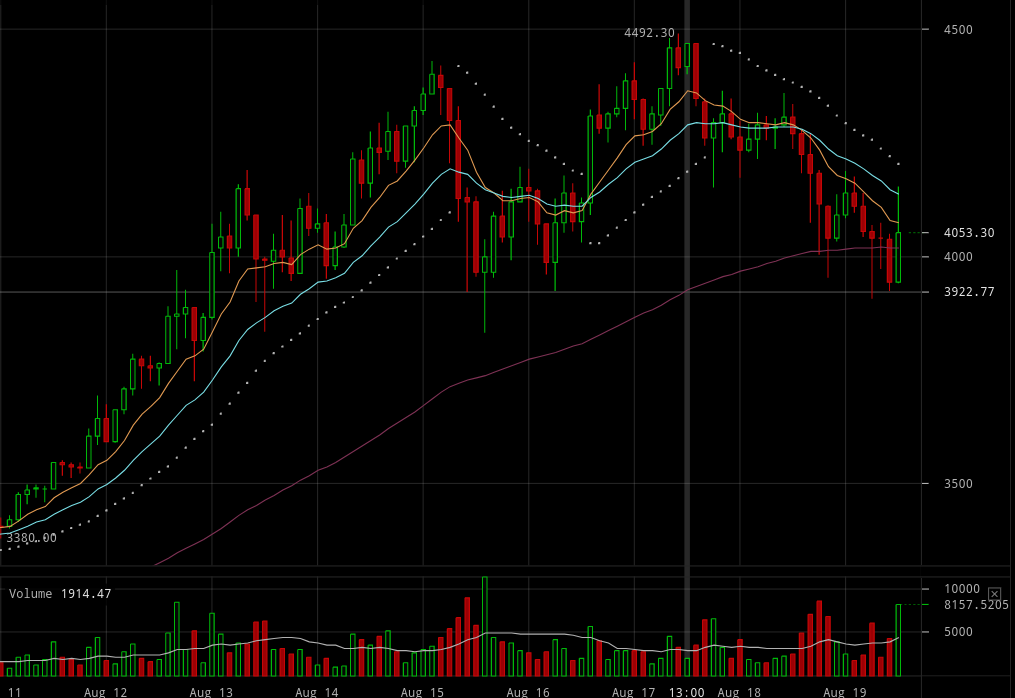 Meanwhile, ethereum has seen its price fall too from a recent high of $310 to $280 before recovering to $286 at the time of writing.
Its trading volumes have fallen somewhat to just under $1 billion as Bitcoin Cash starts running the show for now just after two weeks since its inception.
It's not very clear why eth is falling. The BTC/ETH pair might be having an effect, but it usually de-couples and re-couples as it pleases, so any such effect might be minor.
The main reason is probably because some of its value is going to Bitcoin Cash as traders start speculating with nearly all digital currencies down today except for Bitcoin Cash.
The combined market cap has remained somewhat unchanged. So it seems value is shuffling around with Bitcoin Cash taking the majority of the pie in price movements.
The question remains whether this is a blip or a new normal. We have to say we don't know, but it is probable in-fighting in Bitcoin Core will continue as businesses seem serious about segwit2x.
That may mean reduced confidence in that chain as uncertainty increases ahead of November with Bitcoin Cash potentially benefiting much from it.
The effect of that on ethereum remains to be seen, but the currency has its own ecosystem and added capabilities, so it might be simply the case that it's not their time to run the show yet since, it appears, it's Bitcoin Cash's turn.