Bitcoin Cash has spiked in price above its all-time high of $800, rising some $500 in just two days from around $300 to a new all-time high of $829.
The incredible bull-run has taken this space by storm as all eyes turn to the newest, yet the oldest, digital currency just two weeks after its inception.
With sentiment considerably turning, especially on r/btc where they are celebrating with many long term bitcoiners making an appearance.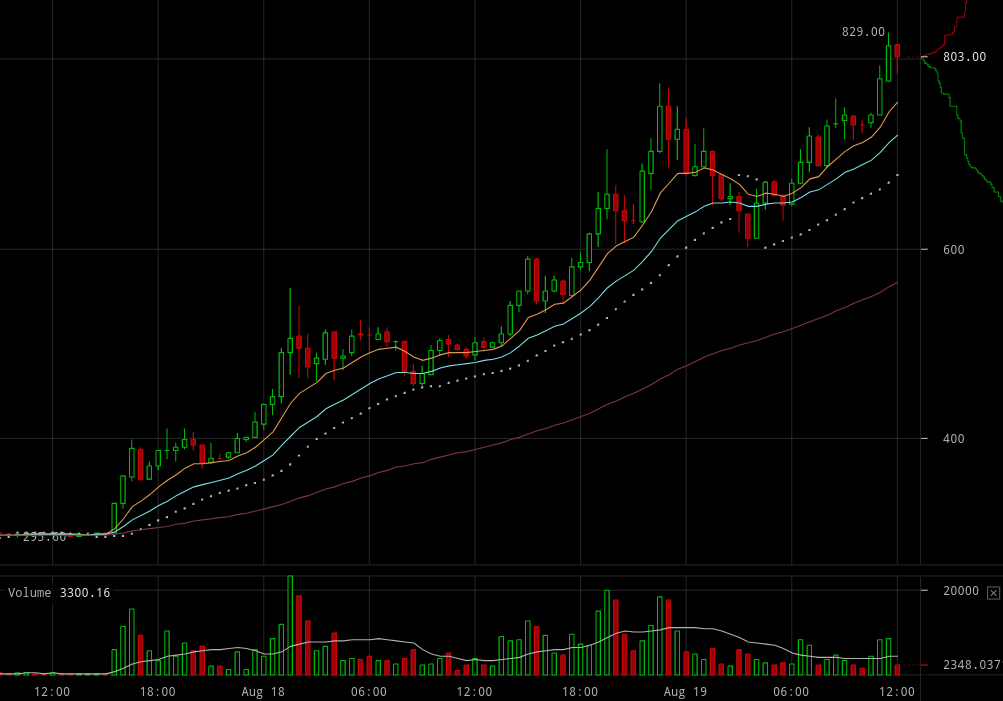 Its trading volumes have gone parabolic. Rising to an all-time high above $3.5 billion, higher than any digital currency ever since bitcoin's invention.
Previously, the highest level achieved was by ethereum at $3.2 billion, while bitcoin itself has never made it above $3 billion. With Bitcoin Cash now raising the bar.

Much of it comes from South Korea, a country that has fallen in love with this space. Bithumb alone handles nearly $1.5 billion while two further South Korean exchanges handle around $300 million each.
The USD trading pair follows with the BTC/BCH pair standing at near same levels of around $300 million, while the euro and CNY pair stand far below at around $40 million.
Most of the volume is coming from fiat pairs. Suggesting new interest in the currency, especially by South Korea which has been playing a prominent role in driving the price of some digital currencies recently.
As you can see, BCH trades at a premium there with its price at nearly $900, as demand seems considerable with the fast price movements making arbitrage difficult.
The currency began rising after it mined the first 8MB block produced by any digital currency ever. That was followed by some continued divisions and in-fighting in the Bitcoin Core chain, adding fuel to BCH/BCC's rise.
The bull-spike then created its own virtuous cycle, turning sentiment, increasing volumes, making BCH the story and making it far more profitable to mine than Bitcoin Core.