The mining hashrate for Bitcoin Cash has spiked to 441 Petahertz on ViaBTC, rising from a mere 16P just earlier yesterday.
It is now not far off from rising to double the hashrate of Bitcoin Core on ViaBTC, currently standing at 274P, down from some 350-400 just yesterday.
This is the only known direct statistic regarding he hashrate distribution between the two currencies with the significant change in just one day potentially indicating network wide movements.
It comes after Bitcoin Cash became far more profitable to mine than Bitcoin Core following its price spike to near $1,000 yesterday with the currency maintaining a price of around $800 today.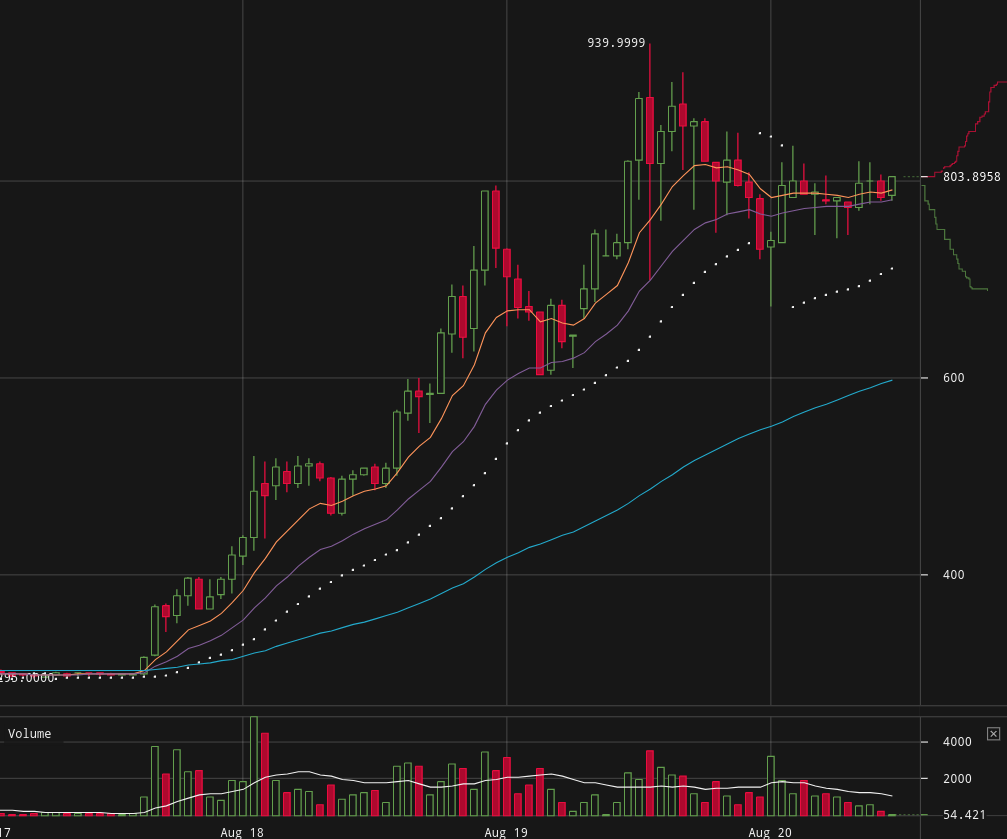 ViaBTC's total hashrate seems to have considerably increased since yesterday, doubling to around 700P as other miners seemingly join them primarily to process Bitcoin Cash blocks.
That might be because it is the biggest current mining pool to provide the option, with ViaBTC one of the earliest backer of the currency. Now enjoying the rewards through increased hashrate and probably increased liquidity in their exchange.
BTC.TOP is to join them tomorrow as we revealed yesterday. Its founder is known to be a big block supporter, but he says he is not for or against BCC/BCH, instead, he is in favor of competition.
And competition we are having. Some have already coined a new term, the cashening, expressing a question that is probably in everyone's mind.
Can Bitcoin Cash really overtake Bitcoin Core to become known as just bitcoin? The only answer at this stage is maybe because the currency stands out for quite a few new firsts.
They have mined the first ever 8MB block, their trading volumes have reached the highest level ever achieved by any digital currency at $4.4 billion, they are the first chain-split hardfork of bitcoin and, for the first time, some 60% of miners on ViaBTC are choosing Bitcoin Cash over Bitcoin Core.
However, a lot more would need to happen for the cashening to become a thing. BitPay, for example, would need to at least provide it as an option, which they have resisted so far, potentially opening the way for a new provider to offer eth, bcc/bch, etc.
The concern of that new provider might be that BitPay could just add the new option, but dinosaurs tend to move slowly and they are currently far more preoccupied with segwit2x and the whole in-fighting that has brought in the past two days.
Which might be another way for Bitcoin Cash to gain dominance because what may happen very soon regarding segwit2x is that some exchanges, including Bitfinex and probably BTCC, will say they will call the Bitcoin Core chain as BTC regardless of whether it has 80% hashrate or otherwise, as they have said previously.
In which case the rest might back down, leaving Bitcoin Cash as the only option for the 80%. But, this is speculation. What is actually known so far is that a mining exodus of sorts might be underway as the market finally starts passing its free judgment.