The world famous footballer Luis Suarez, who plays for Barcelona as a striker and for Uruguay's national football team, tweeted about eth and Stox to his ten million followers today, stating: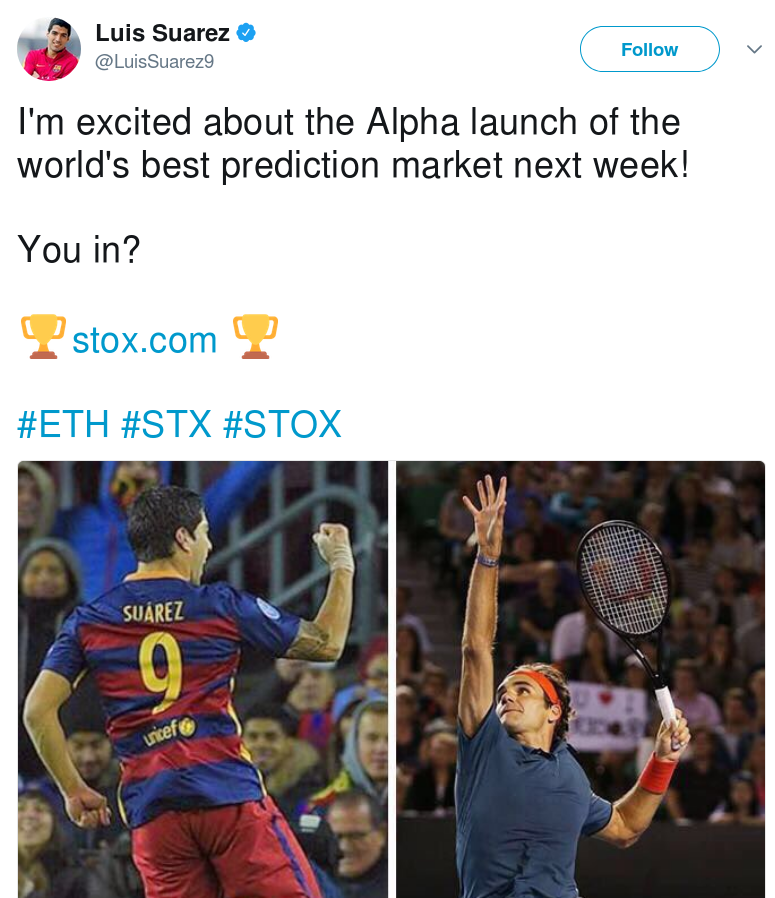 A brief overview of his twitter suggests this is the first time he has declared himself as a fan of ethereum generally and Stox in particular.
However, it is unclear whether he own any eth or whether he took part in the Stox ICO which raised 148,000 eth, currently worth around $48 million, on August the 3rd.
Those investors have seen some considerable gains, with Stox's market cap nearly doubling to $77 million, seeing a price rise of around 8% today.
The project is a prediction market by the team behind invest.com which describes itself as an online investment house with "over 200 employees over 5 different countries, $50m yearly revenues, 3m registered users, 8m annual transactions and $12b annual transaction volume."
Their whitepaper describes the project as an "open source, Ethereum based platform for prediction markets where people can trade the outcome of events in almost any imaginable category – sports, celebrity marriages, election results and even the weather."
The project, therefore, is somewhat similar to Gnosis or Augur, but Stox claims to own or be in the process of owning gambling licenses after signing a letter of intent, which might make them regulated. They say:
"We've signed an LOI to purchase two UK gambling commission licenses for technology platforms. Our decision to pursue these licenses will ensure both our healthy status as a corporate citizen, as well as the platform's long-term potential."
Moreover, they claim to have business experience in regulated markets and a business model for growth which they say Gnosis and Augur lack in a comparison of the three:
This is the first time a famous footballer has tweeted out about ethereum as far as we know and it is probably the first time one has publicly revealed interest in any crypto, including bitcoin.
His mention of Stox specifically is interesting because the project had gone below even our radar. But it just goes to show this space is now nearing mainstream or is already mainstream with established businesses moving in.
Update: This may have been just a paid tweet. See Fake Tweets: Celebrities Paid to Promote ICOs