While bitcoin and ethereum are moving up slowly, their clones of sorts are moving up fast. Lisk, in particular, has increased almost four fold this week. Up from around $2 on the 19th of August to a high of around $7.50 today.
Its trading volumes have reached a new all-time high too of nearly $100 million, with most of it being exchanged through btc. While its market cap is nearing $1 billion.

The straight line upwards price increase is apparently due to a re-branding in September. Something lisk has been working on since March this year.
They have also been hiring a number of marketeers and social media public relations personnel, but it's not very clear what they are re-branding to, or even why.
One reason might be because their developers framework called SDK could be near launch. However, there has been no official announcement as far as we are aware, with rumors swirling.
The platform is an ethereum copy of sorts, operating as a decentralized network with smart contracts written in JavaScript as further detailed in an infomercial.
Litecoin, the other copy of sorts, but this time for bitcoin, has also been rising recently, up nearly 20% just today. With price increasing from around $40 or so last week to nearly $60 at the time of writing.
Its trading volumes have not quite kept up at just half a billion, but they're nearing eth's, which is seeing some low trading volumes recently even as it slowly rises.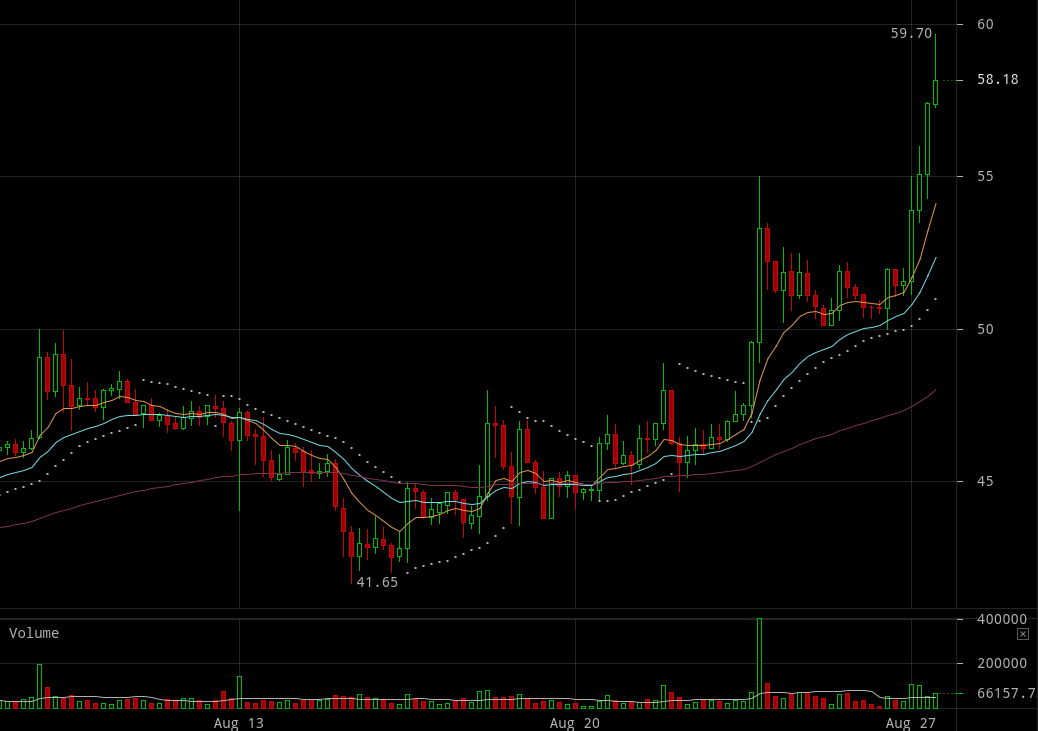 Litecoin's price is seemingly rising because its lead developer stated they have started mainnet testing of the Lightning Network (LN) on the platform. There is, however, no known GUI wallet and LN's usage through raw-code isn't something new.
However, what is new is that segregated witnesses (segwit) has activated on the bitcoin network after more than two years of debate regarding its scalability.
That may benefit litecoin because of something called atomic-swaps which through LN may allow for a seamless interchange between ltc and btc as well as other digital currencies.
The above two are the main gainers for the day, with the general picture somewhat mixed as far as we can see. Some gaining some loosing as investors seemingly expand their horizon beyond the top two digital currencies.