Bitcoin's price suddenly jumped a few hours ago today to a new all-time high of around $4,650. Up some $300 in minutes from $4,350, gaining 5% since yesterday.
Its trading volumes are somewhat up too, above $2 billion, with the currency retaining this summer's momentum, continuing to reach new highs.
What caused the sudden price increase is unclear at this stage. Its current top trading pair is in dollars at the Bitfinex exchange, so it may be seemingly an increase in demand, although you can't really deposit dollars at Bitfinex.
The currency has, however, been moving up and down around the $4,000 – $4,500 range for some time, so the 5% movement may not be unusual for btc.
Not least because ethereum has increased by around 5% too, up from $340 yesterday to a recent high of nearly $370 in a steady bull movement during the past few days, increasing from around $300.
Its trading volumes remain slightly below $1 billion with much of it coming from South Korea and China, followed by the dollar trading pair.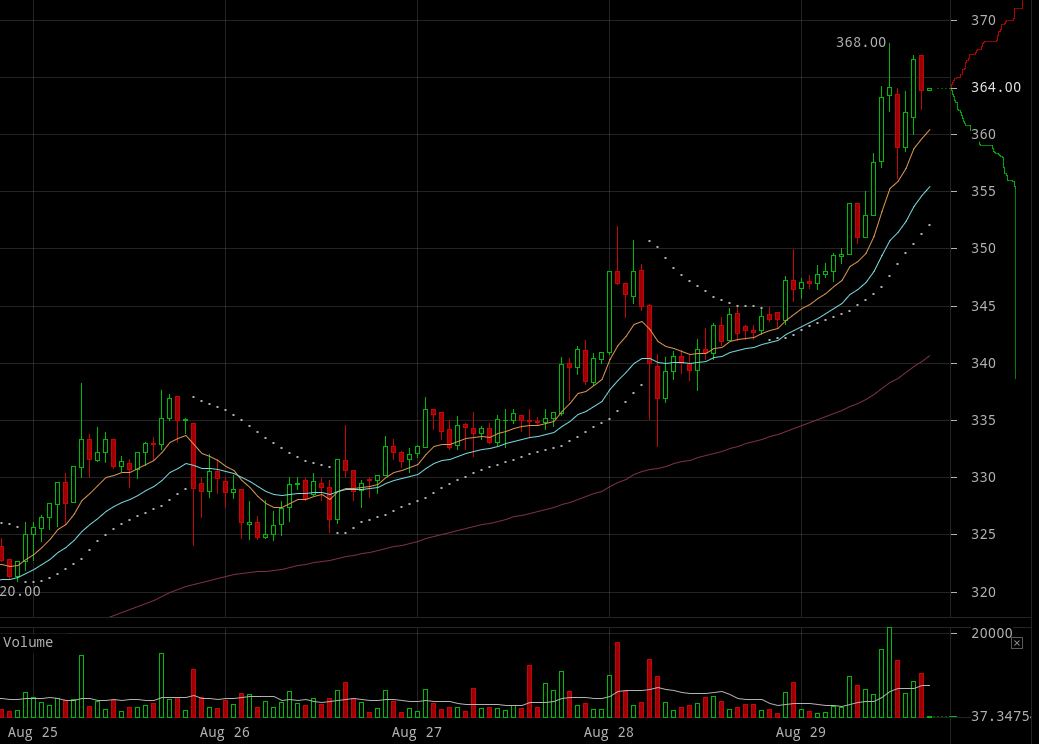 The currency has been on a steady bull run for much of August, rising from a recent low of $130 to the current price of almost $370 in a somewhat consistent manner.
Suggesting a general and gradual growth in interest, rather than responding to news events, as awareness of the currency continues to increase across the globe.
Much of it is spurred by ICOs, which have risen to a combined market cap of nearly $10 billion, handling some half a billion in 24 hour trading volumes according to data we compiled.
But there has also been a general increase in the wider digital currency space, with their combined market cap rising to a new high of $163 billion, while 24 hour trading volumes are now usually at around $5-$6 billion.
So continuing a year long bull market, with many digital currencies seeing 5x, 10x and even 20x gains in the past few months as this space goes mainstream to an extent.