Slow and steady. That might be ethereum's new mantra after the fast spring price actions and even the faster downwards July that seems to have ended with a recent bottom of $130.
Since then, ethereum has been up. Kind of in a straight line, but somewhat slowly, especially during the month of August following sideway movements at around $300.
The currency broke up on August 20th. Since then, it has unnoticeably been rising at around $20 a day, reaching a recent high of $390. Not far off from its all time high of $420.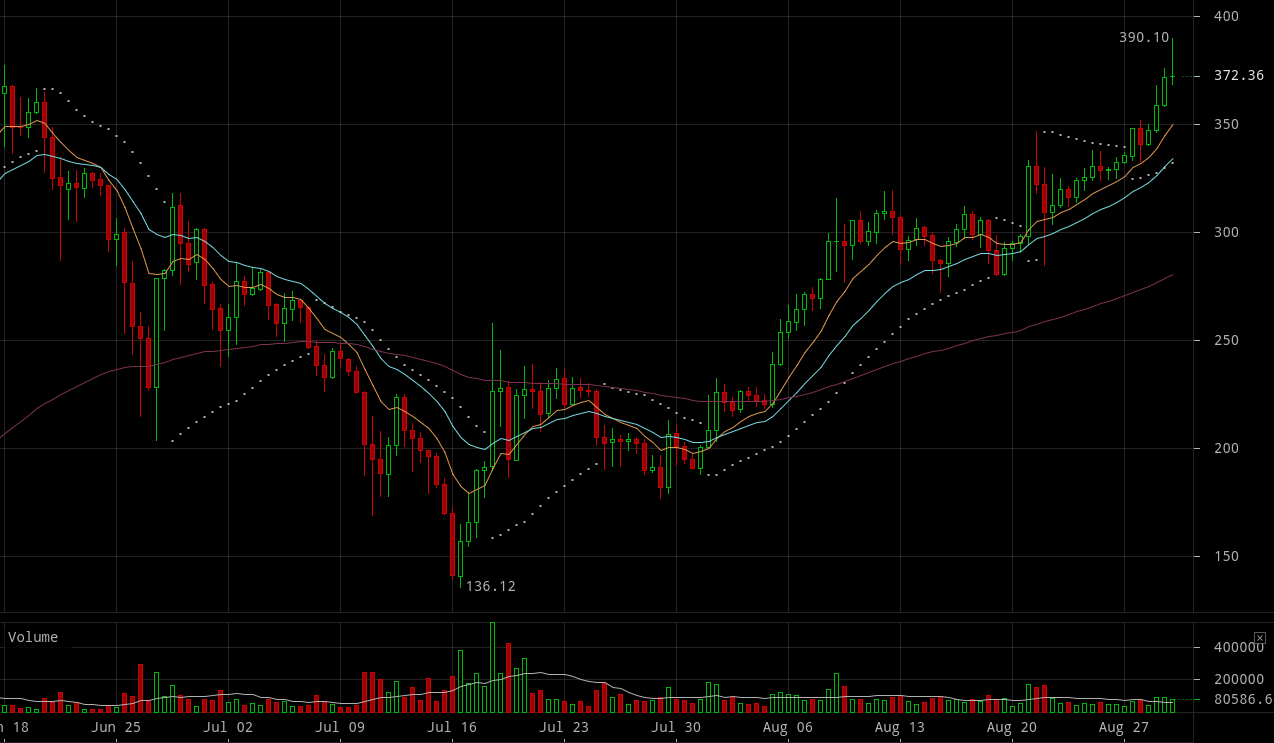 Its trading volumes have been rising too, reaching $1.5 billion today, with a bit of volatility seemingly returning as it nears $400, but the real test will probably be $420.
Traders will want to look closely and see if it breaches it. If it does, slow and steady might give way to faster movements as ethereum takes its turn at the spotlight.
That's because the currency is soon to have some considerable developments, including its own halvening of sorts in the next few weeks following the much anticipated Metropolis upgrade.
That will slash block reward from the current five eth to around three. If demand remains the same, or increasing as it seems to be, then the reduced supply might have the effect of proportionally increasing the price.
If it does so mathematically perform, then the currency might once again be very close to overtaking bitcoin's market cap, bringing back that talk of the flippening.
The Devcon 3 conference may add fuel to it, while bitcoin's expected troubles around the same time might even lead to an ecosystem wide shift dependent on how it is handled.
All of the above is necessarily speculative, but there is something very unique happening here. For the first time, the bull run in this space is being sustained. It has never lasted months, while it has lasted for much of this year.
The reason may be because fortunately we have not seen a blackswan event, suggesting this space is maturing while providing some sort of stability.
That may be because it has now become very obvious just how important security is and just how dangerous any incompetence or negligent oversight can be, coupled with a decent – while still not good enough – diversity and competition between exchanges.
It's too early, however, to declare much confidence in that underlying infrastructure. Things can, and sometimes do, go wrong. But this year they haven't. Not to any significant extent.
Instead, it has gone very right so far. With the bitcoin hardfork a booming event, the best of ICOs rising, some nearing $1 billion in market cap, while new jurisdictions, like South Korea and Japan, make an entrance.
Making 2017 the best of years so far. The annus mirabilis.