Bitcoin has made a new high today of $4,800, with the currency pretty close to the big $5,000, "slowly" rising and rising recently, reaching new all time highs daily. While its market cap stands at $79 billion at the time of writing.
Its trading volumes have been somewhat stable at around $2 billion, so supporting a somewhat "stable" price increase in the past few days, following an astronomical rise during the past few months.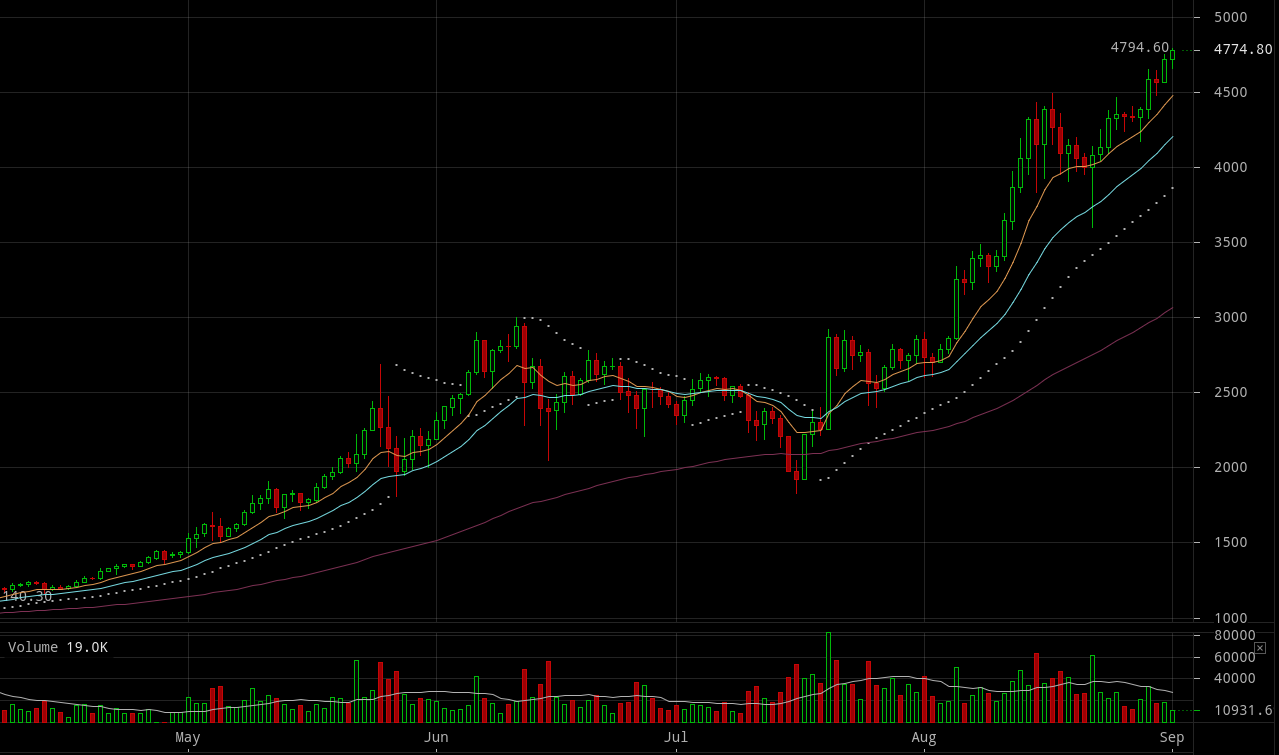 The spring and summer boom for bitcoin and the wider digital currency space might be primarily explained by the fact they have gone mainstream as far as awareness is concerned.
Bitcoin's ancillary "implication" in high politics may have considerably aided in that respect. So including allegations Trump's former Press Secretary, Spice Spencer, had tweeted a bitcoin string, as well as suggestions close aids to Macron had used bitcoin.
While at the height of politicized alleged Russian involvement in the election, Jared Kushner, Trump's son-in-law, suggested one of his potential contact with Russians may have been an extortion attempt by an alleged Russian hacker called Guccifer400.
To top it all, the President of Russia himself, Vladimir Putin, had a brief meeting with Vitalik Buterin, ethereum's inventor, suggesting everyone has some vague idea about what bitcoin is.
Another important factor may be the apparently uncorrelated behavior of bitcoin and other digital currencies, like ethereum. They do not seem to necessarily respond to stock market movements, gold movements, or the movements of other assets. Giving them useful utility for diversification purposes and as a hedge.
One such hedge might be protection against sudden devaluation or weakening of currencies, with a correlation found between interest in digital currencies and investors in countries with falling currencies, including Brexit Britain and hyperinflation stricken Venezuela.
The global nature of digital currencies and their trading in all major markets and against all major currencies may allow them to act as a global currency of sorts, retaining its value regardless of whether national currencies inflate or deflate. Potentially making it useful as a hedge for exporters and importers.
Those are just some of the aspects. The ICO boom most likely plays a role, with new business models created and even established companies, like KiK, entering the space.
Then there is ethereum's industrial use, from energy markets to self-driving cars and supply lines, with bitcoin rubbing off its success as the better known digital currency and sometimes as even conflated for ethereum.
Such as when mainstream media reports that bitcoin sent GPUs out of stock, even though GPU mining for bitcoin is as good as impossible, while being the only way to mine eth.
All these factors, and others, have combined to create a booming 2017, with the combined market cap of all digital currencies now rising to a cool $175 billion as the bull market seemingly continues.