Bitcoin rose within touching distance of $5,000, reaching an all-time high of around $4,970, but the currency was unable to cross the line, with bears seemingly sensing some weakness.
A sell-off ensued near midnight New York time, sending price down in minutes by nearly $500 to around $4,500, followed by the inevitable bounce, with price receding again, this time a bit more slowly, to around $4,600 at the time of writing.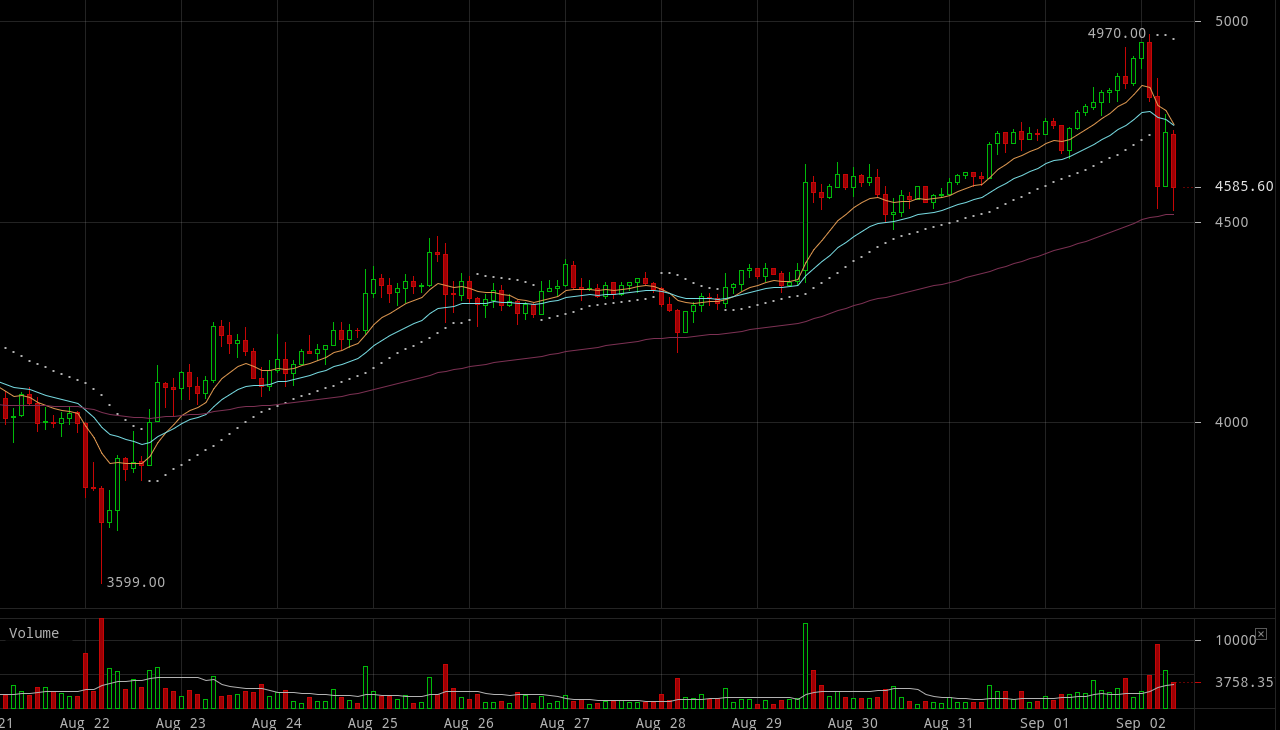 Bitcoin's trading volumes are at an all-time high. Considerably rising since yesterday to around $3 billion as volatility increases following the fast price movements.
There has been no news to excuse the selling as far as we are aware, while for bulls there was some good news yesterday as it appears the chances of a bitcoin ETF approval have increased.
So the sell-off doesn't appear to be news driven, but rather sentiment driven. 5,000 is a big number, so you'd expect some jitteriness from bulls and some attempt to scare them away from bears.
That, they seem to have done successfully, for now. The question is, whether bulls will take courage and charge through the 5,000 wall, or whether it's time for bears to go on another parade.
There are good arguments for both. Nothing has changed, so why should the direction change, bulls may ask. 5,000 is not the big number, 10,000 is, they might argue. The market cap is not even $100 billion yet, they might protest.
While bears may say everyone is bored of this up and up everyday. The market might need a bit of cooling down, they may argue. Straight line in one direction is not fun, they may say. We need two directions, they may protest.
The window of discourse here, as far as we can see it in any event, is interesting. Bears do not seem to suggest they want to take charge, except for temporarily when the bulls are a bit tired. So allowing them to relax and recharge. Meaning that the bull market might continue even if there is a bit of bear summer swimming.
But that, of course, is necessarily speculation. What isn't, is that this space has never been in this sort of situation before. Something fundamental has changed.
Previous bull markets were always previously ended by catastrophe. That catastrophe was always brought by MT Gox. That exchange is now thankfully bankrupt and out of operations. With no Gox, who will come?