China's Caixin, which we are told is usually credible, is reporting that Chinese crypto exchanges have been ordered to close down operations following an investigation that began earlier this year.
According to a rough translation, they state: "The domestic exchange between all the virtual currency and the renminbi, represented by Bitcoin, and Ethereum, will be closed in full; however, the regulation is not against the virtual currency itself, nor does it prohibit the one-on-one OTC transaction of the virtual currency."
We can not confirm the above report, which states the three big exchanges, OKCoin, Huobi and BTCC have been ordered to close today at 17:30. It is currently midnight in China and all three appear to be up.
We have not received a response from either of the three, but we are told Huobi's Director of Operations has denied the above report.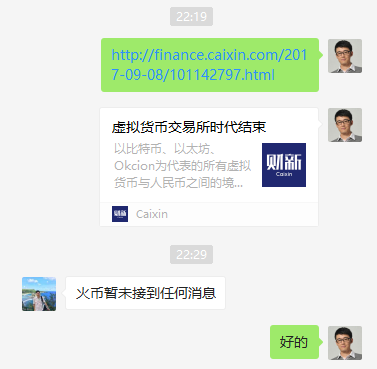 We are told Huobi's Director of Operations stated "we have not received any government instructions yet."
There are suggestions OKCoin has denied receiving any such notice too. BTCC has also denied they have been ordered to close. They state:
"BTCChina Exchange is operating normally, and has not received any new directives from Chinese regulators. We'll keep you updated."
China's People's Daily, the official media of China's Communist Party, publicly tweeted out to their follower in English to state:
"Chinese supervisory authority has decided to close local virtual currency exchanges, involving "currency line", "coins" and "Bitcoin China"."
What any of those terms mean we are not very sure. Nor is it clear whether they are referring to the Caixin source, or are themselves reporting the news.
This is likely to be a fast evolving story. The above information may be incorrect and further clarification might be received. We will update as we learn more.