One of China's top three bitcoin exchanges has just announced they are to stop all trading by the 30th of September. BTCC publicly stated:
"After carefully considering the announcement published by Chinese regulators on 09/04, BTCChina Exchange will stop all trading on 09/30. BTCC products, including BTCC Pool, are not affected by this change."
This sudden decision is made after the exchange denied they were closing down on September 10th, telling trustnodes at the time:
"No, BTCChina Exchange is operating normally and has not received any new directives from Chinese regulators."
That appears to have changed. The reason remains unclear at this stage. The September 4th notice concerns ICOs as far as we are aware.
There are rumors of a new notice which suggests China is to ban crypto exchanges. However, some clarification appears to be developing which suggests they will only require a more strict licensing regime, rather than closing them down.
But, in the transition process they might have to close. A step which BTCC has now taken. We await clarification from the rest of exchanges.
Bitcoin's price at BTCChina crashes down to $2,900.
ViaBTC does not confirm or deny whether they are to close their exchange. Tells us to follow their twitter or their "further announcements."
"Regulators in Shanghai, the country's financial center, gave verbal instructions to exchange operators to shut down, China Business News and 21st Century Economic Report said on their websites. They gave no other details." So says the Washington Post.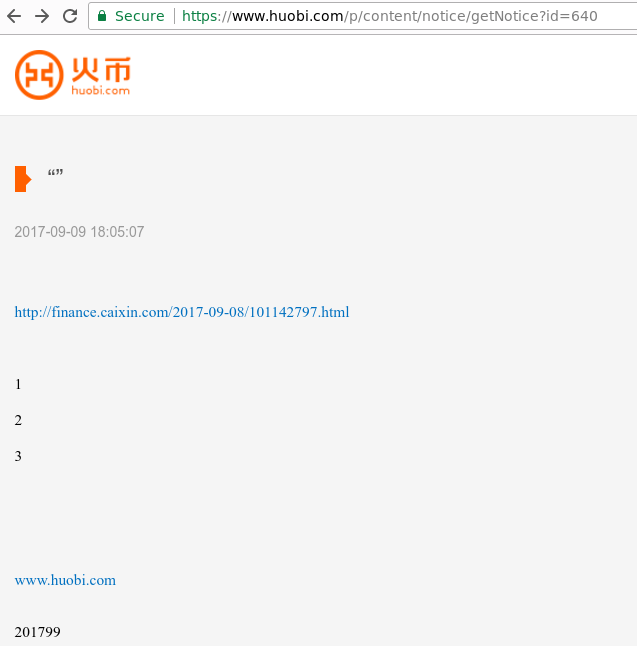 We're not sure what to make of the above. It's dated 9th of September and at the time they denied they received any notice, but the countdown appears suggestive.
You'd expect all exchanges to shut down around the same time. However, we are not hearing from other exchanges. That may be because Chinese media reports suggest local authorities have been asked to take the enforcement action.
The first one to do so appears to be Shanghai's local authority, where BTCC is based. It appears they're the only notable exchange to be based there. It's unclear at this stage under which local authority OKCoin and Huobi falls.
Off the Counter (OTC) online groups already beginning to form online in China as a new down, filled with dark clouds, descends on the country.
CHBTC tells us they are not closing. The exchange is "still working," but they are based in Beijing, it may simply be the case the local authority has not yet gotten around to it.

We're not sure what the above image says exactly. It's from Li Xiaolai, a Chinese bitcoin multi-millionaire, a rough translation we have been provided is that he says "all bitcoins need to be cleared." We're not sure what that means.
Jack Liao, a somewhat prominent Chinese bitcoin miner, says all exchanges will be closed.