The room was half asleep listening to Matthew Hodgson go through a presentation on Matrix, a decentralized communication network that replicates conversations among all participants.
We are disrupting telcos – he says. A question mark is added in my notes, as well as an underline, as if to ask, really?
He walks though a number of slides, showing graphs, trying to explain some new communication related terms, then summarizes it in a nutshell: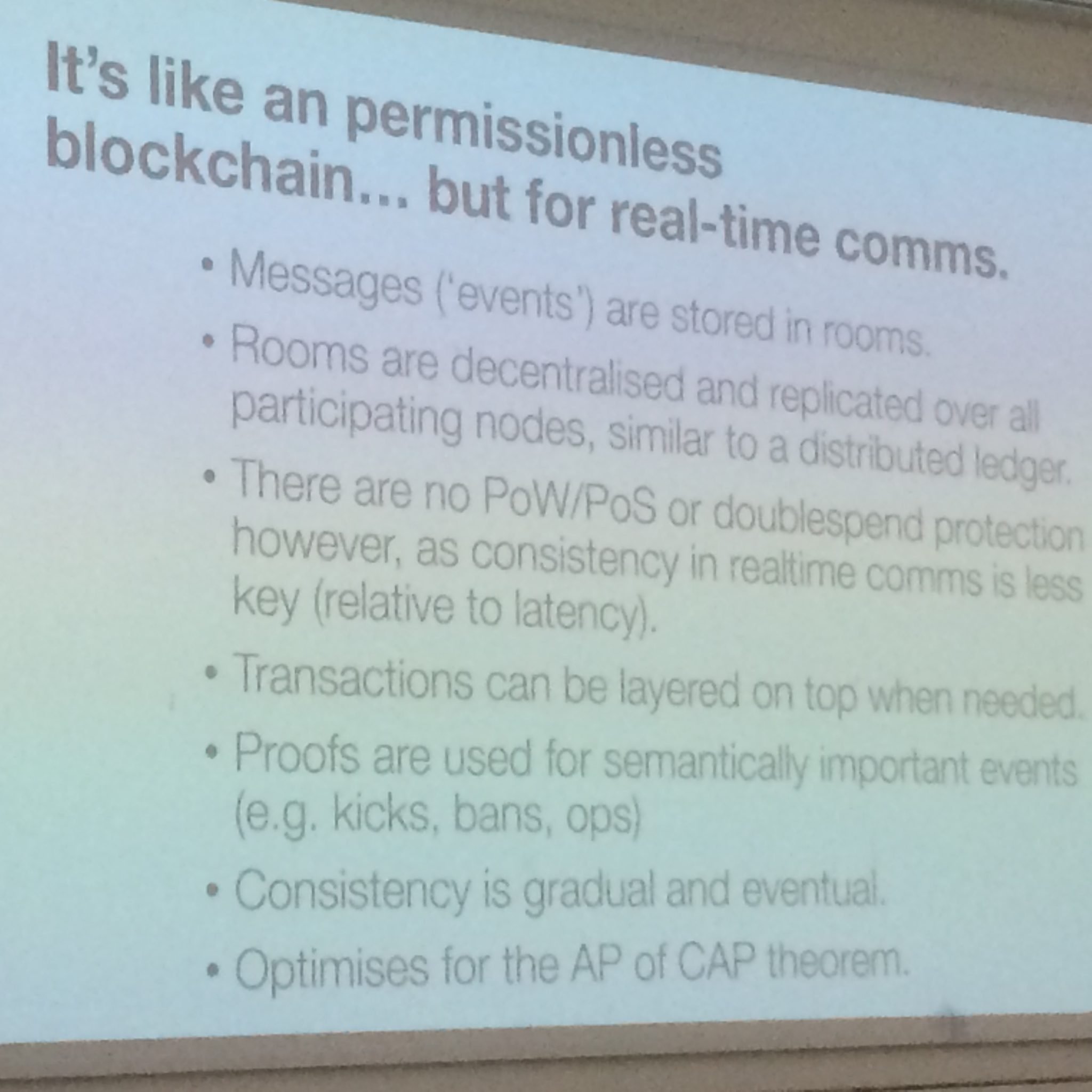 Interesting, perhaps. If we had any clue or understanding of the AP or CAP theorem. Which means at this stage, most were probably drifting off, somewhat lost.
But then Hodgson asked if we wanted to see a demo. Grabbing everyone's attention in anticipation of what may be shown in the heart of London.
He logs into a complex network. A network so filled with activity we had to focus our pictures on only parts of the screen. Look, it all moves, he would say, scrolling up and down the list of chat attendants. We have 3 million users, he said.
At that point, I realized pictures do no justice and started recording. What was presented was a complex, decentralized, real time, communication system, with many busy rooms where you could go.
But that wasn't all. You could use video. Integrate it with Slack or IRC. You could integrate it with a Virtual Reality world.
Our words can do no justice, as much as we would like. One simply can not describe what one feels and how much imagination expands when the real thing is seen.
Therefore, despite our very amateur recording, we can't wait another month for the professional video to be released. We think our readers deserve a taste today of this must see fairly short demo introducing matrix. So we present the recording below.
We, of course, are not in any way related to the project and do apologize for the poor quality of the above recording. As stated, the professional full video of the presentation should be out in about a month.