It's London. We can't quite have a journey without some train breaking down somewhere. Pretty long queues everywhere. Stewards pretending they have a clue about anything, or the opposite, that they don't know a thing at all.
How long have you been waiting here? I ask a couple, potentially friends, that happened to be in front of me. Oh, just 5-10 minutes, he says. Rubbish, I tell myself.
As it happened, another 20 minutes had to pass. In that old fashioned tradition, the couple in front of me left in frustration about 3 minutes before doors opened.
I was late. Stephan Tual, from the Slockit DAO and the event's organizer, had warned everyone to be there in time as there was a long waiting list. I might miss it, I was thinking, while making my way towards South Kensington.
The usual two story London buildings gave way to the more imposing wealthy Kensington houses, with my walk sending me past embassies and all the rest.
Not that I had time to look up much, except when passing by a medieval huge church or building, standing next to very 21st century glass premises.
If I was made to feel small, I found some relief and disappointment when facing the building I was to enter, made of soviet style granite design. Somewhat out of place from the surroundings. Although, looking back at the picture, it does seem fine, an effect the rare London sunshine is known to have.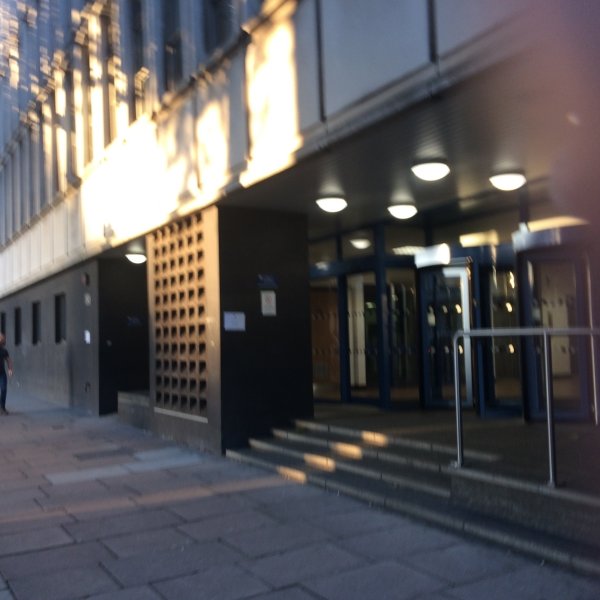 There were long queues inside. I assumed they were from the waiting list, so tried to claim my reserved place. It turned out, in the end, everyone could get in and there were still empty chairs. A lesson learned, Tual commented a couple of times.
The inside of the lecture hall brought back uni memories. This one looked a bit bare. With the walls in need of some painting. But my immediate concern was a drink after all that fast walking, which I had forgotten to buy. Thankfully, someone walked around offering free small water bottles.
A man in his 40s, to my right, takes courage and introduces himself. Hard he tried to get me to say anything. My mind more pre-occupied wondering why the smart phone twitter account kept telling me I had entered the wrong password.
Not that I had to try any less to understand his involvement in this space. He said he's an entrepreneur, and when I went fishing, he said he wasn't currently involved in any project, but was looking to get involved.
I wondered how. His physical response seemed to say, that's the question, that's why I'm here. The man appeared to be a financier of sorts, probably a current or former banker.
What struck me most is the age of attendants. You'd expect 20 year olds, maybe very early 30s, but the majority appeared to be in their mid thirties or early 40s. Or perhaps, I had been too courageous in choosing front seats.
Because young, mostly men, were somewhat prominently scattered here and there. I did notice one, around 20, knocking his hands against each other in an attempt to crawl our of his skin, presumably because he was wearing a suite, embarrassed no one else, except for a few, had thought of being so formally dressed.
It's alright, we've all been there, no one cares. I thought to myself, while not considering for a second that I could go and say high to console him.
That's the thing with these physical meetings. Norms kick in, emotions play, individuals are instantly pre-judged on how they look or what they wear, with rules, of course, even in this very space, strictly enforced.
I'm told I had to wait my turn in asking the question that was in everyone's mind after matrix's demo by one of the sponsors: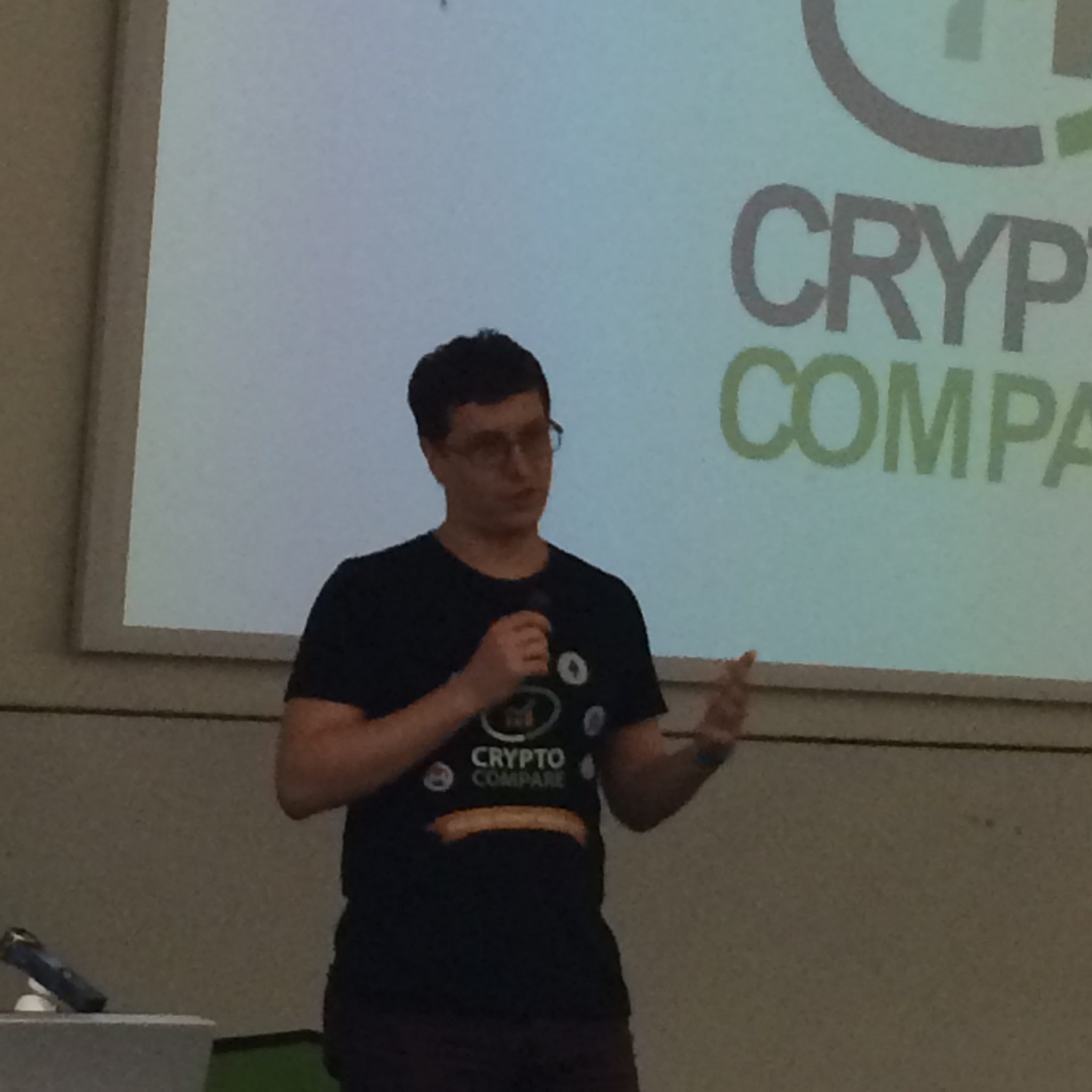 The interruption of my question by the strict regime was followed by someone else asking the exact same question. Which brings me to another take-away of meeting ethereans for the first time.
It's very different from bitcoin. It's a far more subdued affair. A lot more focused on technology. Less on the big picture, on how blockchain's invention could improve the financial system.
It may well be that's because Mathias Grønnebæk is no Roger Ver, the last one to hold a bitcoin conference or meetup in London this November 2016.
While Ver had courage to speak about blockchain technology even bringing world peace, Grønnebæk stumbled on explaining Hayek's insight as expressed in the Denationalization of Money.
It so happened that it was during Grønnebæk's presentation the alarm suddenly went off. Complementing his very slow presentation the mind couldn't help but wonder whether a fire was underway. So characteristically jumping in that alarm background to ask whether this was a meeting of dissenters, or technologists, the fringe or the mainstream. Or a complete pastiche.
Eventually, the alarm stopped. Someone had apparently opened the fire exit door. Eventually, it was also time for a break. When a university student, seemingly a coder, tells me he had recently become interested in this space, liked it all, and wanted to get involved.
That question of how was again left unanswered, but an east coast American placed me at ease with his marvels of mining litecoin, out of all currencies.
Finally, an old timer, comfortable in his skin, speaking with a tint of pride, and some confidence, as if to say, we too are here.
I was hoping to see the pub and check whether they accept eth, but by the time Nick Johnson finished his presentation, it was very late. Moreover, I was keen to hear the very short presentation to be given by Makoto Inoue: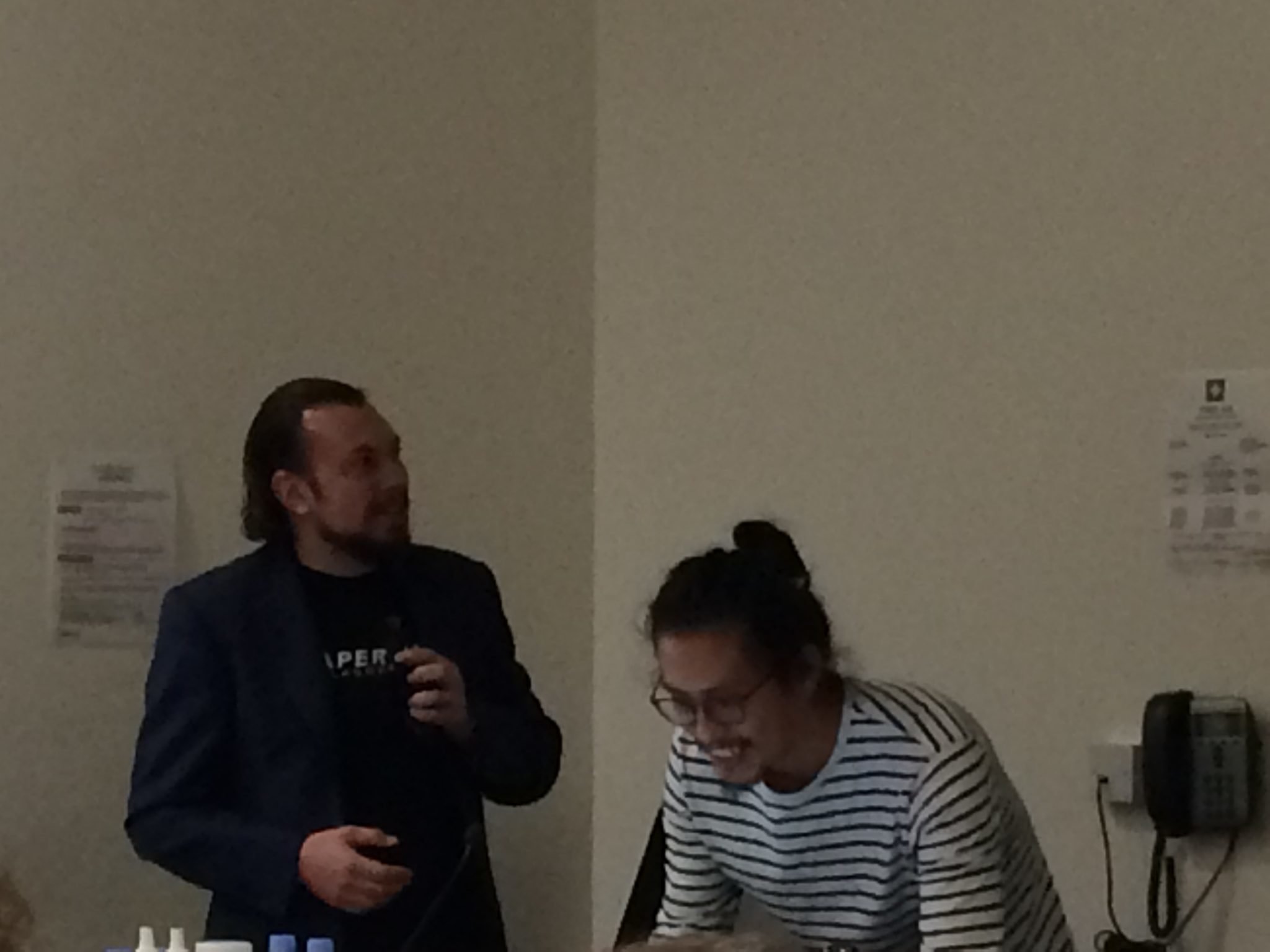 But time didn't have much care for my preferences. London being what it is, I had to make my way home, so getting out of the building to a fresh September night, with those tap tap shoes made louder by the speed of walking.
That's when a yellow Lamborghini slowed down just to my right. By the time my mind finished admiring its beauty and thought of taking a picture, the accelerator was pressed, the image gone.
Whether a coincidence, or more far fetchingly intentional, that too says we are here. That big etherean world.
Walking past food shops I realized I had not eaten. Yet I couldn't quite stop, so needing to take the train, reaching home near midnight itself.
It's then when I wondered what those event sponsors had paid for while laying their banners all around. Not least because it would have cost a mere £750 to feed us all.
A far smaller data analytics conference I attended some weeks ago had food, beer and even posh wine. At least, we were not left without water, but the only gadget to take home was a paper wristband.
Can't complain much because bitcoiners, part of a bigger market, don't even have these events at all. Their last, so being, the November Blockchain Money conference.
So Tual, whatever past misgivings, should perhaps be commended for putting up the show, and the likewise gatherings to be followed once a month until December, but it would be much nicer if some basic comfort, such as food, could be provided.
In any event, I'll know next time. And if the cryptocompare guy tells me to not eat chilli rice in the middle of the room and halfway through a presentation, maybe I'll go fully red and melt there or say sorry sire but man must eat.
Because the event isn't just presentations. It's a gathering of like-minded individuals of many ages, genders and nationalities in the heart of London.
We are not there to only listen, but to also participate and form a bond. Something more easily facilitated if the event starts earlier and finishes earlier, with some basic food and drink and preferably a little gadget.
So recognizing that this pastiche of miners, bankers, students, coders, and all the rest, misdressed or flamboyantly dressed as someone was to my embarrassment to take a picture, needs its own space to mix and perhaps melt.
Because maybe, just as I should have taken courage to go speak to that guy who was trying to crawl out of his skin, so too should this space take courage and recognize we're at a global stage now and we should play the part.