Carl-Ludwig Thiele, Executive Board Member of Germany's Central Bank, called bitcoin "more of a speculative plaything than a form of payment," in remarks made yesterday at the Official Monetary and Financial Institutions Forum (OMFIF).
The 64 year old trained lawyer and German politician who describes himself as a "competent Executive Board member at the Bundesbank," Germany's central bank, further concluded that "central bank-issued digital currency, I believe, is currently an unrealistic prospect."
Thiele says "the original promise of Bitcoin was to forge a "trustless" payment system – that is, one that required no trust, but, he says, a "trustless currency is not feasible," because the value of a currency "hinges on trust in the central bank."
He does not consider whether such trust may have eroded following the banking collapse which led to trillions of money printing by Central Banks and which gave rise to bitcoin in the first place. But what he does say is that:
"Virtual currencies are exchanged in the same way as goods, but they have no intrinsic value of their own. That is undoubtedly one reason why their value is highly volatile. Over the long term, that naturally also exposes Bitcoin holders to the risk of total loss. For us, Bitcoin is not money, it is a speculative plaything. The great number of sometimes dubious initial coin offerings is a clear indication that Bitcoin is more of a funding instrument.
To repeat: it is more of a speculative plaything than a form of payment."
It is estimated that $1 trillion worth of value may be transferred through the bitcoin network by the end of the year, with the global market cap of digital currencies rising to some $140 billion, $10 billions of which is tokens issued by innovative projects.
Moreover, we just reported about an Australian Law Firm accepting bitcoin for payment, while a posh London house is on sale for btc.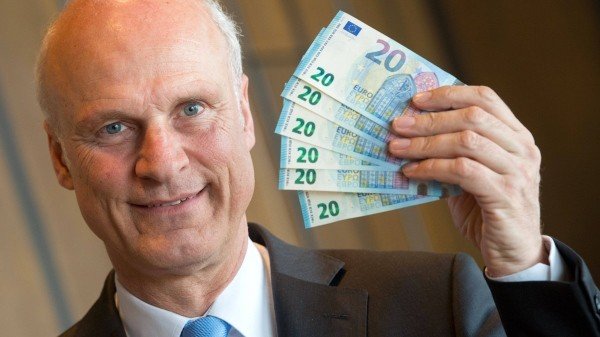 On the matter of a central bank issued digital currency, after stating they were exploring the use of blockchain technology, the board member says that if central banks use digital currencies just for settlement between banks, then it would retain very much the current system, but there is the alternative of opening direct access to the public. He says:
"Significant parts of non-banks' sight deposits being shifted into a blockchain, however, and no longer being available­ to the credit institutions as virtually unremunerated funding ­might have considerable repercussions for the interest margin, the scale of lending ­as well as the business models in the banking system and the banking system's structure."
He therefore says there's a long way to go before central banks issue digital currencies, so concluding his remarks made in London by stating that it is "currently an unrealistic prospect."
Thiele does not address the significant rise in popularity of digital currencies in his remarks and what that may says about the performance of central banks as far as the general public is concerned.
Nor does he address Hayek's criticisms, who considerably attacked this idea that there can be any trust in central bank issued money, stating "government has failed, must fail, and will continue to fail to supply good money." Further stating in the Denationalization of Money:
"The older generation of bankers would probably be completely unable even to imagine how the new system would operate and therefore be practically unanimous in rejecting it. But this foreseeable opposition of the established practitioners ought not to deter us.
I am also convinced that if a new generation of young bankers were given the opportunity they would rapidly develop techniques to make the new forms of banking not only safe and profitable but also much more beneficial to the whole community than the existing one."
The near retirement age executive of the German Central Bank, therefore, can't be quite expected to imagine just how this trustless currency can work, or has been working for the past decade, according to Hayek. Nor, Hayek says, can we expect him to imagine just how central bank issued codable money may considerably digitize finance and industry.
But whether a new generation of bankers will indeed be able to make new forms of banking that are safer, more profitable, and much more beneficial to the whole community than the existing ones, remains to be seen.