The tokens pre-sale of Grid+, an ethereum based energy startup that came out of ConsenSys, ended just hours after it started with the project stating:
"Due to overwhelming interest, we believe we are now at capacity on the pre-sale. Any new interest will officially be moved to a waitlist."
They raised $40 million from AML-ed investors who had to invest at least $50,000 with discounts for those that invested a quarter of a million or more than one million dollars.
A further investing round is to start on October the 30th when the actual ICO opens with the project hoping to raise another $30 million to reach a target of $75 million.
The funds will be used to initially launch a somewhat traditional energy retailed with the start-up buying wholesale energy and then selling it to customers.
They say current energy retailers charge as much as 100% of the wholesale price. The start-up hopes to lower those costs, stating in their whitepaper:
"There are fundamental efficiencies Ethereum offers that will help Grid+ significantly undercut costs of incumbent utilities. Approximately 50% of a retailer's cost are not associated with the purchase of wholesale energy and can potentially be removed through better technology and more efficient processes."
They further hope to reduce costs through automation, stating that the billing and settlement process can be automated which will reduce costs.
Their somewhat longer term aims are the development of what they call a smart energy agent. We quote the relevant part somewhat in full:
"Grid+ is developing a hardware and software stack to create a secure Ethereum-enabled gateway and connect Internet-of-Things (IoT) devices. The hardware gateway, or "smart energy agent", is an Internet-enabled, always-on appliance which will securely store cryptocurrencies and process payments for electricity in real-time, which we refer to in this Whitepaper as "The Smart Agent".
The Smart Agent will also be able to programmatically buy and sell electricity on behalf of the user and intelligently manage smart loads (e.g. Tesla Powerwall or Nest thermostat). The software stack will work in conjunction with the Smart Agent to make payments, using a combination of Grid+ designed payment-channels and a Raiden network hub (when available)."

Karabraxos is an ethereum smart contract which pools energy fees as the project wants the process to be fully transparent through their progress to an eventual peer-to-peer energy trading market where you can sell excess energy to your neighbor or buy it and store it in a battery in the hope energy prices rise, and thus sell it later.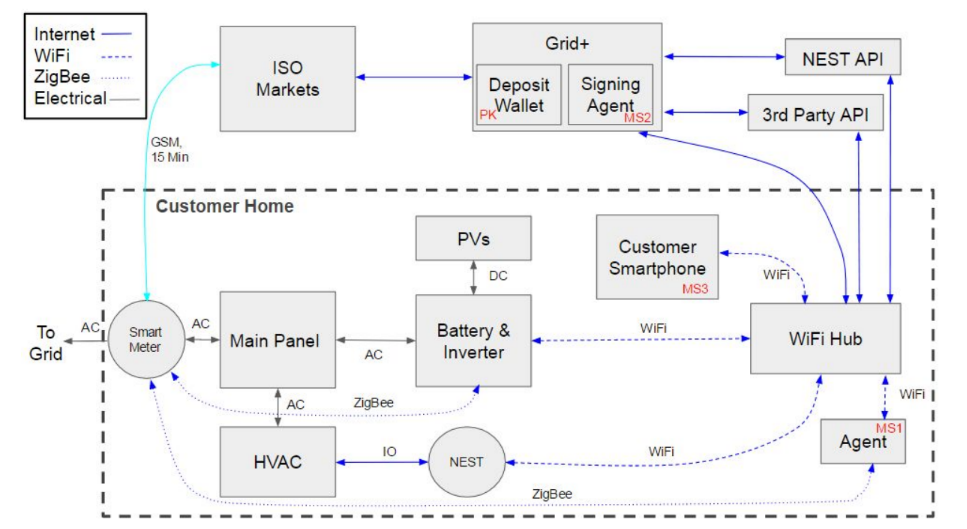 Once the full system is developed, they may allow bulk purchases of energy if you know how much you need, or it can be priced by use somewhat automatically through the smart agent.
This is just one of a number of blockchain based energy projects that are looking to take advantage of some innovations happening in the energy field. Including micro-grids, the rise in popularity of solar panels and a trend of declining prices for batteries.
There have also been developments at higher levels, with Netherlands National Grid piloting blockchain technology. So combining recent innovations to increase efficiency, lower costs, as well as encourage the use of renewable energy.
It will therefore be interesting to see which of these start-ups come on top as another race opens in the blockchain space.