Ethereum bulls are currently just about holding out bears this Sunday, with the currency maintaining a price of around $280 at the time of writing.
At the same time its volumes have slightly risen, to nearly $600 million, but they are still far off from its all-time high of $3.2 billion reached this summer.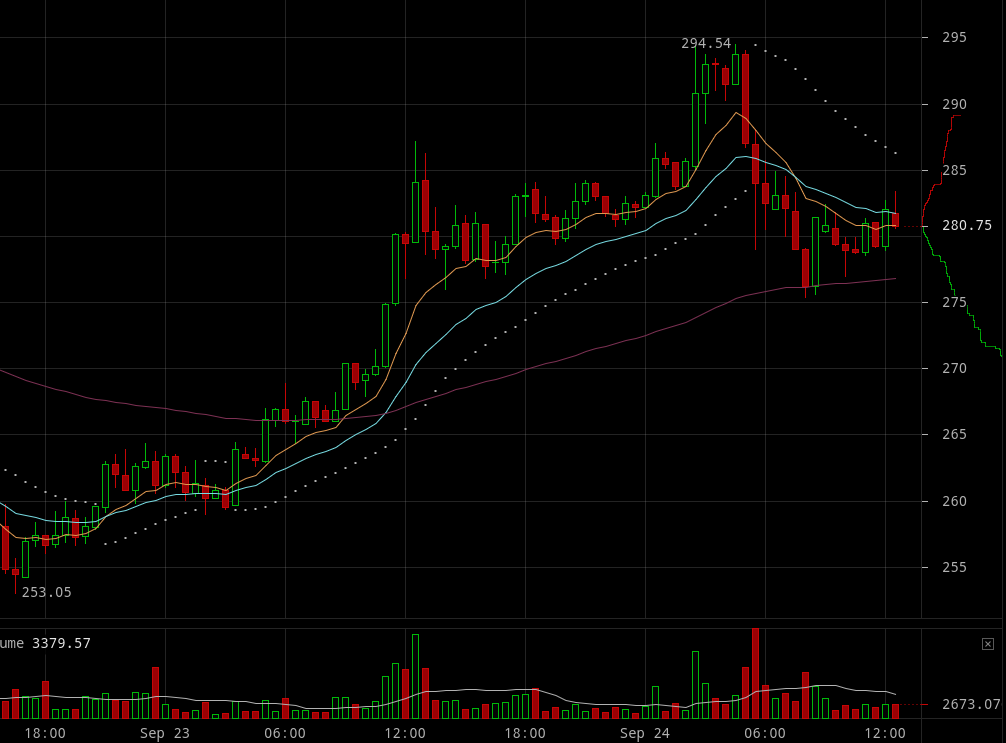 The currency has somewhat increased in value against bitcoin, while in dollar terms it seems to be moving in a straight line at around $280 if we ignore that outlier attempt to $294.
If we zoom out a bit more, we can see the currency is at a resistance level. Spending some five days at around this price level back in August, and 3 days recently.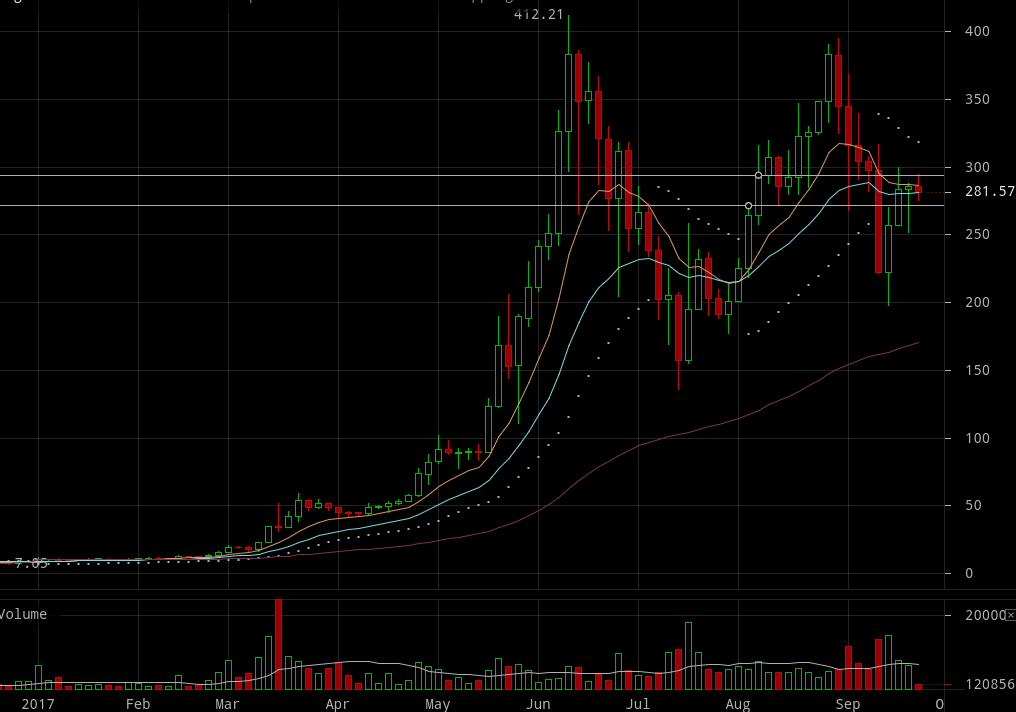 That doesn't tell us much, except that bulls and bears are currently fighting it out. Which side will win we'll have to wait and see, with another potential resistance level near 300 and the biggest of them all so far, 400, which ethereum hasn't yet been able to really cross.
While downwards we can expect resistance at $250, considerable resistance at $200, with bears unable to really breach $150 since ethereum reached all-time high.
Sentiment appears to be somewhat bullish. The currency has risen from $200 to $280 after a China induced crash. With the network expecting its first upgrade in more than a year.
That's to take part in around three weeks when capacity is to be increased somewhat due to a decrease in block times back to 15 seconds combined with a decrease of issuance to 3 per block from the current 5.
It is a timely upgrade, as far as capacity is concerned, because ethereum does need it. But all eyes remain on Proof of Stake, which would probably be the biggest upgrade of any digital currency ever.
That will get rid of mining farms which consume tons of energy and tend to be geographically centralized, while also increasing capacity further, but development on that front appears to be moving somewhat slowly.
The reason seems to be because developers are working on two version of Proof of Stake, instead of pooling their resources onto one.
Why, is not clear. But Devcon3 is now just weeks away when developers take to the stage to present what progress has been made so far and what more we should expect in the coming months.
The gathering is happening in Mexico this year, which America might see it as a bit of a snub. But the previous administration has not been nice to this space.
Trump's conservatives are expected to be far more friendly, but we have not seen any concrete action to cement expectations. Such as, for example, a sandbox for ICOs, Canadian style.
If they do follow such example, then perhaps next year they should be rewarded. Or, perhaps, London, so being sort of in the middle of the world, should be honored with the gathering of the biggest blockchain talent, probably in the world.