Dubai's Land Department has become the world's first government run entity "to conduct all transactions through a Blockchain network" the Government of Dubai Media Office said. Sultan Butti bin Mejren, Director General of DLD, stated:
"Blockchain, as the name suggests, is very similar to a long chain in which each partner serves as a loop, with the whole chain providing all services in one location. We have ensured that all procedures will be fully integrated so that customers do not have to move between different service centres to complete procedures.
Our aim is to unite all real estate and department services on a single platform. We hope to complete our project in the year 2019-2020 and we are keen to attract parties from the private sector, particularly those that are already partners or currently work with Dubai governmental institutions."
The initiative has been developed by Emirates Real Estate Solutions (ERES), the technical arm of the Dubai Land Department, in collaboration with Smart Dubai and a number of other partners in the public and private sector, including the Dubai Electricity & Water Authority (DEWA); wasl Asset Management Group, one of the largest real estate developers in Dubai; Emirates NBD, the banking partner for the initiative; and furniture company, IKEA.
The Blockchain system records all real estate contracts, including lease registrations. It further creates a holistic system, linking them with the Dubai Electricity & Water Authority (DEWA), the telecommunications system, and various property related bills.
It further incorporates a  tenants databases, including Emirates Identity Cards and the validity of residency visas. "The entire process can be completed electronically within a few minutes at any time and from anywhere in the world, removing the need to visit any government entity" DLD says.
wasl Asset Management Group is the first to join the initiative, allowing tenants to access the system through a personal identification card, able to renew contracts and make blockchain based payments through banking partner Emirates NBD.
Dubai's Land Department is to record on the Blockchain all Dubai properties, available to their customers as well government and private sector partners. They say:
"The technology will allow investors residing in Dubai and around the world to verify property data that is backed by timestamp signatures, enhancing the accuracy of data, the credibility of investment transactions, and the transparency and clarity of the market."
In effect, they are seemingly tokenizing properties. A hot new area in this space because it can considerably add liquidity by allowing sales of properties in the same manner as Apple shares, with a house so turned into many parts of a whole.
For private enterprise to take advantage of those added benefit, government run Land Registries need to upgrade their systems by implementing blockchain technology. Something Dubai has seemingly done. Dr. Aisha bint Butti bin Bishr, Director General of Smart Dubai Office, said:
"This underpins our launch of a Blockchain system while the rest of the world is still testing this technology. I congratulate DLD for taking the lead in this initiative and moving us one step closer toward achieving the ultimate goal of the Dubai Blockchain Strategy launched last year by HH Sheikh Hamdan bin Mohammed, which is to transform Dubai into the first government in the world to undertake all transactions through the Blockchain network by 2020."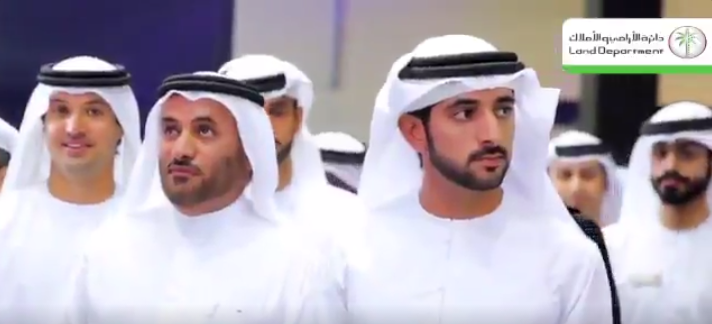 The 34 year old Sheikh Hamdan bin Mohammed (also known as Faza), Crown prince of Dubai, educated at Sandhurst and the London School of Economics, unveiled plans in October 2016 to apply all transactions through blockchain technology by 2020.
Towards that goal, they have signed numerous memorandums of understanding, including with the ethereum powerhouse, ConsenSys, in July this year. Although it is not clear whether they are assisting in the blockchenization of their land registry. Bin Mejren said:
"This initiative is still in a stage of infancy. In the near future, we will see many partners joining Blockchain to improve their client services, including banking, mortgages, and utilities and maintenance operations."
The plan thus appears to be a holistic system, so moving forward to implement the Crown Prince's aim of undertaking all transactions through blockchain technology. Upgrading the very rich city-state to the newest cutting edge technology. Bin Mejren said:
"This makes DLD the first government entity in the world to implement all of its transactions through the Blockchain network. As the system simplifies people's lives by using an integrated system, we are working directly with Smart Dubai to provide our customers with utmost satisfaction and avoid wasting their valuable time.
This is a major step toward cementing Dubai's position as the world's smartest city, expanding our online partnerships with all government entities and real estate parties that our customers need to complete their transactions."
Undoubtedly the whole world is watching this complete implementation in all parts of Dubai's society, including money itself, as we reported previously.
Not least to see what benefits will be gained both immediate and strategic as the city state races ahead.