Catalonia's President, Carles Puigdemont, fell short of formally declaring independence in this historical day for Spain and Europe, concluding:
"We propose the suspension of the effects of the declaration of independence for a few weeks, to open a period of dialogue."
But Puigdemont made it clear that "the ballots boxes said yes to independence, and this is the only language we understand." Stating:
"Today I assume the mandate for Catalonia to become an independent State in the form of a republic."
Which in most aspects is a declaration of independence to all extent and purposes save for the uttering of those two words, which would make it a formal and unequivocal such declaration.
However, tensions are very high in Spain following the October 1st scenes of heavily geared police taking away ballot boxes, batoning voters, and firing rubber bullets.
The Spanish government was apparently planning to arrest Catalonia's President today if he formally declared independence. The Independent reports:
"While a final decision on whether to act has not yet been taken, Spain's National Police force has elite officers deployed in Catalonia who are prepared to join a raid if Catalan police try to shield Mr Puigdemont, said one of the people. If Mr Puigdemont makes a statement that falls short of immediate independence, the government in Madrid may stay its hand."
Catalonia's president, therefore, may have had little choice but to fall short of a formal declaration today. However, this appears to be just the beginning of a stand-off in western Europe.
A stand-off of a kind we have not seen for a century in the western shores since the fall of Nazi Germany last century.
Bitcoin's price jumped by about $100 at the beginning of the parliamentary session, breaching $4,900 to reach $4,920. With price falling just below $4,900 once no clear independence was declared, to then rise again after a continued stand-off appeared likely, jumping at the time of writing to near $4,930.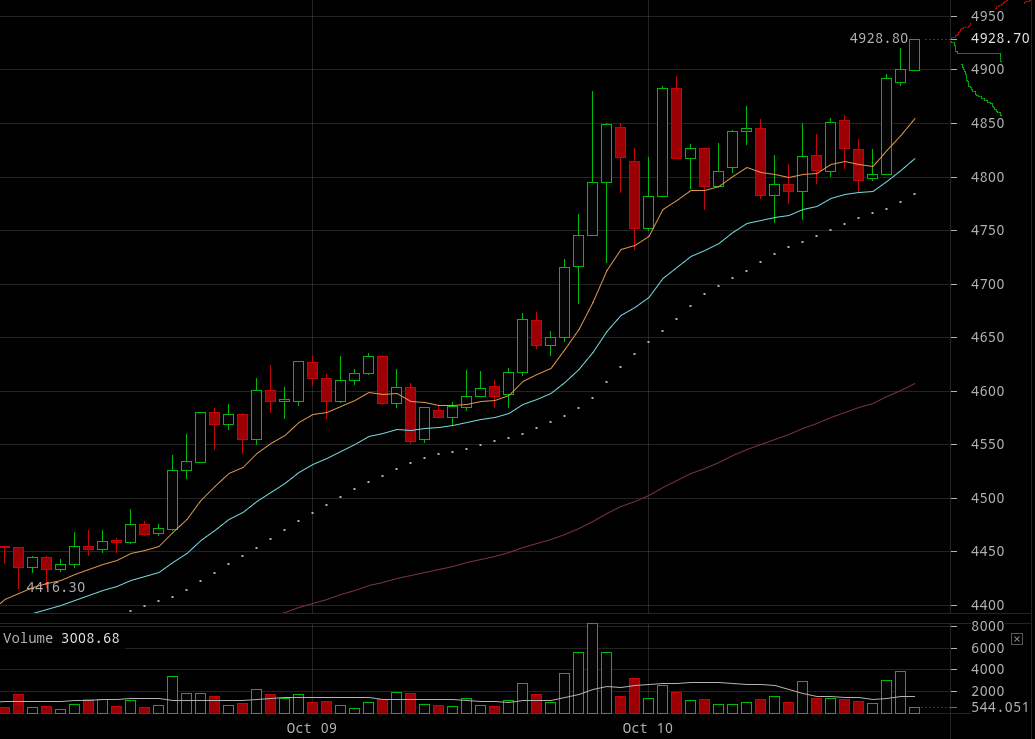 There may, of course, be other reasons for its price rise, but the currency is seen as a hedge in times of tension due to its global nature which may cancel out regional factors.
That's especially the case for millennials, who in Spain and Catalonia are now experiencing first head what they read in school as very young children.
So living through history itself as a global change in attitudes seems to be underway. Away from huge centralized structures and towards more decentralized, more local, governance.