Bitcoin rose to a new all-time high of $5,225 today, up by about $2,000 in the past three weeks, as the currency shrugs off China and old bankers to reach news highs.
Its trading volumes remain the same at around $2 billion, while global volumes have fallen to $3.3 billion, with bitcoin's market share rising to 53.1% of all digital currencies and tokens.
Moreover, the global market cap has also risen to $160 billion, up around $10 billion in the past two days, suggesting new capital is entering the market rather than just money being moved around between currencies.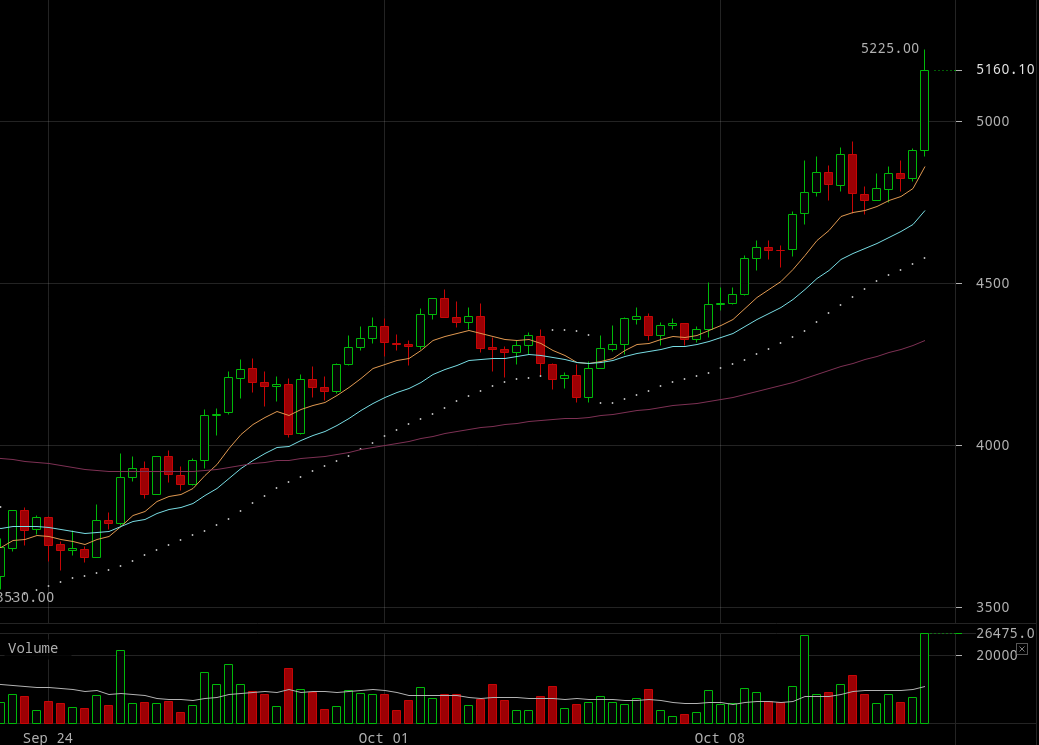 The currency suddenly jumped yesterday by $300, breaching the barrier of $5,000. Something it has been unable to do until now.
An obvious reason for this sudden rise can't be found, which means there are a number of factors, both macro and micro.
Firstly, bitcoin's resilience, even as China de facto banned it in September, will have most likely increased investors confidence, who clearly turned bullish at around $3,000.
Secondly, everything is up. Not just within this space, but across assets. Stocks are up, house prices are up, the economy is growing, investors are in risk taking mode.
Some of those investors, including most likely institutional banks, are probably betting on bitcoin to grow further.
Thirdly, there are some tensions in Europe which could spark white swans. Catalonia is one, where the situation could with some miscalculations descend into tragedy.
Italy is another. That ancient Rome, unlike its neighbors, hasn't benefited greatly from the Euro. While bank bailouts are a thing of the past elsewhere, at least for now, in Italy they happened again just this summer.
To make matters a bit worse, a new ECB rule on bad loans has shaken Italian banks, with their default probabilities spiking this morning.
Then, there's the bitcoin specific factors. Its market share has risen for the first time in many months. The very likely reason is because a fork is expected on or around 18th November.
This will be the third controversial fork, so we now have some experience of understanding how they develop, with one key important fact.
There is only one bitcoin and there is only one BTC. You can't change that, because there is only one way to arrange those seven letters to spell bitcoin.
It is probable that whatever is called bitcoin retains the vast majority of price, with the other bitcoin copy gaining around 10% once it settles after a period of high volatility.
From observation, the bitcoin market hasn't really responded to "wins" or "losses" for either 1x or 2x. For example, when bitfinex said they'll call 1x btc regardless of its hardware security level, the market didn't seem to care. Nor did it react when Xapo said the opposite.
The probable reason is because the market thinks all of this is temporary and the difference between 1x or 2x is just minute detail of little, if any, relevance.
Bitcoin will scale, on-chain and off-chain, with sidechains and even drivechains. It's science, stupid. 1MB of data here, or another there, today, or tomorrow, the market seems to say who cares.
So bitcoin rises, in this historic year for this space.