Jamie Dimon, JP Morgan's CEO, says he is not going to talk about bitcoin anymore after the old banker made quite a stir last month. He said:
"I wouldn't put this high on the category of important things in the world. But I'm not going to talk about bitcoin anymore."
That was in response to a media question during a JP Morgan third-quarter earnings call with the press. The CEO instead gave way to the CFO Marianne Lake, who said:
"We are open-minded for digital currencies that are properly controlled and regulated," she said, without clarifying which digital currency meets that criteria.
While Dimon had to make a final quib of sorts, stating "I was reminded that we move trillions of dollars a day … digitally. It's not cash."
Jamie Dimon said last month he'd fire anyone who trades digital currencies, while calling bitcoin a fraud that will be shut-down by governments, with the comment made just days after China banned crypto-exchanges.
That prompted an ad by a crypto-wallet which has been making the rounds in this space, with some calling it an instant classic: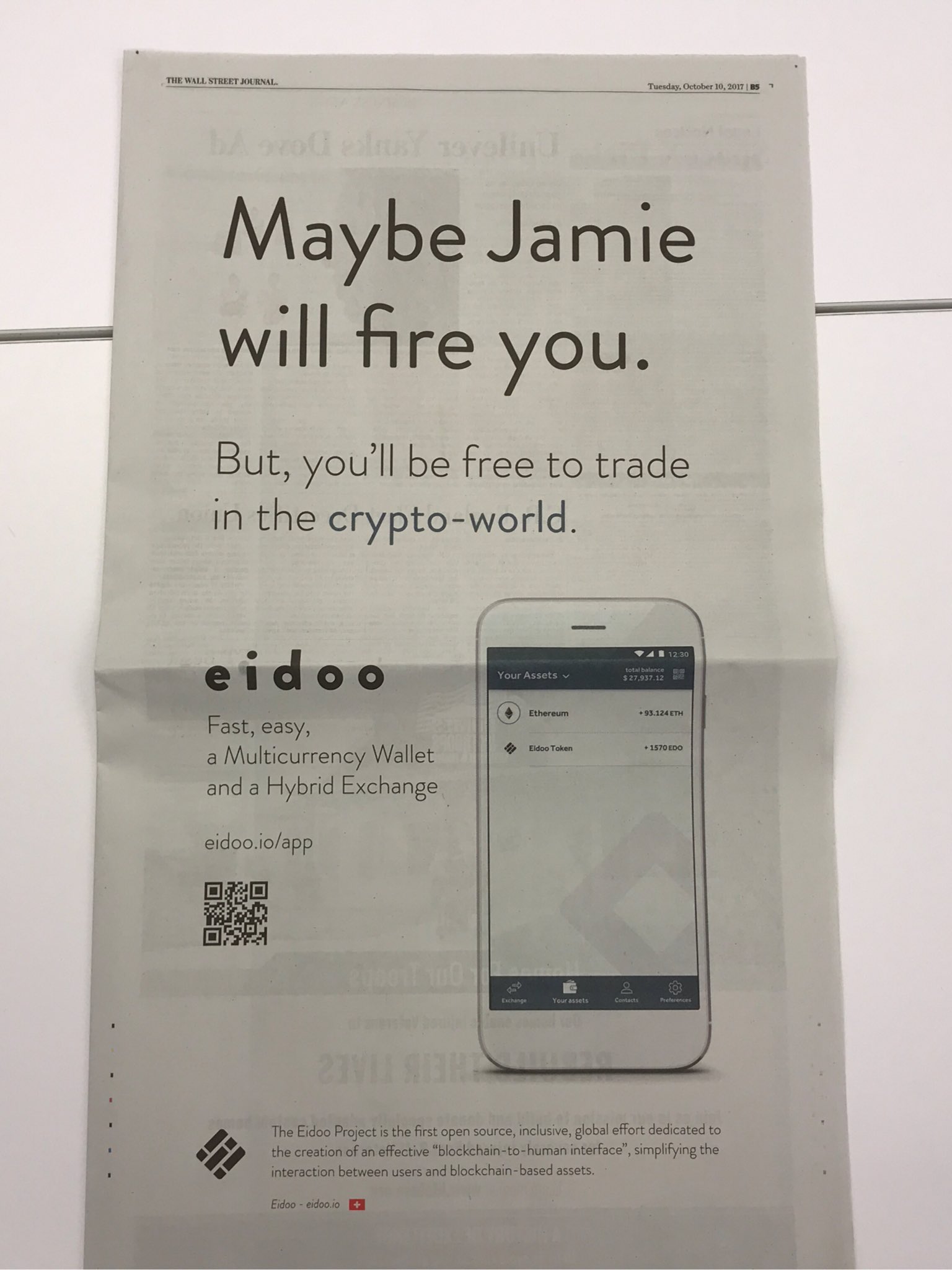 A market abuse report was filed against Jamie Dimon for "spreading false and misleading information" about bitcoin after JP Morgan bought some bitcoins following his comments.
With his latest non-comment comment on bitcoin being made following a price rise by some $2,000 for bitcoin, up from around $3,000 when he made his comments to a new high of $5,200.
The CEO has further made previous comments on bitcoin in earlier years, including a statement which said bitcoin will eat their lunch.
With Dimon now apparently keeping silence, although we'll see how long he can manage to do so if bitcoin does find itself in temporary difficulties again.
But, who knows, maybe he is no longer commenting on bitcoin because perhaps his daughter has managed to change his mind. She apparently bought some and now thinks she's a genius Dimon said.
Well, with the astonishing price rise this year, who can blame her Dimon? Sorry, just testing to see if you're keeping your vow.