Everything is up today, with the global digital currencies market cap at near all-time high, while trading volumes stand at a respectable $4.4 billion.
Bitcoin is up 3.6%, ethereum has risen 5%, Ripple is up at near 9%, while one digital currency of sorts, Lumens, has jumped 122%.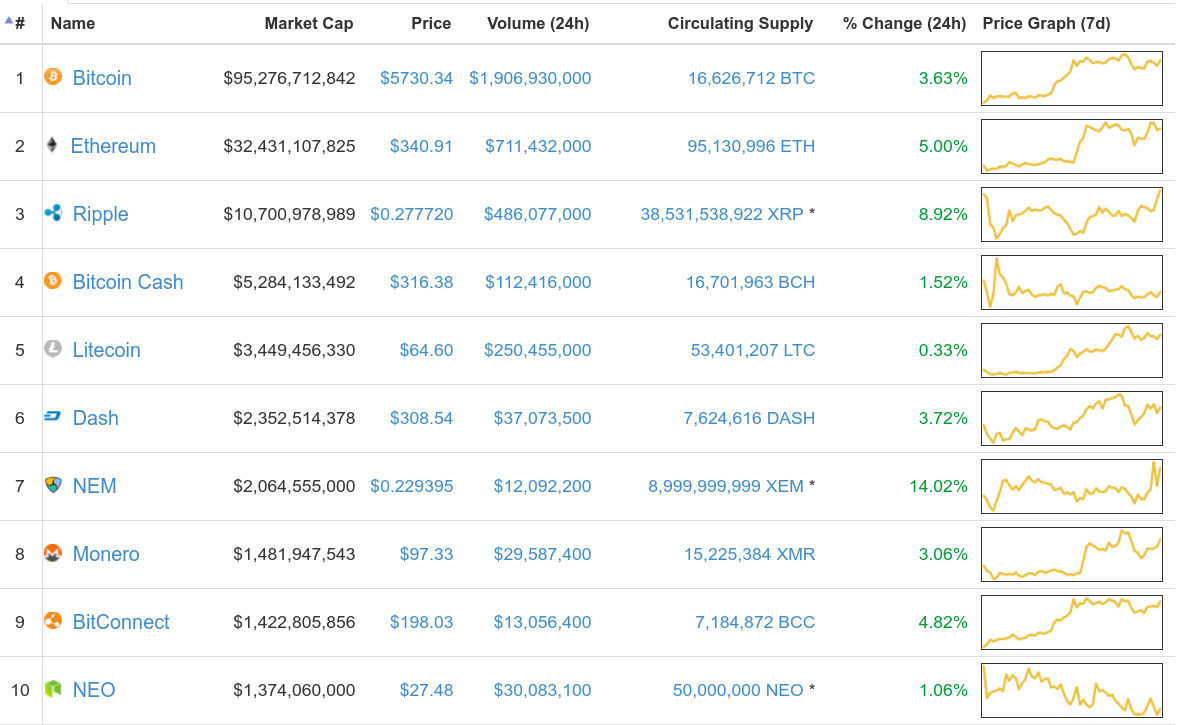 Is that… is that BitConnect? What on earth is that doing at top 10? The currency is an alleged ponzi scheme, but literally. They say:
"The moment you acquire BitConnect Coin it becomes an interest bearing asset with 120% return per year through PoS minting. All you have to do to earn with this method is to hold coins in your BitConnect-QT wallet."
The last time we visited their website it looked like from the 90s and if memory serves well they had this referral scheme of sorts. Now they've made a flashy new site.
That's because inadvertently they hit gold when Bitcoin Cash chose the ticker of BCC. Suddenly, everyone was talking about BitConnect, which at the time had a price of a dollar or so, with small blockers arguing they already had taken the BCC ticker.
Big blockers however thought it was a ploy to get them off the bitcoin name, so some of them insisted on BCC, with some exchanges continuing to list it as such, rather than BCH.
That led to some betting BitConnect will rise because of confusion with Bitcoin Cash, their bet so causing a self-fulfilling prophecy of sorts.
But CoinMarketCap needs to think hard about what they list, especially at the top ten, or we might have to find some other place to screenshot.
Anyway, if that's a surprise we have another one. Stellar Lumens are skyrocketing, up 122%, after IBM starting using their network for international payments.
As can be seen, the currency appear to move only in a straight vertical line when rising, without even a little bit of curve.
It apparently isn't the first time either, so engaging in a similar price action back in May. But we'll have to wait and see if it can keep its value this time, or whether it will move in a slightly less straight line down.