Stellar jumped as high as 132% today, with its trading volumes rising to $215 million, following the announcement of a new partnership with IBM.
The tech giant, in collaboration with numerous banks, has launched a cross-border payments platform processing live transactions in 12 currency corridors across Australia, New Zealand and the United Kingdom.
It will apparently process some 60 percent of all international payments in the South Pacific, using Lumens for payments, which are then converted into local currency by market makers.
That seems to be a temporary solution, with Jesse Lund, IBM's VP of Blockchain Technology, stating that he expects central banks to issue digital currencies on their own as early as next year.
Lund further said that "this is the next step in the evolution of blockchain technology. It's live money moving around a network."
According to Coindesk, "the platform is already integrated with IBM's Financial Transaction Manager, which itself is integrated with ACH, SEPA and other electronic transaction networks.
Going forward, the Advancement of Pacific Financial Infrastructure for Inclusion (APFII) confirmed receipts are expected to be published as MT103 Swift messages directly to the blockchain."
This is the first time, as far as we are aware, that a digital currency is integrated to such extent with traditional payment methods. But it's not clear why they chose Stellar specifically, which jumped in value today.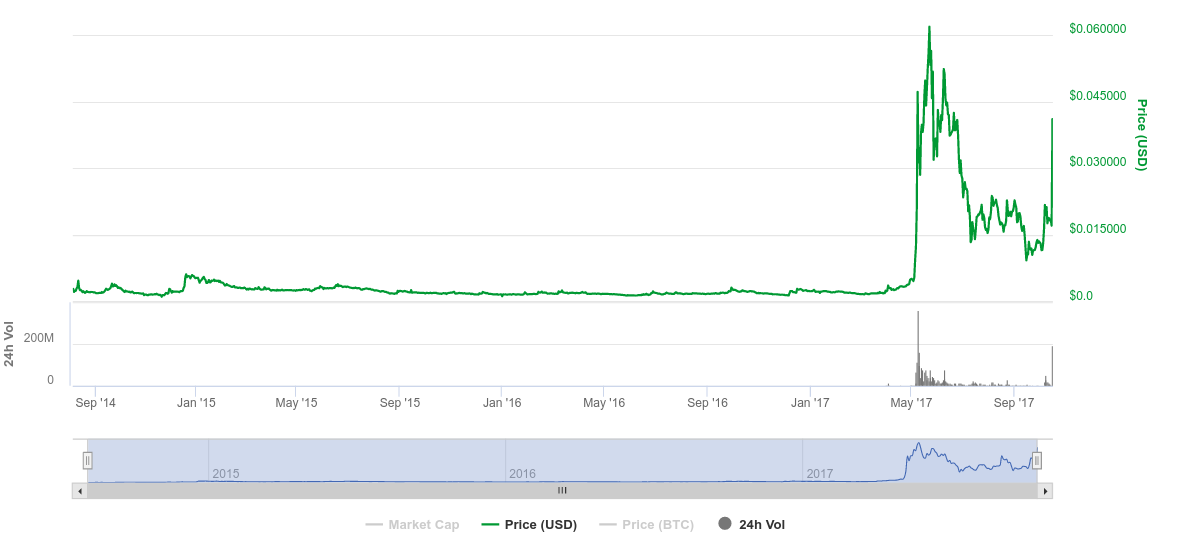 The currency has attracted little attention, sidewaying for much of the year until it spiked in a very vertical line up.
While its bigger cousin, Ripple, has risen to third position with an $11 billion market cap.
They have a conference today, called Swell, with some distinguished speakers, including Ben Bernanke, former Chairman of the Federal Reserve, and Tim Berners-Lee, inventor of the World Wide Web.
Ripple further announced today a partnership with the Gates Foundation to increase access for the world's poorest, but they seem to have been upstaged by their younger sibling, at least for the day.