More than $2 billion has been raised in Initial Coin Offerings (ICOs) since the phenomena begun, according to new research data by CB Insights.
"On a quarterly basis, total funds raised by ICOs surpassed total funds raised via traditional equity financing for the first time in Q2'17. This trend shows no signs of slowing, especially if regulatory measures prove favorable," they say.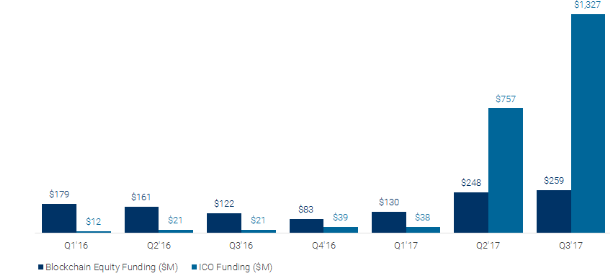 Equity funding has remained stagnant over the second and third quarter of 2017 while ICO funding rose by some 75% over the same period with more than 250 ICOs launched since January 2016.
At the same time, traditional equity deals might see an all-time high annual totals ever, but the number of teams raising via ICOs is increasing more quickly.
While corporate investment and interest continues to increase in this space, reaching a high of 91 unique active corporate investors.
Interestingly, Google is one of the top corporate investors, surpassed by only Japan's SBI Holdings, with Overstock in third place.
Google has invested in six blockchain start-ups that "span data storage (Storj), private enterprise services (LedgerX), and merchant services (Veem)," CB Insights says. They further conclude consortiums continuing to grow, but:
"Corporate players have shifted between private blockchains, public blockchains, and consortia. With recent successful pilots thrusting the technology back into the spotlight, corporate investors will have to take a hard look at their blockchain bets and consortia memberships to find concrete solutions in this developing sector."
The data further shows the barely year old ICO space is at a very early stage, with potential over capitalization and some room to mature. They say:
"Teams holding ICOs have yet to collaborate with regulators to develop strong legal frameworks, and state bodies continue to grapple with the question of how to regulate inherently decentralized protocols."
ICOs, however, have been a good return for investors in general, with their combined market cap rising to $10 billion earlier this year.
The direct money raising alternative through decentralized methods is now also seemingly becoming a preferred choice according to the data, so surpassing traditional equity funding.
A trend that appears to continue unabated, at least for now, as suddenly Venture Capital investment is opened to ordinary individuals who now have the opportunity to potentially hit the jackpot by investing in the next Google at the early stage.