The different approach of US states towards cryptocurrencies is affecting the level of interest in digital currencies at each state, according to new data by investing.com, a global financial portal used by millions of traders and investors around the globe.
Top of the list is Nevada, Texas and New Hampshire, with citizens there showing the highest level of interest in 2017 following some favorable legislation in each state.
Nevada became the first state to ban blockchain taxes in June, so taking the crown in the list with 4,057 users out of a total 36,230. That is 11.2% of residents in the Silver State showed interested in cryptocurrency.
That is followed by Texas. The first state to release an official position on bitcoin with Memorandum 1037 which says that no money transmitters license is required to sell bitcoin.
And just last month, the first Bitcoin-only real estate transaction was completed in the Lone Star State. From a total of 324,914 users in Texas, 34,116 showed an interest in cryptocurrency (10.5%), coming in at second position.
While New Hampshire Governor Chris Sununu signed a bill into law that exempts digital currency traders from the state's money transmission regulations in June. Of the state's 16,442 users, 1,644 were interested in cryptocurrency (10.4%), the third highest US state.
That's followed by California, home to Silicon Valley, in fourth position, and Colorado standing in fifth place.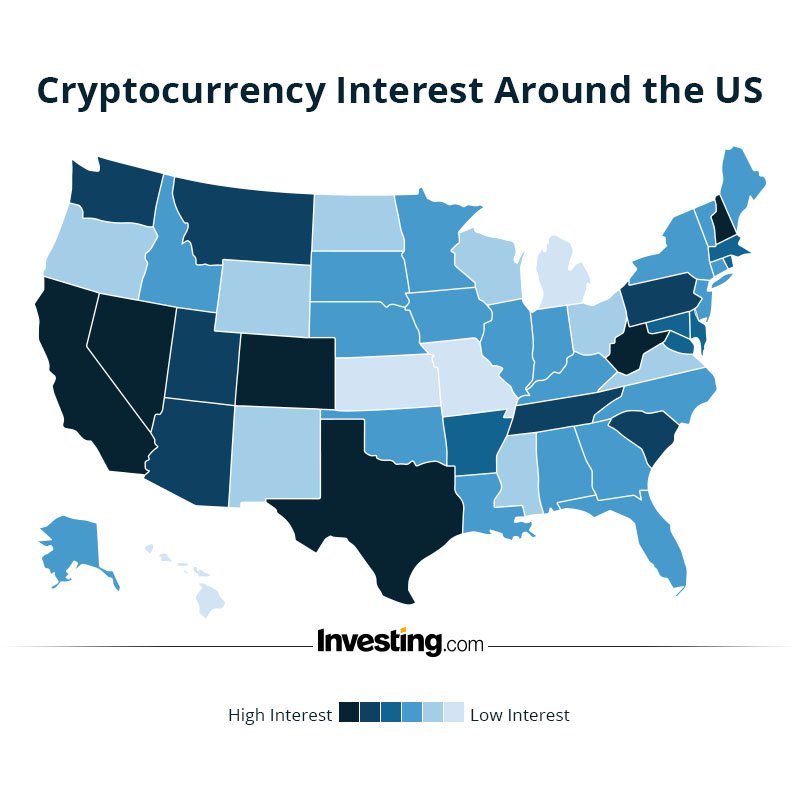 But it's not just favorable legislation that affects interest levels. The opposite applies too, with Hawaii showing the least interest in digital currencies due to unfavorable regulations.
Coinbase ceased supporting its customers in Hawaii due to what it called "impractical regulatory policies" forcing Hawaiians to close their accounts. Out of the states 17,755 users, just 325 were interested in cryptocurrency (1.8%).
While New York is another state that stands out, ranked 38th with 17,064 users out of a total 426,617 interested in the digital currency. A mere 3.9%.
In 2015, The New York State Department of Financial Services (NYDFS), issued a business license of digital currency activities, termed BitLicense. At least ten bitcoin companies announced they were stopping all business in New York State because of the new regulations.
"Our data shows an important correlation between regulatory measures on Bitcoin and the interest or popularity of Bitcoin in different states," said Clement Thibault, Senior Analyst at Investing.com, before adding:
"We often like to think of Bitcoin as a medium to escape state regulation, but it is clear that each state still has the means to either advance or delay and hamper the adoption of the new digital currency."
Businesses have often complained that regulators are slow to catch-up, with the labyrinth of laws adding considerable costs.
The most striking example is IRS's double taxation, which requires one to keep account of how much they paid for a coffee in bitcoin, clearly something nonsensical and unenforceable even if the bitcoiner is an angel incarnate.
There have been suggestions they might remove double taxation for sums below $600, but it's not clear what level of support the bipartisan bill has gained.
However, what appears clear is that striking the right balance between encouraging innovation while discouraging fraud and other criminal behavior tends to be rewarded with new businesses and activities moving into the area.
So it remains to be seen how the Trump administration will navigate this space once they are done with the far bigger matters, such as trade with China.