The rich, and newest country, of Catalonia has today declared independence with parliament voting in favor of the following resolution 70 to 10:
"We shall constitute the Catalan Republic as an independent, and sovereign, democratic and social state of law."
This is the first declaration of independence in Western Europe since memory can recall, with Catalans celebrating today, but Spain is unhappy.
The Spanish parliament has granted the country's Prime Minister, Mariano Rajoy, unprecedented powers following the invocation of article 155.
Rajov is expected to begin assuming control of the region and might even sack the democratically elected president of Catalonia, Carles Puigdemont.
A showdown is underway, and the question in everyone's mind is whether there will be violence. The Spanish government is determined to, what they say, "impose the rule of law," as the constitution prohibits secession.
Catalonia, on the other hand, is clearly determined to proceed with implementing the results of the referendum held on October the 1st where 43% of Catalonia voted some 90% in favor of independence.
The question now is what the Catalan police might do. They are presumably representative of the people, so at least some 43% of them might pledge loyalty to Puigdemont.
The only option for Spain may then be the army, tanks in Western Europe. A scene that would shock to the core this generation. While practically it may lead to guerrilla warfare in our own neighbourhood!
EU has to intervene, Trump has to intervene on the basis of a hierarchy of laws. Judge made law, parliament, the constitution, and then superior to it all, the Universal Declaration of Human Rights.
One of which is the right to self-determination. If Catalans want independence, then short of occupation, in Western Europe, the only civilized option might be to give them such right.
Otherwise the image of Spain as a free, democratic, liberal, western nation, might considerably change in light of what might be their contravention of the Universal Declaration of Human Rights.
The market in Spain was quick to respond. Nearly all Spanish stocks are down, some around 6% lower, with banks based in Catalonia hit hardest.
But bitcoin has not reacted, slightly falling today but without coinciding with the declaration, thus may be unrelated.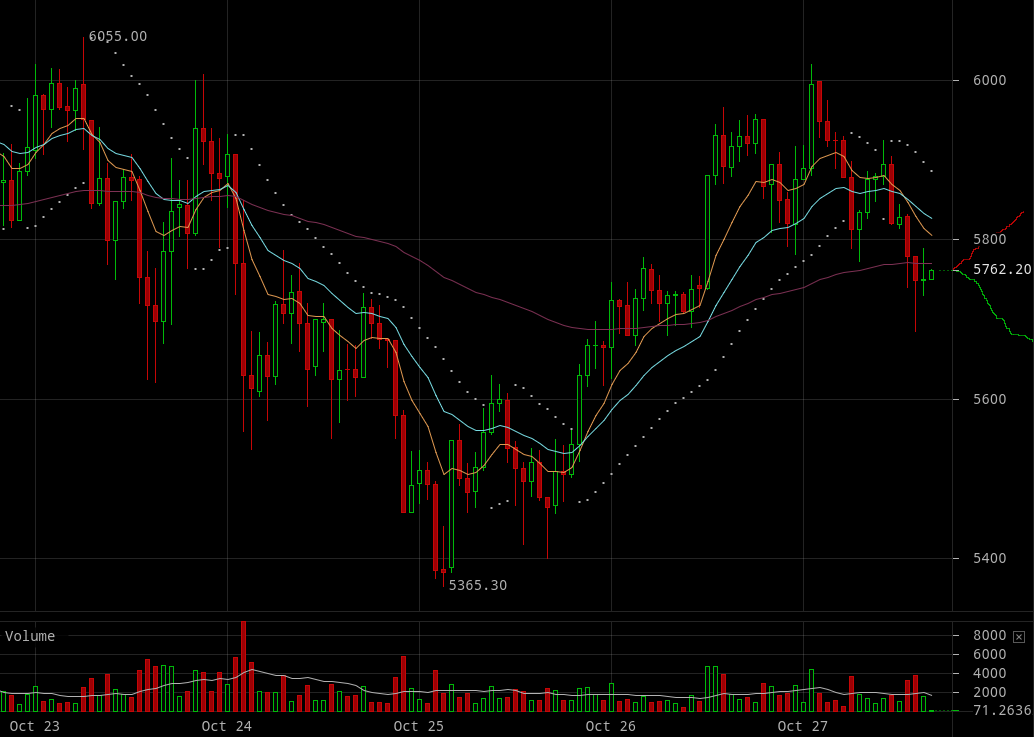 That may be because perhaps the event was priced in as yesterday it became somewhat clear there would be a declaration.
And yesterday bitcoin suddenly jumped by some $700, rising to a recent high of $6,000 on considerable volumes of $2 billion. Something which may have been in response to Catalonia's escalating tensions.