Bitcoin Cash jumped in price in the past few hours to a recent high of $522, with the currency rising by some 30% since yesterday.
Its trading volumes have ballooned to $1.6 billion, nearly overtaking BTC's, with almost a billion of it coming from South Korea's Bithumb alone.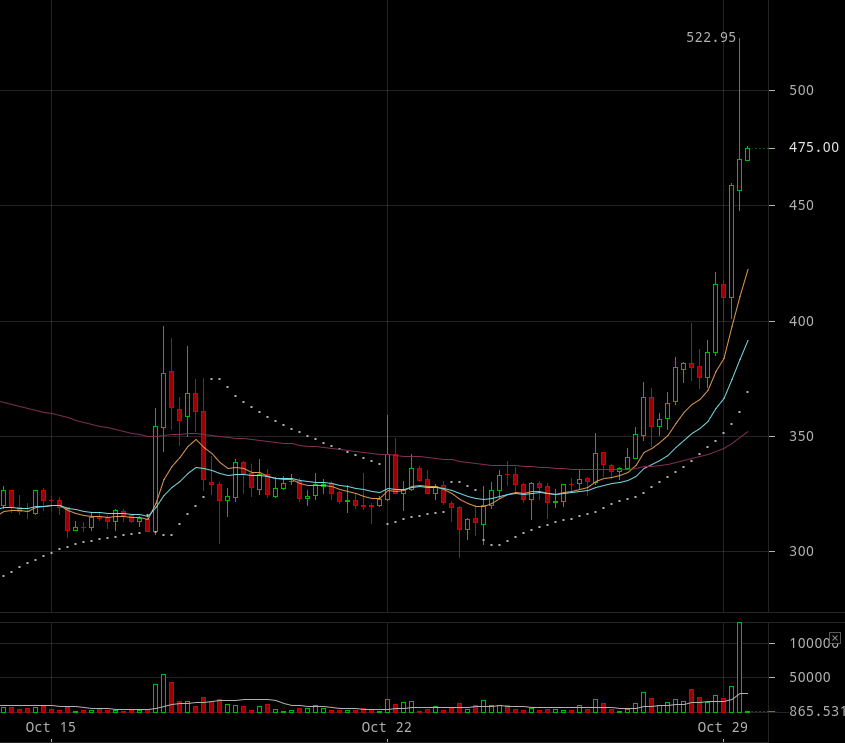 The currency painted a somewhat perfectly drawn cup and handle in the past week, with the follow-up action seemingly confirming what appears to be considerable bullish sentiment.
That was driven by one of bitcoin's biggest website, bitcoin.com, calling Bitcoin Cash as bitcoin because, according to them, it reflects most closely the whitepaper.
With Bitcoin Cash's adoption then seemingly increasing as its holders use it for everyday transactions, including buying coffees.
That's where Adam Back may have inadvertently kicked in the fomo by stating that btc was not useful for ordinary commerce and its use was mainly, if not only, for transactions where the banking system is not an alternative.
Many Bitcoin Cash supporters disagree, because once you buy bch or btc, instead of then eventually converting it into fiat, incurring fees, you might simply pay with bch directly for whatever you may need.
It is obviously the case that eventually everyone will want to spend their holdings because, at the end of the day, the sole purpose of money and wealth is value exchange.
For bitcoin, if Adam Back gets his way, their only option might be to add an intermediary and exchange it for dollars first, then buy whatever they wish.
For BCH, that intermediary would be needed only to acquire the currency. Then, if merchants accept it to a sufficient extent, payments can be made directly.
At scale, a cycle might form, whereby customers pay merchants in BCH, who then pay their employees and suppliers in the currency, who then spend it on other merchants, and so on.
In this way, there could be an entire economy, or local, running on the currency. Something which would give it an underlying value and utility.
At a maximum of 8MB of data every ten minutes, BCH has plenty of capacity for now to support the above. But further improvements are expected in a few years, including by sharding, which may give the currency as good as unlimited capacity.