Companies have begun diversifying following an exploding interest in digital currencies this year, which have risen to a market cap of $177 billion.
The biggest, bitcoin, retains the majority at $100 billion, but the combined market cap of the rest is a considerable near $80 billion, some 8 times more than bitcoin's market cap at the beginning of the year.
A currency above $1 billion used to be an extremely rare sight, but now there are 12 of them, with all top four standing above $7 billion, higher than many stocks.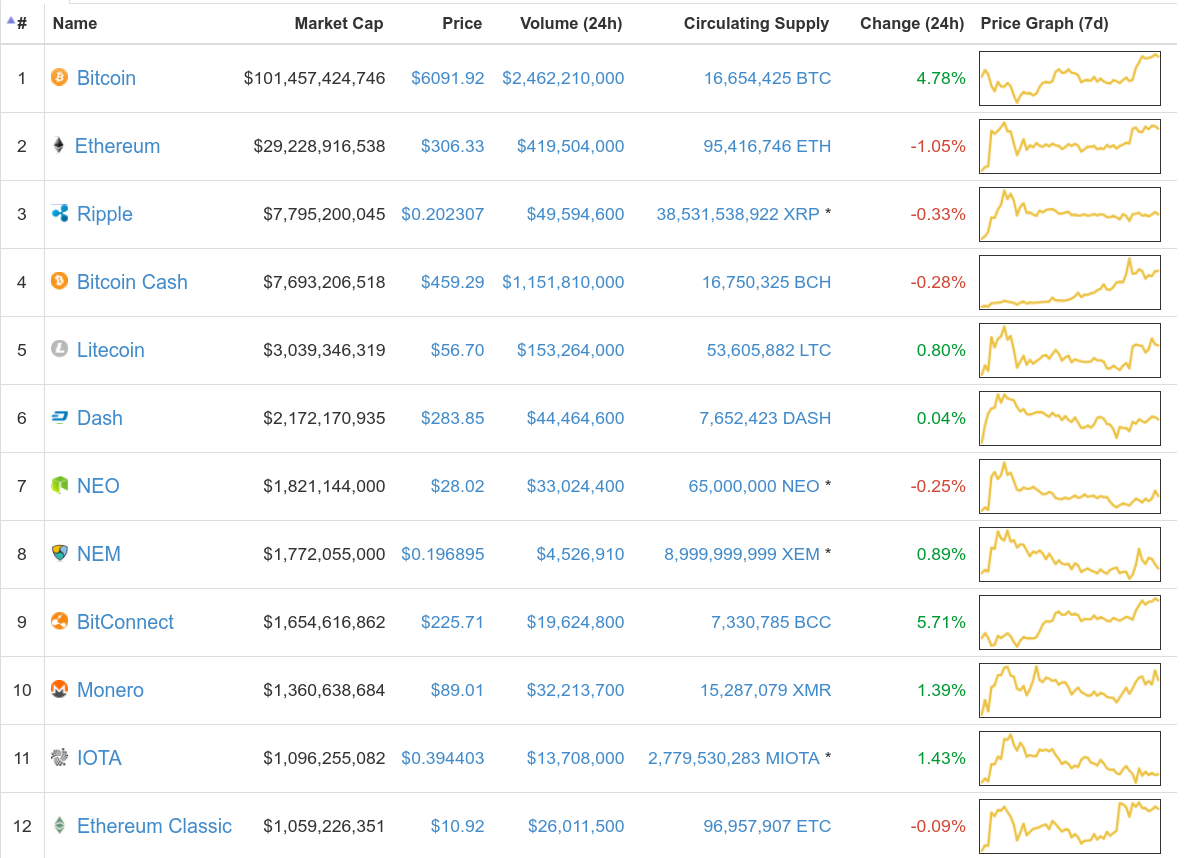 That has led to diversification with businesses beginning to accept alternative cryptocurrencies. Primarily eth, but BCH is also seeing increased adoption, with Litecoin also making the cut for some reason.
However, no major service provider, as far as we are aware, is to accept more digital currencies than Bookmakers.eu, which describes itself as "a market-setting company in terms of timeliness of odds and exotic or novelty proposition bets for all sports."
They have begun accepting "more than 60 cryptocurrencies for deposit and withdrawal methods," according to a press release sent to Trustnodes.
That includes all the main digital currencies you've heard of (full list at the end), but also tokens, such as OmiseGo, TenX, Bancor, district0x, Status, and so on.
"We always have a close eye on the advancements of blockchain technology, and the growth of that financial sector is constantly intriguing," said BookMaker.eu spokesman, Scott Cooley, before adding:
"Our clients have enjoyed the benefits of depositing and withdrawing using Bitcoin for years, and now they'll have a wealth of cryptocurrency options at their disposal."
Indeed. They might even perhaps set a trend whereby instead of btc or eth accepted here all major cryptos and tokens are offered under cryptocurrency is accepted here.
Not least because the online gaming industry, as they call themselves, has been one of the drivers of adoption in this space, allowing Americans, where betting is illegal for some reason, to take part.
"It's no secret that the gaming market has helped in the growth of cryptocurrencies. They've helped us more than we've helped them, but it is undoubtedly a mutually beneficial relationship," the company said.
In addition, due to their global nature, betting companies have enthusiastically adopted cryptocurrencies because they say "processing has always been, and always will be, the biggest hindrance for offshore gaming companies which caters to the world," before adding:
"Cryptocurrency has changed all of that. Our clients love it because it is anonymous, quick and cost effective. Also, customers have seen their crypto wallets grow over the last few years based on the market explosion. The company loves it because the processing fees are very low, and transactions aren't able to be blocked."
Interestingly, 90% of their customers use bitcoin, according to the company, potentially explaining in part the explosion of interest this year. They say:
"BookMaker offers cryptocurrency as an easier, cheaper, safer and more reliable option for deposits and withdrawals. More than 90 percent of the website's customers use Bitcoin to fund their accounts, and because of that processing has never been more fluid."
Now they can pay with 59 more, and there's something for almost everyone who holds a digital currency or token in the below list. They are now accepting:
"Bitcoin Cash, Ether, Litecoin, Monero, Dash, FirstBlood, Aragon, Basic Attention Token, Bancor, Blackcoin, Bitchares, Civic, Clams, Decred, Digibyte, Dogecoin, Edgeless, EOS, Ether Classic, Factoids, FunFair, GameCredits, Gnosis, Golem, Matchpool, Komodo, LBRY Credits, Namecoin, NEM, Numeraire, Nxt, OmiseGo, Potcoin, Augur, Reddcoin, IExec, Salt, Saicoin, Status, Startcoin, SingularDTV, Swarm City, WeTrust, Vericoin, Vertcoin, Waves, Wings, Ripple, Zcash, 0x, Bitcoin Dark, DigixDao, district0x, Emercoin, Iconomi, lisk, Maidsafe, Omni, Nubits, Novacoin, Tenx, Peercoin, Qtum, StorjX, Steem, TokenCard, Tether, Voxels and Counter Party."
There's a Bitcoin Dark? What's next, Bitcoin Bolognese? I'd like a double bitcoin with mac-cheese please and an Ethereum Large and can I have a… alright, alright, very, very funny. Get off!