The show is on. Down $5,000, down $6,000, down $7,000, but then bears came on. $44 million were bought and sold – mostly sold – within 15 minutes once bitcoin reached an all-time high of $7,300.
Then, another $40 million was bought and sold – again mostly sold – in the following 15 minutes, with bitcoin down to $6,800 in some incredibly fast movements.
Kraken had no chance of keeping up as everyone was refreshing and frantically clicking, but bulls tried to take charge, giving a brief respite to above $7,000 once more.
Alas, it didn't last, with bitcoin trying $6,800 again, which, at least for now, appears to be support. Although, when bulls and bears go to war, who is to know.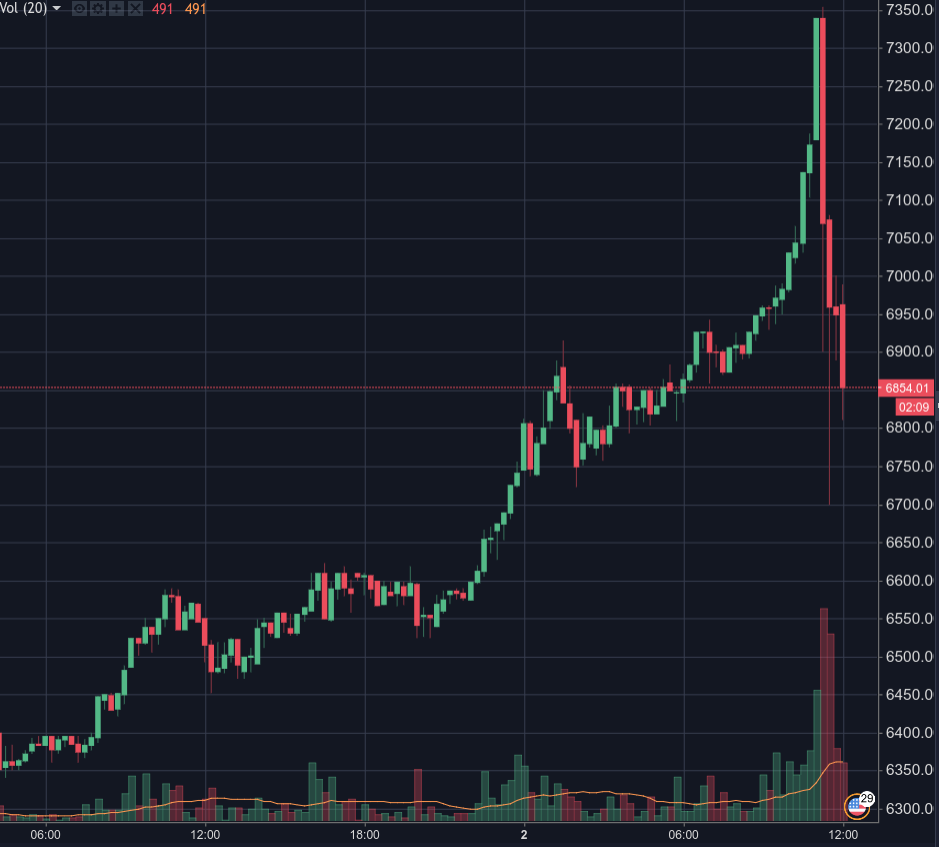 Bitcoin reached a market cap of $122 billion today, as much as the market cap of all digital currencies combined just a few weeks back.
Its market share rose to a considerable 63%, while its trading volumes ballooned to $4 billion in this very eventful morning.
The currency has been running the show now for months, but whether it will continue to do so is not very clear.
The fear of missing out (fomo) induced quick rise above $7,000, up $1,000 since just yesterday, would have been expected to lead to some push-back.
Its a big psychological number, and one couldn't expect the currency to just pass it. But is this just yoyo, or is bitcoin about to give away the stage?
That, we don't know. Not least because America is not up yet, although doubtful any trader was allowed much sleep by their buzzing price alarm clocks.
This may be just a shakeout of longs, or sentiment may have begun to change. Bitcoin might just take a breath, relax again, and head up to 10k, or might give way to bears to find a floor.
The height at 7,000 is great. The fall might be too. And yet, it could defy all expectations and double in the coming weeks and months.
Welcome to the glorious show. Just be sure to find a chair once the music stops.