Ethereum is up some 10% following the sudden cancellation of segwit2x yesterday, with both bitcoin and bitcoin cash down, while most other digital currencies are up.
Bitcoin's market share has dropped since yesterday by some 5% from 63% to 58%, while its price is down around 5% too, even as its trading volumes reach an all-time high of $5 billion.
While ethereum jumped soon after the announcement yesterday, finally breaking out of that $300 to reach a recent high of $330 with its volumes up to $1.5 billion.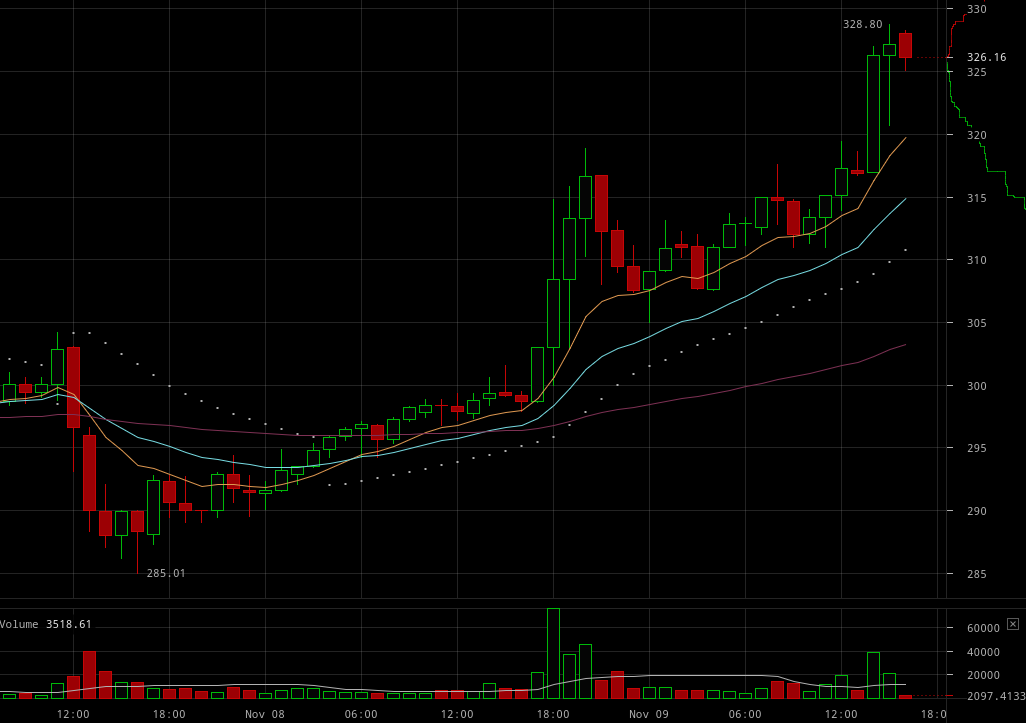 Interestingly, Bitcoin Cash is the only major currency, except for bitcoin, that has fallen down today, even though BCH takes the exact opposite approach of BTC.
Suggesting the market might be moving away from the bitcoin brand/ecosystem itself, with ethereum the winner so far out of the major currencies.
Bitcoin's price partly rose due to anticipation of "free money" from a potential chain-split hardfork which aimed to double its capacity. That, however, was unexpectedly called off yesterday.
Peter Smith of Blockchain.info, one of the six individuals who called off the fork, publicly said earlier today:
"Trend over last few years in Bitcoin is increasing centralization. More coins within fewer entities/systems, fewer mining hardware manufactures and pool operators, fewer Core developers with decision making agency. Sadly, likely trend will accelerate partly due to high fees and other system pressures."
While Rhett Creighton, a bitcoin developer, stated: "I'm now starting to believe that updating your Twitter handle may actually be how Bitcoin consensus works."
The market reaction to the news, however, might be telling us something different, with R. Tyler Smith, Director of Energy at ConsenSys, stating:
"For all those disenfranchised by the Segwit2x fiasco and in exile from the Bitcoin Kingdom… the Ethereum community extends its warmest welcome and fellowship. Come scale with us."
Exile. You'd expect at least some of them to go to Bitcoin Cash, but their community is more focused on being against something, against Blockstream or r/bitcoin, rather than for something, that being for peer-to-peer electronic cash payments.
While in ethereum they are for many things, from smart contracts, to ICOs, to whether they should get some free money through potentially a Parity chain-split hardfork.
The market therefore seems to be favoring them a day after the announcement, but whether that will turn into a more medium to long term trajectory, remains to be seen.