Bitcoin Cash is up 30%, jumping from $600 to a recent high of near $900 before settling at around $800 at the time of writing.
Its trading volumes have jumped to $2.8 billion, up from $100 million just a few weeks ago, with South Korea's Bithumb alone handling $1.3 billion in the past 24 hours. Suggesting they are betting biggly on Bitcoin Cash.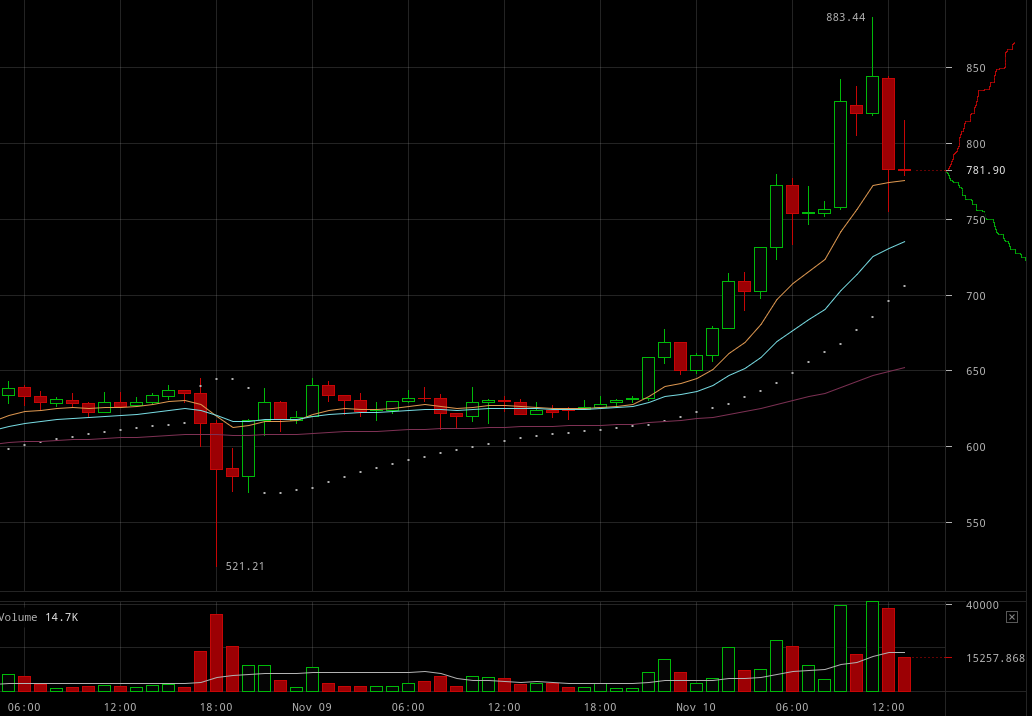 Galvanized, that's how the atmosphere of Bitcoin Cash supporters can be described in one word. With the debate ended and certainty reached, they're now off to work.
"The Bitcoin company I work for… plans to re-deploy all apps under Bitcoin Cash," says a bitcoiner in an unverified claim before adding:
"Apparently Bitcoin has become "unsuitable" for the kind of multi-year development projects we're involved with. SegWit2x was your last chance to salvage this.
Expect more major companies over the next few months to do the same as they decide to switch to a real platform that isn't locked into the single use case of Digital Gold."
Many bitcoiners want both digital gold and cash, but the cash aspect in BTC is now off the table, leaving only BCH with both gold and cash like qualities.
Gold, because BCH is limited to just 21 million coins, and cash because you can pay anyone as good as instantly for sub-penny fees. Making it very usable for commerce due to its instant zero confirmed transactions.
As BCH miners prioritize the first seen transaction – rather than the highest paying transaction like in bitcoin – then even a seconds delay in sending a second double spend bitcoin cash transaction is sufficient to secure the first legit bitcoin cash transaction. Making cheating difficult.
There can of course be exceptions, but zero-confirmed bitcoin transactions worked perfectly fine for years until Bitcoin Core implemented a double spending bug called Replace by Fee (RBF) which lets you double spend the first transaction by simply paying a higher fee, making the currency unusable as a currency.
Bitcoin Cash has removed that. They have removed the high fees, they have removed the congestion, and they might even bring back a limited number, say 50,000, of fully free transactions.
Bitcoin had such limited number of fully free transactions for years, until Bitcoin Core again removed them, but Bitcoin Cash might bring them back.
"I am free," says a bitcoin casher. They are. Out of the shackles of bitcoin core they can now do exactly what they please, as they please, bringing back as good as free, instant, peer to peer, permissionless, global, decentralized, internet money.
"We may start seeing more and more businesses move to bitcoin cash for on-chain transactions, due to the high cost of transacting on bitcoin, which is what Segwi2x was attempting to solve," Civic CEO and co-founder Vinny Lingham, says.
Segwit2x is no more. There is only Bitcoin Cash now, so the digital currency roars.