While bitcoin and bitcoin cash went through some incredible volatility yesterday, ethereum hardly moved. Pretending to rise a bit or fall a bit, but really just sticking to 300.
Global trading volumes reached an all-time high of $23 billion yesterday, with around $1.5 billion of it in eth. But while bitcoin lost $2,000 and gained $1,000, Bitcoin Cash gained $2,000 and lost $1,000, ethereum sort of rose by $10 to $311.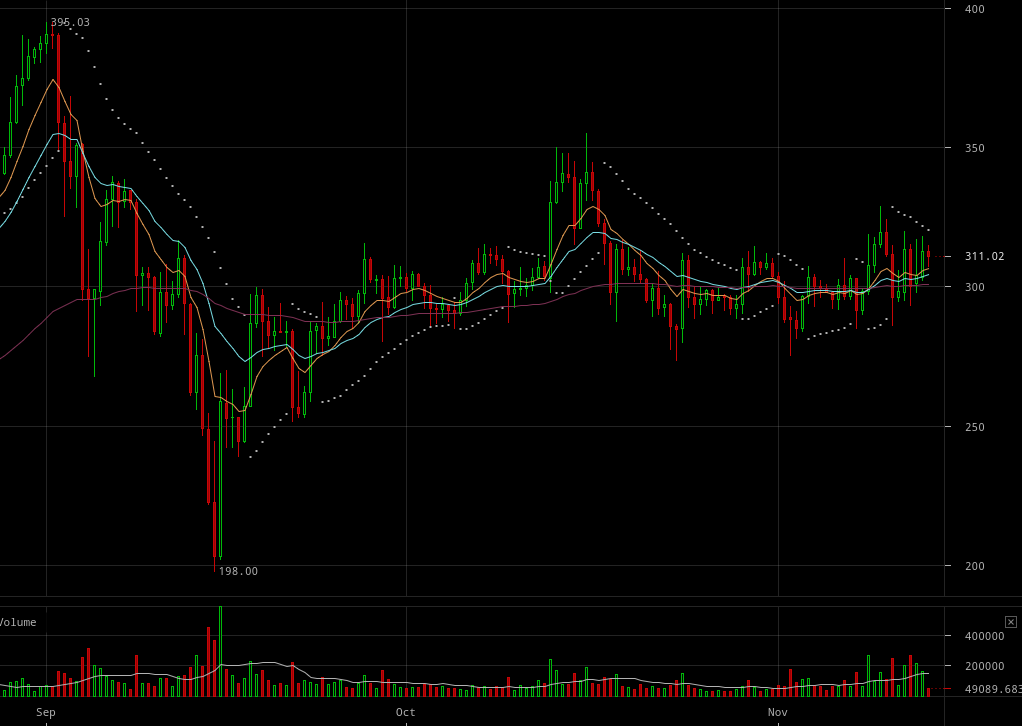 Ethereans joke Buterin should be given a Nobel Prize in Economics for accidentally inventing the most stable currency, keeping a straight line even more than Tether.
Since September, it has moved up a bit and moved down a bit, but in reality it hasn't actually moved at all because the only direction so far has been a straight line at $300.
We can argue it even goes back to August. A month when it stood at 300 for a bit, rose to around 400, fell to 200, then returned back to the Spartans.
How long this stablecoin will continue to stay stable remains to be seen, but if last year is any indication, ethereum sort of goes to sleep during Autumn and Winter, hibernating and preparing for spring.
In spring, it usually roars, and when it does, it takes the show, but past events, of course, are no indication of future events, so no one knows.
What we do know is that Bitcoin Cash and bitcoin do currently indisputably have the stage and are driving this space. With the long scalability debate now settled, they might continue doing so, until ethereum decides to wake up.
When that might be is unclear, but after ethereum's stupendous rise this spring and summer, when the currency nearly overtook bitcoin, some time of rest might not be that bad after all.
The ecosystem might need space to focus on developing their products, as well as strengthening the protocol, following the considerable hype earlier this year.
So an accidental stable coin might even be actually good news, but with the crypto space considerably changed recently, ethereum might need to move a bit faster as competition has increased.