Bitcoin is up some $600 in the past 24 hours, rising from around $6,500 to a current price of $7,135 at the time of writing, with the asset so seemingly recouping much of its losses.
It's trading volumes stand at a healthy $3.7 billion, while its market cap has returned to $120 billion, with bitcoin nearly back in the position it was before the trading frenzy.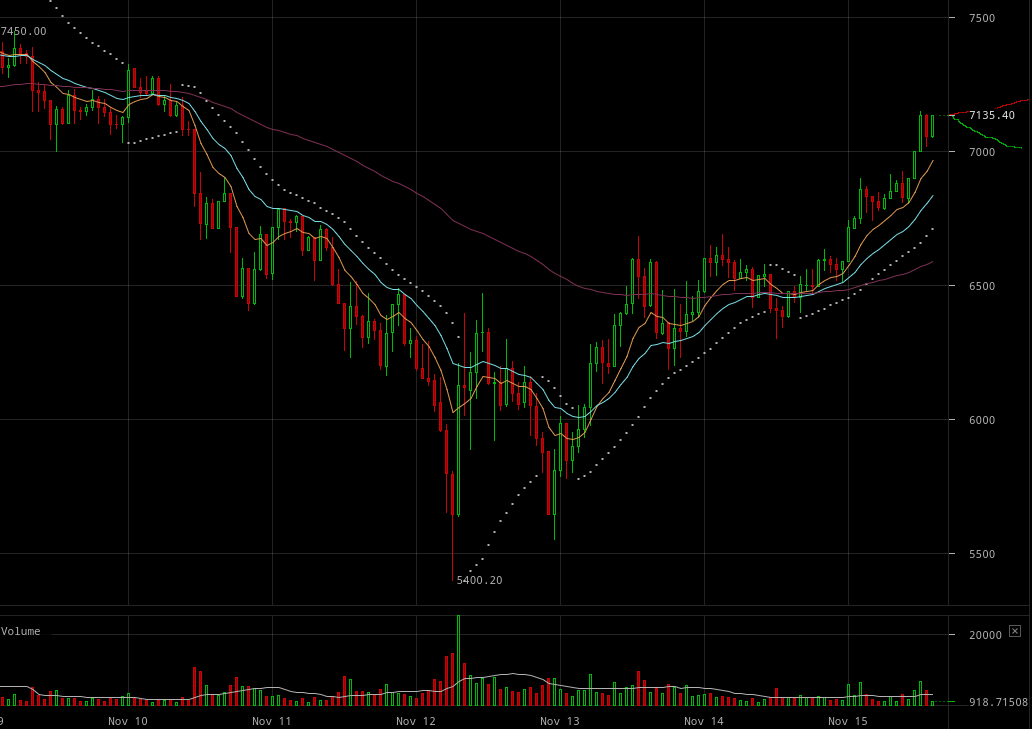 Interestingly, the global market cap of all digital currencies is up today by around $20 billion to $220 billion.
That's close to the same amount bitcoin has gained in market cap, suggesting the recent rise is not at the expense of any other currency – especially bitcoin cash which has maintained stability at around $1,300 – but is instead new interest.
Where that is coming from we don't quite know with the top trading pairs standing in familiar positions, but there have been two recent developments.
Firstly, Zimbabwe's military has ousted Robert Mugabe over a dispute regarding the succession of the, now probably former, oldest leader in the world.
Some suggest the 93 year old was clearing the way for his wife to take the reigns, but the military clearly does not like that, so they have taken charge.
That has undoubtedly created uncertainty in the country, with bitcoin's price there standing at quite an incredible $13,499. However, that's based on tiny volumes of $1 million in the past 30 days.
It is unlikely, therefore, that this very poor nation where 90% are unemployed has been able to add $20 billion to bitcoin's market cap.
As such, the second recent development might provide another reason. Square's Cash App, which "in recent months… has quietly bypassed Venmo to become the most frequently downloaded financial app," is apparently slowly launching bitcoin buy, sell and hold functionalities for its users.
That is to a limited number for initial testing and experimentation, but it appears likely the feature will be eventually rolled out to all users as it would probably be a competitive advantage.
That indicates a continued growth in bitcoin's infrastructure, but Square's limitation to a small number of users at this stage does suggest there are other reasons why bitcoin is rising.
One of them might be just a continuation of the year long bull trend, another might be institutional investors, including hedge funds and maybe even banks.