The market cap of all digital currencies has reached a new high today of $230 billion with most digital currencies up at the time of writing.
While global trading volumes remain at a high of $12 billion in the past 24 hours, with bitcoin handling some $5 billion of it, followed by bitcoin cash at $3 billion.
More than half of the combined market cap is in bitcoin, which reached a new high of $8,000 last night, so recovering from the recent trading frenzy and seemingly continuing its bull run.
Some are suggesting its recent price increase is due to Grayscale Investments, which is selling nearly 200,000 of their investors BCH and buying BTC with it.
While others speculate that some, if not much, of the price rise is due to money printing by Bitfinex through Tether, which continues to somehow increase its market cap to more than half a billion at a time when Bitfinex is under a banking blockade.
But it is also the case that institutional investors have moved into bitcoin with potential bitcoin regulated futures to be launched, although a green light has not yet been given by regulators.
In second position is the accidental stablecoin, ethereum, which has not really moved much now for months, with the currency consolidating.
While a far more volatile Bitcoin Cash stands in third position. It rose to a high of $2,800 just a few days ago, from around $300, before settling down in a yoyo manner at around $1,000.
All bets are off with this one. Some call it the real bitcoin, and who knows, the market might even perhaps agree one day. While some others do not like it one bit, even though most probably they do hold some of it.
That's because all pre-August bitcoiners were given some of it, and the currency does have some true believers who strongly support it and promote it, so it might go places, but no one know what sort of places.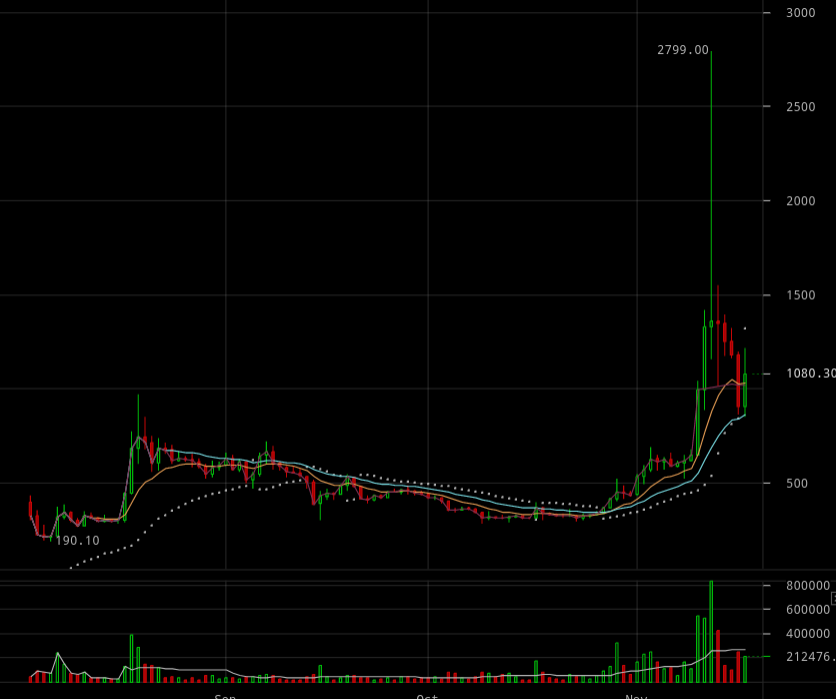 Considering the significant market cap difference between the top three and the rest, we can say this is a three horse race.
A race that bitcoin, at this stage, is clearly winning, with arguably some shaky foundations, especially regarding the fee market concept which so far has failed to work in practice.
But its brand recognition, its considerably bigger infrastructure, and the fact it has gone mainstream this year, keeps continuing to propel the oldest digital currency to new heights.