Bitcoin Google searches have doubled their previous all time high and stand far above Justin Bieber or Kim Kardashian, but below Google, Facebook, Apple and even Twitter.
However, the 34th president of the United Stated, Donald Trump, is at risk of being overtaken by bitcoin according to google trends.

Despite his constant attention seeking and buffoonery rocket man nicknames, Trump may be floundering on the PR front, or perhaps bitcoin is acing it.
The asset rose to an all time high (ATH) in Google searches this summer, but that has now been eclipsed, with interest doubling its previous ATH:

Interestingly, Nigeria, Ghana and South Africa remain the top three countries in the world most curious about bitcoin, followed by Slovenia and Estonia. With the United States in 14th position, while UK is at 25th, just one below Germany.
Bitcoin's attraction, therefore, crosses boundaries, from relatively poor African nations, to fairly small Eastern European countries, to the rich big ones such as US and UK.
But it's not just bitcoin enjoying considerable success. Google searches for cryptocurrency are at an all time high too, with Singapore, Australia, Slovenia, Nigeria and Uganda very interested in digital currencies.

But they are still minuscule compared to Bitcoin searches, which now stand at a mainstream level, although still quite below the height of Bieber or Trump.
The asset has skyrocketed this year, with its price showing no sign of slowing down, up another $500 since yesterday, rising to near $8,200 on trading volumes of $3.2 billion during the past 24 hours.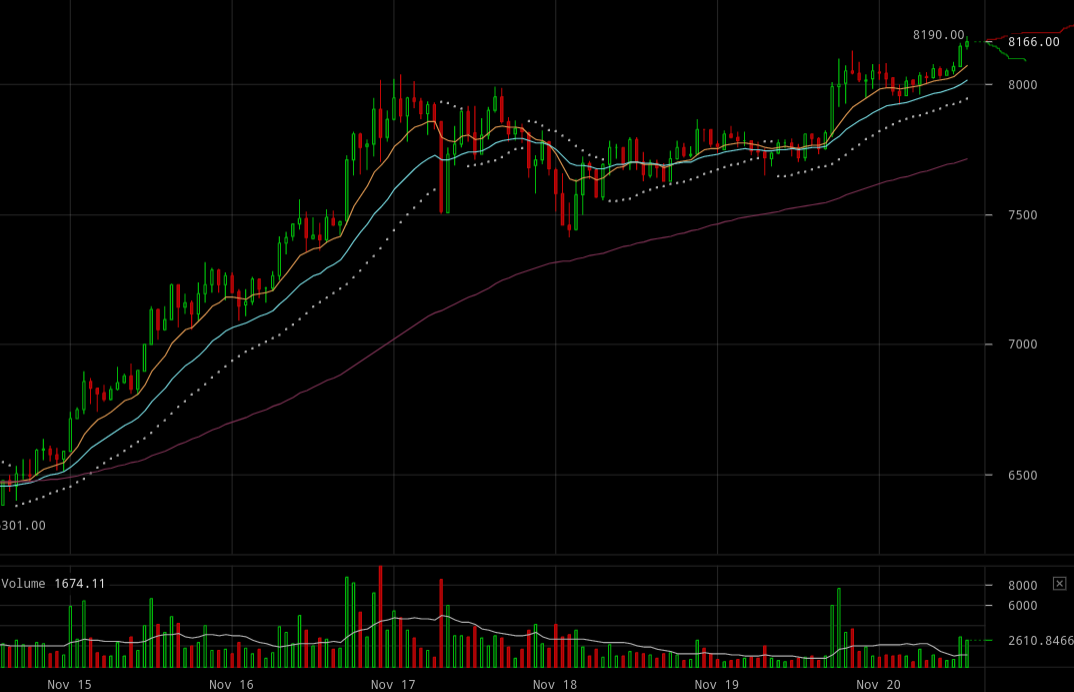 The asset has risen some 70x or more since it bottomed last year, with $1,000 worth of bitcoin during the low of 2016 now worth an incredible $60,000.
Despite its lack of scalability and a somewhat divided ecosystem, bitcoin relentlessly marches upwards, with no sign of slowing down.
And, according to search trends, there appears to be some solid foundations for it as the ecosystem is clearly considerably growing, but whether price is causing the searches or vice versa is unclear, just as it remains to be seen for how long this bull run will keep on running.