Nearly a billion has been wiped out of Neo's market cap, which rose above $3 billion a few days ago and now stands at around $2.2 billion, following widespread disappointment of what Neoheads are calling a disaster.
As we reported previously, Malcolm Lerider from the grand named Neo Council, tweeted a cryptic message that begun a rumor mill with some fantasizing the Chinese government itself was backing NEO.
We, it turns out rightly, said back then it probably has something to do with changing office furniture because actually big news is usually just announced.
We were not too far off. It's a hackathon! There's a whitepaper too! about a decentralized exchange built on the NEO platform.
The big news here was meant to be the fact that the hackathon is being co-organized with Microsoft, but NEO had "leaked" that already with sort of announcing it all in their github before Lerider's tweet.
That "leak" did not really have much of an effect, but Lerider's tweet had a huge effect. Try and guess the time he made the tweet by looking at the chart below.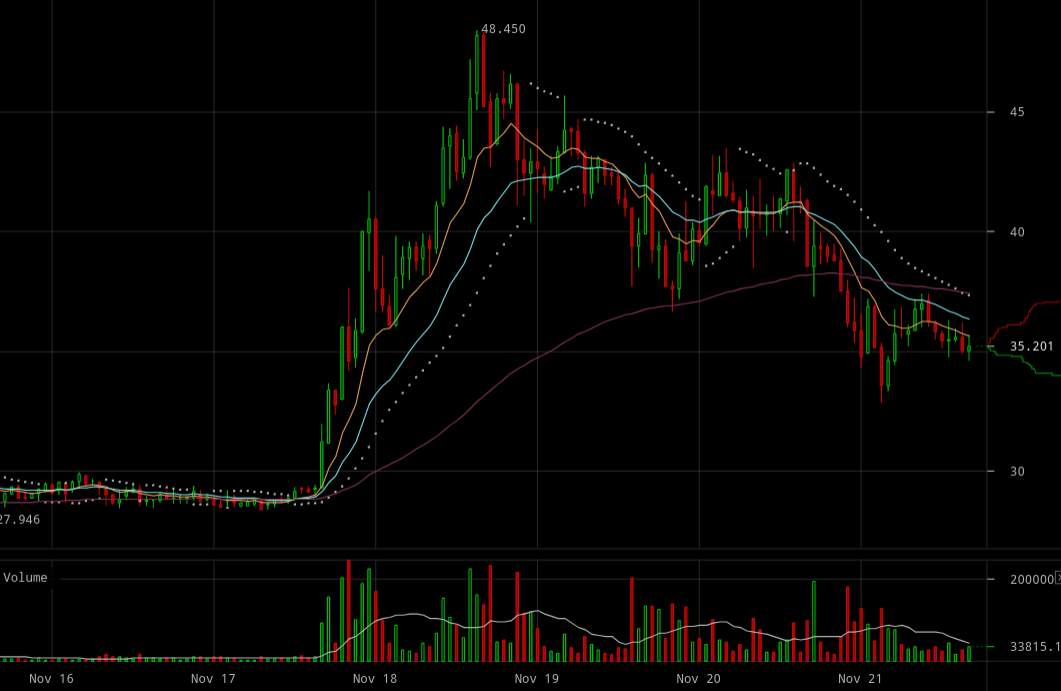 Yes, that's right, that first big green candle is almost exactly the moment he made his tweet, with NEO doubling in hours, until the sell off.
"The "new" thing we wanted to present today was the competition together with Microsoft, thereby "A challenge to the community". The github competition template was leaked and created rumors that happened to be true, so it didn't come as a surprise," Lerider said,  confirming that the hackathon was his news of news.
NEO holders were not happy, to put it mildly, with all sorts of accusations being made. One of them says the following in an open letter:
"Lerider should be reprimanded in some way. Like it or not, you are (or made yourself out to be) one of the faces of what is effectively a $3 billion company. This was 100% amateur hour.
The reality is the Microsoft competition, Project ICO, and Ontology would have been great news and would have given us proper positive buzz and the value would have gone up as a result organically.
Your cryptic pointless tweet about what amounted to a formal announcement about something we already knew about was — at worst — disingenuous and manipulative, and — at best — incredibly poor in judgment."
There is a lesson here that we hope is learned by everyone. Announcements of announcements never work, if we are to use a reasonable definition of "work." They are very effective at generating rumours or buzz, but it is usually very temporary and has actually negative effects.
Ripple, for example, had a fairly big announcement to make with their first conference, but it was overshadowed because of their big countdown which unleashed a rumor mill to the hype levels of in effect the second coming of Satoshi.
Likewise, NEO's first hackathon, co-organized with Microsoft, would have been decent news had it been announced like normal people would announce it. But it was obviously overshadowed because everyone wanted Xi to declare on Chinese television that NEO was the best thing since sliced bread, or, alternatively, for Satoshi to show up.
In light of those stupendous possibilities, the actual reality necessarily looks bland. Something old folks call shooting yourself in the foot. So, hopefully, we won't have many more of these news of news.