The oldest, and yet the newest, digital currency has doubled in the past few days from a recent bottom of $850 on November 16th to a recent high of $1,620 today, with the currency now seemingly settling at around $1,500.
Its trading volumes are considerable at $4 billion, as much as, and at times higher, than btc for the past 24 hours of trading.
Bithumb leads by far with an incredible $1.6 billion. South Korea, where presumably public discussions are not censored, has fallen in love with what some call the real bitcoin.
They have three of the top four positions for trading volumes, with, interestingly, the BCH/BTC pair coming only at 5th position, suggesting that much of BCH's current rise is due to external fiat money rather than BTC exodus.
That wasn't the case only recently as BCH was usually inversely correlated with BTC. The latter, however, hasn't really moved while BCH went on to rise 30% in a day.
The currency quickly recovered from the recent bottom of $850, hanging around $1,000 for quite a few days, until suddenly it rose to $1,300, with some brief sideways action followed by another jump today to $1,600.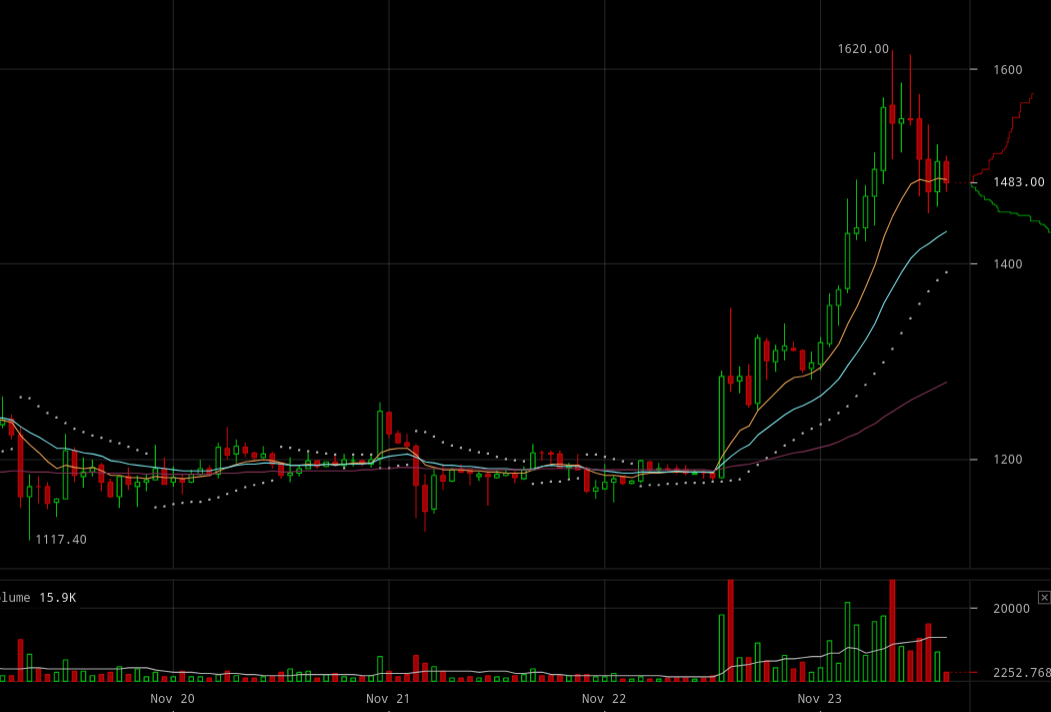 That may suggest Bitcoin Cash has staying power and might even be a serious contender as its supporters promote its use for ordinary transactions, like buying a nice thanksgiving dinner in a somewhat posh restaurant.
Merchants are king, in many ways, and merchants they are courting because they want BCH to be usable like an ordinary currency such as dollars or pounds.
That's a high task and quite a mountain to climb, but it has been a dream in this space since bitcoin's invention nearly a decade ago.
They want free market money which can't be inflated at the whims of a committee, but instead reflects true market value, with its digital nature making it an excellent means of exchange while its limited amount makes it a decent store of value.
The task is difficult because merchants may have been burned by bitcoin which promised them the above but then turned around raising fees to unbearable highs.
Moreover, its deflationary nature doesn't easily lend to spending, but at some point spend one must if they are to survive and flourish. Plus, there are some who would like to live the future today, even if it might be slightly inconvenient.
You may have heard, as incredible as it sounds, some individuals claiming they live solely on bitcoin. This incredibly rare species amazes and inspires, but they are fully endangered, and perhaps even extinct as far as bitcoin is concerned.
Well, the, some say fake, bitcoin in any event. Because they could potentially continue their futuristic endeavors on Bitcoin Cash.
Undoubtedly some would find it very cool, and if inclined they might even find pleasure in snobbish claims of not knowing about all this paper money stuff, for, to his friends' amazement he might say, he lives on Bitcoin Cash.
It can be the future, and even if it isn't, what more fun and worthy experiment can there be in this timeline than the people's attempt to upgrade money itself.
That's why the peaceful, persuasive, consensual revolution won't be delayed. The future is calling.