Ethereum has finally woken up after two months of sideways action, rising recently by around $100 to a high of $402, close to its brief all-time high of $420 reached back in June 2017.
Its trading volumes have increased slightly to $1.3 billion. South Korea's Bithumb leads at near $200 million, followed, somehow, by Bitfinex at $150 million, while Gdax's ETH/USD pair currently stands at near $90 million during the past 24 hours.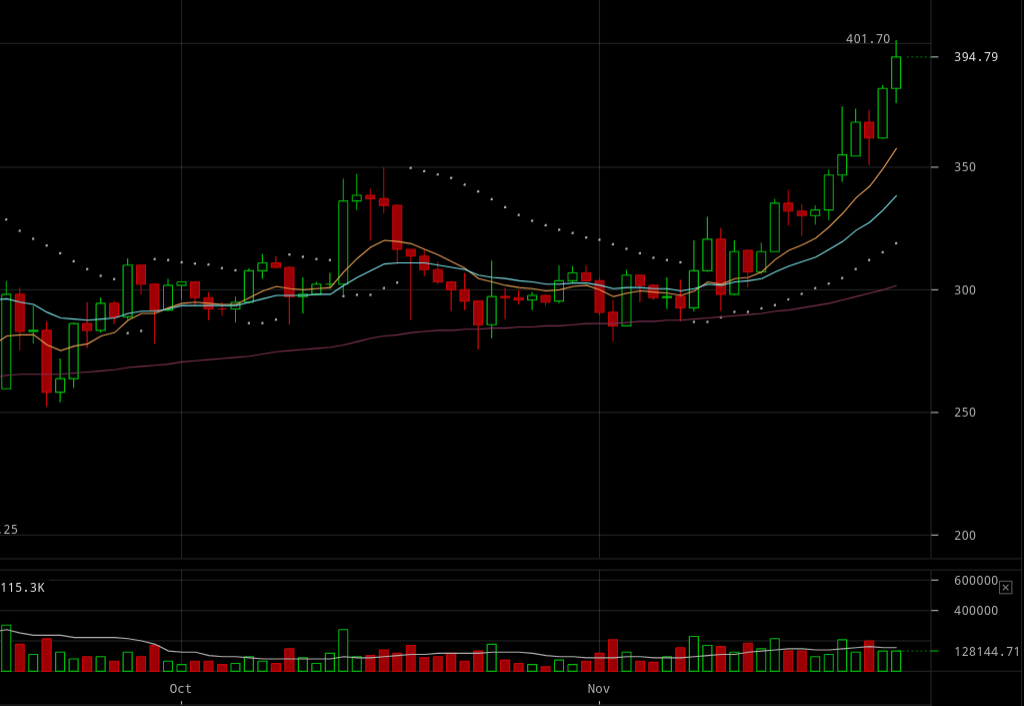 While ethereum's price flirts with some resistance at around $400, its market cap has already surpassed all-time high by nearly $2 billion.
Ethereum's market cap rose and rose during spring to reach a high of $36.2 billion, before falling to a low of $14 billion on July 16th, with it rising and falling again during summer, sidewaying during early autumn, and now all-time highing to $37.8 billion.
One reason for the recent rise might be the continued adoption of ethereum, as shown by the fact its network now processes more transactions than all digital currencies combined and nearly twice the amount of bitcoin transactions.
That indicates ethereum's network effects have significantly increased during its sidewaying period, with sentiment thus seemingly turning bullish.
It may be that the platform has been underappreciated and maybe even ignored while bitcoin roared higher and higher.
While ethereum nearly overtook bitcoin's market cap back in spring, it now stands at around 1/4th of it, as its price went into a bear market following its stupendous bull run in spring, with consolidation then during late summer and early autumn.
It remains to be seen now whether that entire cycle has already been completed in just months and whether ethereum is due for another bull run.
That's especially the case as institutional investors start moving into this space and although most of them have probably only heard about bitcoin, some of them may diversify.
Primarily because it has now become clear that the market considerably values scalability, as we have seen recently. They may therefore start placing bets on which one they think will solve it most optimally. Because once that is solved, then this space may be ready for prime time.