The combined market cap of all digital currencies has risen to $304 billion at the time of writing. Nearly tripling since September, which itself had tippled since May, which itself had tippled since January 2017.
While trading volumes have risen to nearly $14 billion in the past 24 hours, with bitcoin alone handling $6.4 billion of it, while eth and Bitcoin Cash combined handle another $2.4 billion.
Interestingly, Bitfinex is the top exchange handling nearly $2 billion in the past 24 hours, with Bithumb a close second at around $1.7 billion.
While Bittrex stands somewhat far behind at $1 billion with Gdax currently handling $600 million. Quite huge sums suggesting incredible growth in the past few months.

Almost everything is up today, with bitcoin rising 7%, eth at 4% and Bitcoin Cash at 3%. Some of the more centralized currencies, such as IOTA and EOS, have seen more than 20% gains.
For the first time, all of the top 15 currencies stand at above $1 billion. There's a gap between the top three and the next top four, but generally all of the top assets have appreciated considerably.
One currency that stands out for the day is Dash. It begun the year at around $8 and now has risen to $600, gaining a market cap of $5 billion seemingly without anyone noticing.
It apparently rose from around $200 to $600 just this month, but why is somewhat unclear, with the project seeing little news or development.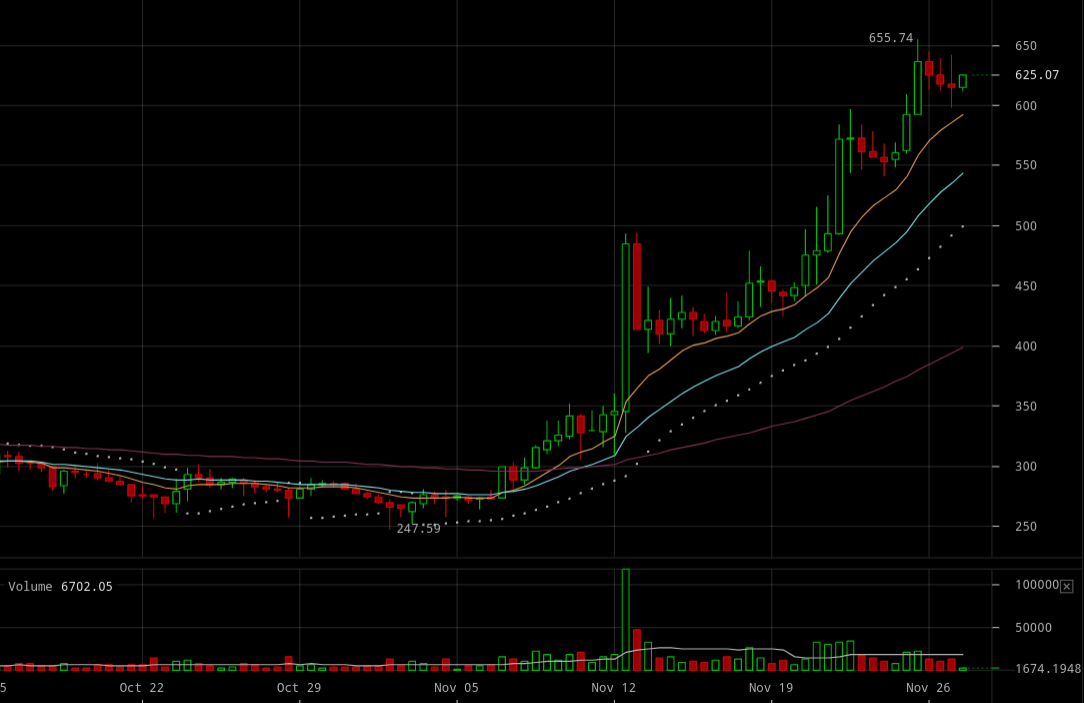 The currency is heavily promoted with its holders paying around 10% to fund projects and marketing through Masternodes, which some say have a centralizing effect.
One reason for its recent rise might be the cancellation of segwit2x as dash promotes itself like peer to peer cash, somewhat similar to Bitcoin Cash.
The competition in that aspect is however quite intense, with ethereum able to provide cash functionalities through 15 seconds confirmations and sub-penny fees, while Bitcoin Cash has bitcoin's network effects.
Nonetheless, there is growth all around in this space, with even Litecoin, which doesn't really offer much innovation, gaining a market cap of almost $5 billion.
The boom has seen a new currency, Bitcoin Gold, instantly gain a market cap of $6 billion, even while it is suffering problems with thefts and hacks.
Something that some suggest is a sign of exuberance, but this space has never experienced a year long bull run that has sent its market cap to $300 billion, so few can say whether this is the beginning of the beginning or the beginning of the end.