Bitcoin dived from an all-time high of $11,400 to a recent low of $8,800 in the past 24 hours, down by nearly $3,000 before slightly recovering to $9,300 at the time of writing.
With its market cap falling by nearly $30 billion, its price down 15%, while its trading volumes remain at all time highs for the asset at around $10 billion.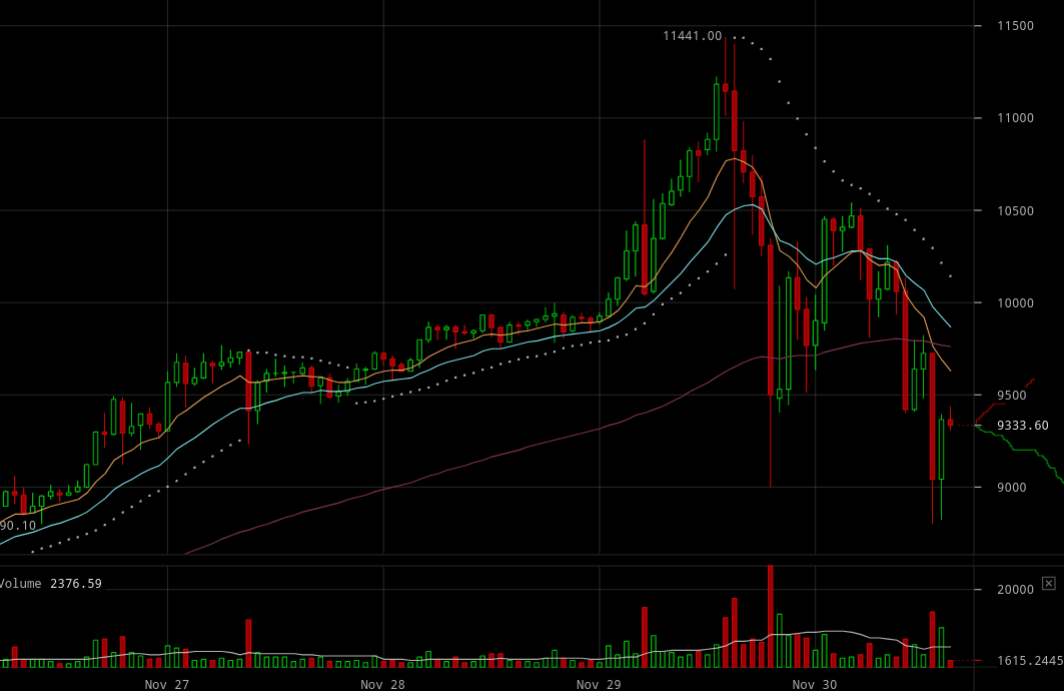 The fast selling came soon after bitcoin crossed $10,000, with many feeling nervous and even expecting a crash, but it remains to be seen whether this is just a temporary cool down or the beginning of a bear market.
Virtually all other digital currencies have followed bitcoin downwards, with 20% losses common across the board.
Ethereum, the second biggest digital currency, lost $100 in minutes, down from an all-time high of $518 to a current price of around $400.
Eth's downwards move seemed to be following bitcoin, suggesting much of the currencies, tokens and assets are pegged in a way to BTC as they are often traded against the pair.
Bitcoin Cash has seen the biggest drop out of the top three digital currencies, down 22%, falling from a recent high of $1,700 to a low of $1,100 before slightly recovering to $1,200.
The story repeats across the board with few escaping the sell off which has wiped out some $60 billion off the combined market cap.
It rose to an all-time high of almost $340 billion just yesterday, before falling by $40 billion on the same day, before continuing to fall by another $20 billion today.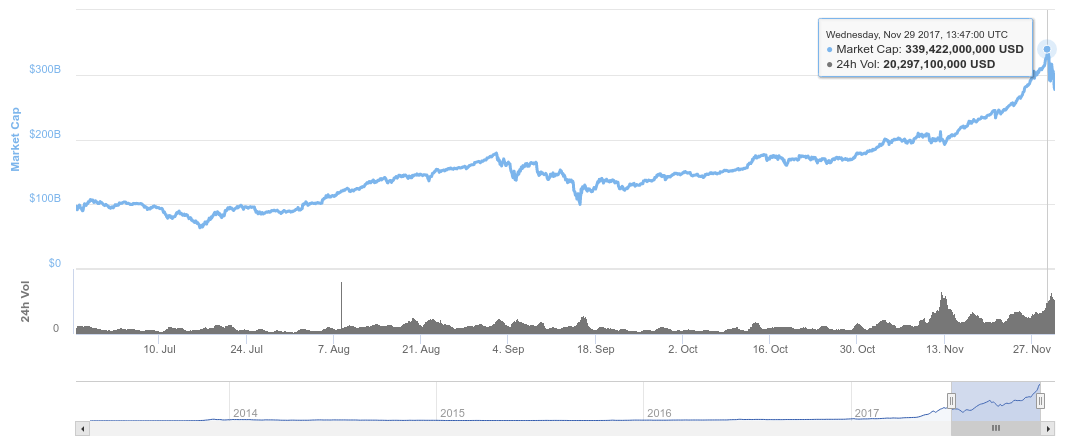 The biggest question currently is whether this was just an emotional sell-off following the breach of that big psychological $10,000, or whether it indicates a more medium term trend.
As everyone expected it to fall after $10,000, it did do within hours. Considering its fast growth, that may have induced some panic selling too, but the fall wasn't a sharp 70% or 50% drop.
It may therefore be just a cooling down as little has changed in fundamentals. Moreover, stocks keep going higher and higher too, suggesting its rise is part of a systemic appreciation of limited assets.
The continued money printing of the past decade and the return of economic growth may induce higher risk taking as companies and individuals look at better than 0% savings accounts returns.
As such, bitcoin and digital currencies more widely are not an exception, with the potential bubble, if there is one, likely being systemic and probably primarily due to the reason for bitcoin's invention: monetary manipulation by central committees.
You can never predict these things, but there is usually a decade of these boom times, with probable corrections on the way, until we have to pay the bankers again.
Of course, it might all come down crashing before we've even had some space to breath, and, alternatively, digital currencies could be on a league of their own.
However, they may have an interesting quality in potentially acting as a hedge safe heaven like gold due to their limited and non-manipulable quality, while at the same time, because of its growth potential, it can act as a risky asset like stock.
In any event, we'll have to wait and see what happens in the coming weeks and months as the up and down intensive crypto show continues.