The combined market cap of all digital currencies now stands at $418 billion at the time of writing, with bitcoin accounting for $271 billion of it.
The oldest public blockchain asset has considerably increased its market share to 65%, the highest level in months, as its price goes parabolic, very briefly rising to almost $20,000 on Gdax.
While trading volumes now stand at $28.6 billion, the highest level ever, with bitcoin accounting for the vast majority of it at $16.6 billion during the past 24 hours.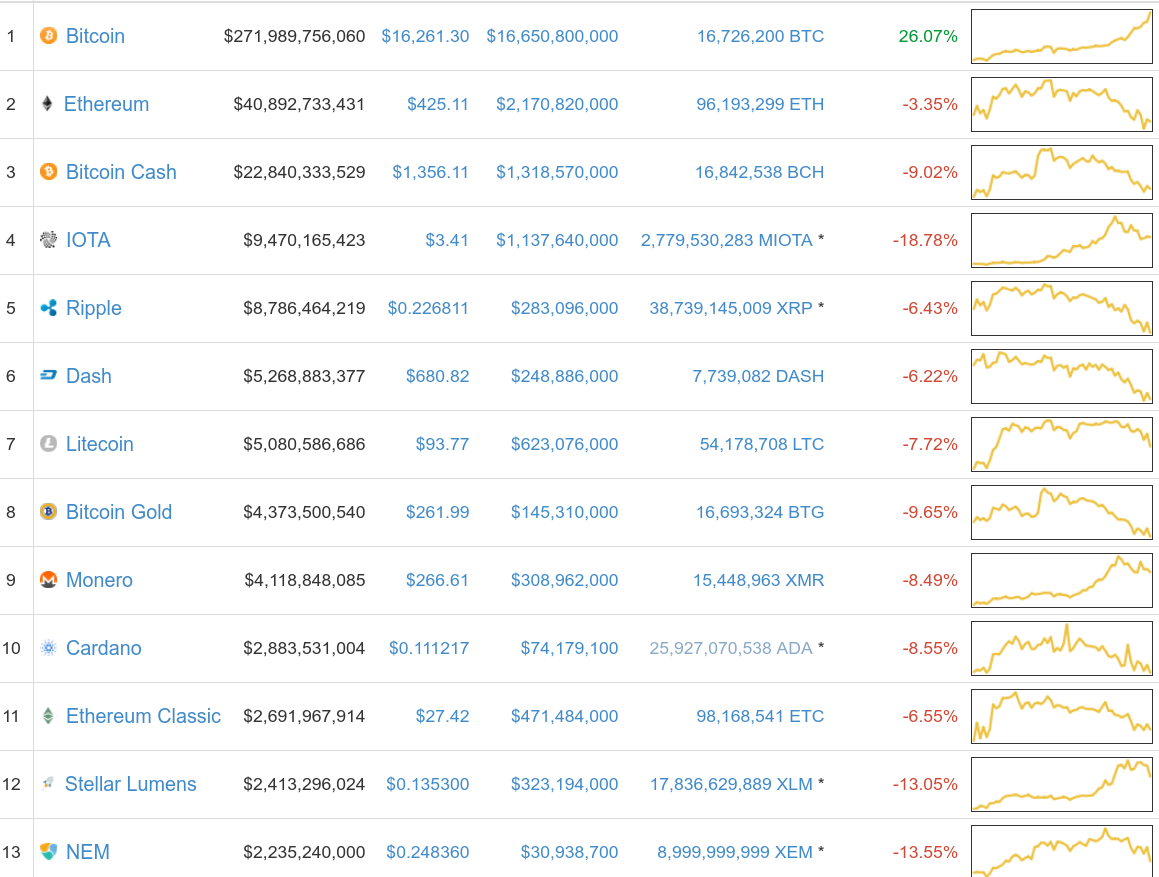 All other digital currencies are down today with bitcoin panic buying seemingly underway as fear of missing out appears to have taken hold in a December carnival of this crypto show.
Bitcoin Cash has now fallen to less than 10% of bitcoin's market cap, while ethereum now stands at just 15%, down from a near flipping during this summer when it almost overtook bitcoin in market cap.
IOTA has suffered the most from the top ones, after rising stupendously recently, but they are all uniformly down, suggesting everyone is rushing to bitcoin.
An historic December 10th awaits when bitcoin regulated futures are to launch by CBOE, followed by CME and then probably all of them as bitcoin goes mainstream, at least in trading.
No one can say what exactly will happen. They are fiat settled, as far as we are aware, so they're just fictitious numbers on the screen, like CFDs, with futures traders not exchanging actual bitcoins, but just numbers.
It is unclear therefore whether, what will probably be a far bigger market, will affect bitcoin's price, which you'd think would be driven by its spot price of actual bitcoins changing hands.
Yet, the two usually influence each other, with bitcoin already having unregulated futures which tend to lead, being more bullish than spot price in bull markets and more bearish in bear markets.
In any event, this is bitcoin's moment. The asset is going mainstream, but whether it is ready no one knows, nor whether the oldest digital currency will sink or swim as it is once again thrown to the sea.